University of Wisconsin-Stout Blue Devils (22-5-2 overall, 10-2-2 in NCHA)
This weekend marks only the second appearance ever for UW-Stout in the NCAA tournament. The first came last season. Though the Blue Devils have strung together a couple tremendous seasons, the road to this end was not a short one.
The Blue Devils failed to win more than nine games in any season from 1996-2000, and then hovered just over .500 from 2001-06. It wasn't until the past three seasons they have asserted themselves as a West Region power. Over that span, Stout is an impressive 61-19-7.
According to Blue Devils head coach Terry Watkins, his time at Stout has certainly been a learning process, but all the lessons of the past are finally paying off.
"I've coached here for 23 years and we were a club team for 10 or 11, and then we joined the [NCHA]. I think it takes some time when you're starting a program. You don't crawl to the top of this kind of league in a short period of time."
"Obviously I had to learn some things," he continued. "We didn't have some of the things some other programs have, and I think the school has made a good commitment to us in recent years."
As has been noted by numerous other coaches over the years, the concept of having a full-time position is essential to cultivating a successful program, and it's been no exception for Stout.
"The other thing is that I had been a part time coach, and now the last three years I've been full time," he explained. "You have to dedicate a significant amount of time to be successful in this league and I've been able to do that."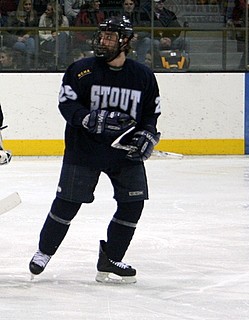 This weekend's quarterfinal against league rival St. Scholastica will mark Stout's second appearance in the NCAA tournament. It's only previous experience came last season as the Blue Devils dropped an opening round game at St. Thomas, 4-1.
This time, however, the Blue Devils will be at home which should provide a boost to their Frozen Four aspirations.
"I think it's great," said Watkins. "It wouldn't bother me if we had to go up there, but being at home is an advantage. We do have great fans, but [St. Scholastica] will travel well so it's going to be quite the atmosphere."
One of the main storylines for Stout this season has been its experience. The Blue Devils roster boasts 14 upperclassmen, all of whom have now played in two Peters Cup finals. They also return 23 players from the team that qualified for last year's NCAAs.
Speaking to the benefit of having an experienced club, Watkins said:
"I think it's a progression thing. We were talking with the kids the other night about this. We got into the league championship game against St. Norbert last year and lost in overtime. Then last weekend against Superior it was our second time around."
The overwhelming amount of experience on the Blue Devils' roster might also be a key player in why they can appropriately be dubbed this season's NCHA "comeback kids".
Since late November, the Blue Devils are 17-1-2 and are riding an impressive 14 game unbeaten streak. Even more notable is that among the 17 wins are nine come from behind efforts. In fact, the Blue Devils have fallen behind in their last six games. They won them all.
"We work hard all year long and we're in relatively good shape," said Watkins. "So we came from behind a few times and you preach the keep it up, work hard, don't give up and you do come from behind you start to have some success with that."
"I think maybe it's a little bit of inner-confidence, or heck, maybe it's luck, I don't know," he jokingly added.
On the plate this weekend is the fourth meeting of the season between Stout and St. Scholastica. The two are deadlocked at 1-1-1 against each other, though Stout did defeat the Saints 3-2 in a NCHA semifinal less than two weeks ago. Though Stout's offensive and St. Scholastica's defensive styles might appear to set up an interesting contrast, to Watkins things are as even as they can be between the two.
"You look at the comparisons," said Watkins. "They've got some great forwards, some great defenseman, and great goaltending. You do a matchup with them and us…and it's so evenly matched I just don't know where the advantage is going to be."
He continued: "I think we both have a lot of respect for each other and for both of us it's going to be a great matchup. We're not going to surprise them and they aren't going to surprise us. It's going to be 40 kids busting their rear ends, and whoever works harder that night is going to win."
No matter how it turns out, another NCHA barnburner will likely transpire. Playoff experience and a knack for winning close games were two huge factors in St. Norbert's championship run a year ago, and Stout is no doubt hoping those remain two important factors as the Blue Devils take aim at their first Frozen Four ever.
St. Scholastica Saints (20-6-2 overall, 9-4-1 in NCHA)
Like Stout, the Saints enter the NCAAs without a long tradition of tournament success to fall back on. Saturday's meeting with the Blue Devils will be St. Scholastica's first NCAA tournament appearance ever.
Before current head coach Mark Wick took over the program one day prior to the 2004-05 season, the Saints had suffered 18 consecutive losing seasons. The Saints only went 5-17-5 that first year, but things turned around the following season, as spearheaded by Wick's first recruiting class, the Saints finished 15-10-2. This season is the Saints' first 20 win season since 1978-79.
Late in his first year as coach, Wick commented that him and then-assistant Randy Barker weren't willing to wait three or four years to find success. Somewhat ironically, that's exactly what it has taken for the Saints to land a spot in the NCAAs.
"[Taking three or four years] is more the reality," reflected Wick. "As coaches we want to push and not sit back and wait because we are impatient. But when you look back, we had to go through some of those growing pains to get where we are now. So as much as we wanted to push it I think it's something we just had to go through."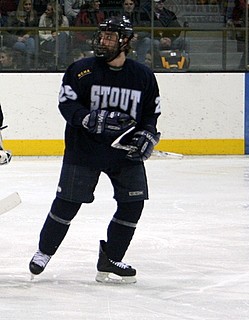 Wick's first recruiting class are now seniors and a giant reason St. Scholastica has a quarterfinal date with Stout this Saturday. All told, the Saints roster has 10 seniors and 19 upperclassmen on it. Like Stout, it's no surprise all that experience has paid big dividends.
"Thankfully our senior class gets to experience playing in a national tournament because that's what the ultimate goal has been," said Wick
"It's a credit to the guys that were willing to take the risk of coming to a program that was struggling," he added. "It gives us credibility as we continue to move forward in the recruiting process. Now it's the guys setting the goals high and we don't have to sell it to them as much."
Though no player on St. Scholastica has ever played in a tournament game, Wick doesn't think it will be that big of a factor considering all the other experiences this team has been through. The fact this will be their fourth meeting with Stout this season doesn't hurt, either.
"I don't know if that's necessarily going to be a big deal for us," he explained. "The one thing we have from a familiarity standpoint this week is our opponent. Is this really a NCAA game, is it a NCHA game? It's something we're very familiar with.
"As far as winning or dealing with the pressure, I don't think [our guys have] that doubt now. Now our guys believe in our program and it's all because of the hard work they have put into it."
As far as Stout in particular is concerned, Dunn County Arena can be an intimidating place to play and will no doubt be packed. Despite the potential hostile environment that awaits the Saints on Saturday, the familiarity between opponents might alleviate some of the intimidation factor.
"This will be the sixth time our seniors have played in that rink," said Wick. "So they are familiar with that environment and our opponent. So yes it is an NCAA game, but I think the familiarity with Stout doesn't really give either team an advantage."
Like Watkins, Wick thinks the two know each other so well that all outside factors and storylines will fall by the wayside and the only thing that will matter is who executes better.
"I hate to say this, but we know each other so well that whoever plays better is going to win the game. There will be no surprises in this game so I don't think there are going to be any advantages or disadvantages in that regard for either team."
Despite going on the road, the Saints might benefit from having a week off, but at the same time the Blue Devils have been on a roll for three months.
"I don't think a week off at this time is necessarily bad," Wick said. "At this time of years it gives the guys a little bit of time to rest up a little bit. At the same time, I don't think it gives us much of an advantage, as when a team like Stout is winning it wants to play every day and they have that going for them."
"I don't think them coming off the Peters Cup championship is going to wear them out any more and I don't think the extra week off for us will give us that big of an advantage," he concluded.
With similar sentiments emanating from both the Stout and St. Scholastica camps, Wick knows this is no time to look back, as come Saturday one will be headed to Lake Placid–and the Frozen Four–for the first time ever and the other will be heading home.
"We got a second chance and we're excited about that, but we realize that as of now there are no more second chances."