The players play the game … but the coaches determine the atmosphere and mindset. Both have critical importance in determining who wins the national championship.
There is an old expression in sports that no one wants to follow a leader who does not know where he is going. In the case of this discussion, leadership from the top is important, but also important is what that leadership portrays. Many teams have hit the postseason as favorites and lost; some players will tell you the room was too tense or the staff was too tense. Being afraid to lose is never as good as playing to win. Teams that get caught up in the emotional battle to play the next game as they played the last one — as opposed to trying to playing a different game on a bigger stage — tend to lose focus, get frustrated, and lose.
Preventing that from happening is what coaching in the postseason is all about and those who have been there and won it all have made it a point of emphasis to make sure their teams are focused, energized, and well prepared. The unique dynamic in college hockey is that you play a series in the opening round and then start a series of single game elimination all the way to the Frozen Four. However, you can lose an emotional game in the conference playoffs (like Notre Dame did to Miami last season, getting tied in the last minute, losing in OT in the CCHA semi-finals, then going onto make the NCAA title game) and then have to regroup for the national tourney.
Teams that have had great regular-season campaigns can call for a mulligan if they bomb out in the conference finals because they'll be in line for an at-large bid to the tourney. College basketball has 65 teams and with the revenue they produce they'd put 100 teams in if they could. Hockey is different in that ten teams get an at-large bid, so taking a game off in the regular season or postseason could be a huge problem. It is why playoff prep starts way before the last regular-season game is played.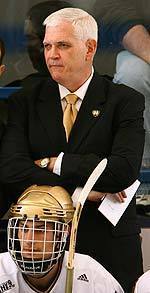 "I go into every season thinking we could have a team in the mix. So for me, your playoff prep really starts in October," said Maine head coach Tim Whitehead. "Playoff prep is a gradual process. As your season progresses your playoff preparation progresses. A lot of it also depends on how strong your team is. We had a run of about nine years where we were in the mix every year and we had our guys thinking Frozen Four very early."
A good demonstration of that prep as it relates to the strength of your team is Ohio State. The kiddie corps from Columbus had some immediate things on its mind in October, starting off with just having a good start and staying in the hunt for a home playoff spot in round one. As the season progressed, they realized that they had something developing and the postseason thoughts started to enter the minds of the Buckeye coaching staff.
"We've been in playoff mode since that series in Alaska," said John Markell of Ohio State as his Buckeyes prepared to fly to Fairbanks for a second go with the Nannooks this season, following a regular-season series in early February. "We know that with a team this young we need to start getting into the mindset of playing playoff type hockey, and with our schedule down the stretch and quality of competition, we'll have that experience."
Red Berenson of Michigan has said many times that veteran leadership is vital and that good seniors are a key to winning it all. However, behind closed doors is where the preparation starts and the buy in to playoff success begins.
"I think the stretch run gets everyone into the playoffs mentality," said Berenson, who will guide his Wolverines into their opening round series against Western Michigan. "There is no dramatic change in routine or emphasis in practice. As coaches we start to run out of games late in the season so each game means more to us in terms of making sure we're playing with consistency and intensity."
While many NHL teams use the stretch run to make the playoffs, many NCAA teams use it to prepare for the intensity of the postseason as well as to improve their positioning. Wisconsin head coach Mike Eaves — who has a NCAA National Championship and a World Junior Championship Gold medal to his credit this decade — talked about the philosophy of "less is more."
He meant it in two parts. The first part is playing fewer playoff games to give yourself less of a chance of getting picked off. In the WCHA, the winners of the five postseason first-round series play in Minneapolis in a single-elimination tourney. The two lowest seeds there play a play-in game to eliminate one team, then you have two semifinal games and a final game.
"The past few weeks for us, we were thinking how important it is to at least finish third so we don't have to play a play-in game," said Eaves, whose club was left for dead at Thanksgiving only to make an strong run through the second half. "Then all of a sudden, we had the chance to win the McNaughton Cup (WCHA regular-season Champs) so it raised our intensity a bit."
Intensity wasn't a problem for St. Norbert last season as they went on a 27-game unbeaten streak to capture the Division III National Title. This year they found themselves on the outside looking in. Head coach Tim Coghlin, whose program has been in the national spotlight many times this decade chasing a national title (having lost twice to Middlebury in title games) feels that success comes from a combo of intangibles and one big thing: trust.
"Sometimes when you are not having success you find that a lot of your returning guys forgot what little things gave them success the previous season." said Coghlin. "Last season Marc Belanger scored so many big goals and that won us a lot of games. Kyle Jones made so many big saves and that was huge for us. For us, what we try to instill is that every player does his job and that he in turn can trust his teammate to do his."
There seemed to be a difference in opinion as to when and how far in advance the playoff prep starts. Because of the single-elimination format, the coaches interviewed for this story — a majority of whom have won a national title or two or have been to the title game — did agree that once the conference tourneys start, the focus has to changed from a series mentality to that of "think ahead to the next game." Additionally, despite prescouting, the most important focus from the staff is on their team, not who they are playing.
"The pro level is a whole different animal in that a lot of times you are coaching on the fly and your team is asked to play that way in postseason," said Notre Dame's Jeff Jackson, who has prepared playoff teams at every level of hockey. "In the pros, you can prepare a certain way, but if you need to change something your team is doing in a long series, you can basically tell them or show it to them on a coaches board and they can do it. In college, the players would need a little practice time or a run through before they could make that style change."
Whitehead, who has been a fixture in Frozen Fours this decade, has seen single-elimination matchups from both sides of the coin: as the favorite and as the underdog. Attention to detail in prescouting is important he explained, but like Eaves feels that ultimately it is a situational decision.
"It really depends on who you are playing and what type of team you have," said Whitehead, who took Maine to the Frozen Four in 2002, 2004, 2006 and 2007 and appearing in two title games: losing one by a goal and one in OT. "If you feel you need to focus more on your own team then you have to do that. But there are times when your opponent has a part of their game your players need to be aware of and that's when you make sure they see it. A lot of it also depends on if you are in a best-of-three, a single-elimination in the conference tourney, or in the NCAA tourney."
Because of that, the regular season becomes important because that is the time that you tinker, build through repetition, experiment through trial and error, and draw a basis of experience which could come in handy in the playoffs.
"There's no question that in the playoffs you have to make changes when the situation dictates, but your idea is to go with the guys that got you there," said Berenson. Last season in the national title game, Billy Sauer struggled in goal after being a rock all season long. Down 3-0 after a couple of shaky goals, Berenson was forced to lift Sauer in favor of freshman Bryan Hogan who played very well. Michigan came back to tie the game at 5-5 before losing in OT.
"Earlier that day, I watched North Dakota's goalie (Jean-Philippe Lamoureux) have the same problem, and he was probably the best goalie in the country last year. They left him in; they lost to BC 6-1. I had to decide if I stay with Billy or change the plan and I think I made the right decision."
It leads back to the importance of the regular season and changing things up. Jackson, in a conversation we had earlier this season told the CBS College Sports broadcast crew that if not for the injuries to Ryan Thang and Christian Hanson at Ohio State, his lineup might have been the same all season. Losing defensemen Teddy Ruth and Ian Cole to the World Juniors and those two forwards to injury forced him to tinker, which Berenson feels is a key to the "coaching on the fly" that Jackson referenced to.
The biggest decision comes down to something Berenson discussed: there are times your best players aren't playing their best but your role guys are. You need a big shift, a big goal. Do you go with the guys who are playing well that are less talented than your big guns, or do you hope that despite having an off game putting the game in the hands of your skill players is still the best idea?
"There are times you have to shorten the bench, times to try new players together or mix things up to create some spark or some familiarity between players," said Berenson, now in his 25th year at Michigan. "Then when things are not going well, you can go back to what you did during the season and what worked at that time and it helps you adjust when you need to in those single elimination playoff games."
Then there is an in-game adjustment either on the bench or between periods. That can be a physical adjustnment or a mental one. Michigan State's Rick Comley remembers that when he coached Northern Michigan to its National Title in 1991, they had a game of ups and downs against BU where the game plan just went out the window.
"BU was so good, and I told our guys that it was imperative that we shut BU down in the first period to have a chance to win, we really drilled that into them," remembers Comley. "We were down 3-0 in ten minutes so that was now gone from our mindset. We had to do an about face and go on the attack. Then we are up 6-3 and 7-4, they come back to tie it in the last minute and then almost win on a breakaway with two seconds to go. All game long, whatever we prepared for changed, and we had to also."
"The season is really a dress rehearsal for the playoffs," said Eaves as his Badgers were getting set to host Minnesota State in the WCHA playoff opener. "Guys get hurt in a game or the team is sluggish, and we as a staff then have to go back to those moments during the season when we experimented or changed things up to alter the plan on the fly. We rely of a season of experiences to prepare for the playoffs."
The one thing that makes life more difficult for teams is the uncertainty of who you are playing in the opening round. As Comley pointed out, it seems that it isn't until that last Saturday of the regular season that you find out who you are playing and that makes playoff prep for a specific opponent start late. Then depending if you play one or two rounds to get to Detroit you go from the mentality of playing a series against one team to having to prepare for three teams. That includes the one you are playing, and the winner of the other game and that changes how the staff prepares the players.
"This is where you really have to keep your guys focused on one game at a time while as a staff you are preparing to play everyone," said Comley. "Then if you are lucky enough to get to the NCAA tourney, you probably play teams that you haven't seen and this is where your season of prep comes in."
Comley mentioned how lucky some teams are to have a special video coordinator. Through that vehicle, MSU will begin to compile an archive of televised games from other conferences that feature teams that consistently are in the top 12 in the nation. The ECAC doesn't have as many televised games as the CCHA, WCHA, or Hockey East so getting film on them is a little harder.
"If we play a team from the ECAC, it slows down a little, we have to go in search of film, set up a tape exchange and you might not get a film until Tuesday or Wednesday of the week you play so once again, the message to the players becomes one of focusing on yourself."
However, in this age instant communication, no one is a surprise, and even the coaches notice that not many teams play very differently.
"The players know most of the opposing players from junior or prep school, and the they keep in touch with their former teammates now playing at different schools by text or facebook so from their perspective, they pretty much have a bead on other teams. From our perspective, the more you watch other teams on film the more you realize that not many of us play that differently from each other. That factors in your preparation, it isn't like you have to tackle a team that is doing something so unique."
Comley feels two areas of concentration are paramount in his playoff prep, opponents special teams and forecheck systems.
"The bottom line is the game is still so instinctive to the kids," said Comley. "It's not like football where a QB can read a coverage at the line, check off, audible, and then get the snap. If a team uses more of a pressure forecheck, we'll make our kids aware of it but as a hockey player, you are kind of limited as to what options you can use. It is usually a good quick pass or a very high dump out."
The key buzzword for all coaches was focus: focus on what you can control, focus on what the task at hand is, and focus on discipline.
"I remember that first Lake Superior team I had, that team was really good, probably the best team I ever had, but lost its discipline in the playoffs and we were eliminated," said Jackson. "Then we lost nine seniors and started all over again with a decent team and won it all because we stayed composed all season. That was part of the playoff preparation."
Unlike pro hockey, in college hockey and in college basketball teams can lose in the playoffs at the conference level and still make the tourney. It happened to Denver the year it won the first of its back-to-back titles. It happened to Michigan State when it won in '05, and likewise to many teams including the defending champions from Boston College.
Maine won a triple-OT game against UMass in the Hockey east title game in 2004 backed by a stellar performance from Jimmy Howard in goal. Maine knew going into the game that win or lose, they were in the NCAAs. UMass needed to win the game to get the auto bid to advance. For the coaches the prep was a little different.
"We knew we were in, so we prepared to win but we really wanted to play well and build momentum. UMass prepared for that game like it was life or death because their season hung in the balance. There was a sense of urgency in their prep. On that note it was pretty exciting."
Can the knowledge that the conference playoffs don't affect the team advancing to the NCAAs become a problem?
"With the culture we have here, getting to Joe Louis for the CCHA championships is important to us even if we know we are going to the NCAAs," said Jeff Jackson. "We don't really worry as a staff that our kids will take any games prior to the NCAAs lightly, and that mindset in the dressing room is part of the preparation that the players do themselves."