There's no place like home–true for Dorothy in the Wizard of Oz and also true for icemen from Amherst College who enter Saturday night's NCAA quarterfinal against Hobart with a 12-0-1 home record at Orr Rink this season.
In fact, since closing out the regular season at home, Amherst hosted the NESCAC final four and first round NCAA game leading up to Saturday's quarterfinal against Hobart. In the six game stretch they are 6-0 and have outscored opponents by a 26-7 margin. It's about playing your best hockey at the right time of the year and the Lord Jeffs are doing just that.
Following Amherst's first ever victory in a NCAA tournament game Wednesday night, the Lord Jeffs have their sites set on a Frozen four berth and know they will need to play their best against a strong Hobart team on Saturday night.
"I thought we started out well against Babson and got put back on our heels a little with the penalty calls in the first period," said head coach Jack Arena. "We got a little lucky with three shots hitting posts and I thought Jonathan [LaRose] was just a little bit off his game early on.
"After the first period I told the team they [Babson] were playing loose with nothing to lose and came in here and punched us in the nose–we didn't go down but were going to need to pick our game up. When Babson scored in the second period, it actually got us going and boosted our energy level. We tied it about 40 seconds later and went ahead just two minutes after that."
Hobart comes in having defeated Nichols, 3-0, in their first round game and will bring a hard working style to the ice on Saturday night.
"I thought Wednesday was good for us in terms of getting the butterflies out of our system," admitted Arena. "The whole routine with the tournament, the mid-week game was different than the usual. This is also the last week of classes heading into the spring break so the workload has been fairly heavy on all of the students this week and I am sure that impacts our guys too.
"Saturday will be back to normal with a regular game day and routine for the team and of course it doesn't hurt that we are at home for the fourth consecutive weekend–that really helps."
The goalie rotation will continue for Amherst this weekend with Cole Anderson (1.49 goals against average, .954 save percentage) looking to one-up his teammate (Jonathan LaRose) as they have swapped the leadership positions for goals-against-average and save percentage between first and second in the nation over the past three weeks.
Both have been extraordinary this year and are the primary reason for Amherst leading the nation in defensive scoring.
"Babson did a great job trying to get in front of our net and battle for pucks and rebounds–something I expect Hobart to do as well," noted Arena. "They are a hard working team with no trickery that just keeps coming at you so I think our games against Trinity and Babson certainly help prepare us for what we will see on Saturday night."
"I was very pleased with the way we played in front of our net limiting the second chances against Babson," Arena continued. "On Saturday we will need our goaltending and senior defensemen to be the best players on the ice. They have done it all year and need to keep it up if we want the season to be extended."
Up front, Amherst (22-4-1 overall, 16-2-1 in NESCAC) will continue to look for contributions from a number of different contributors including their talented freshman Eddie Effinger (seven goals, eight assists, 15 points) as well as the versatile Keith Nelson (5-20-25) in attacking Hobart's veteran goaltender Keith Longo.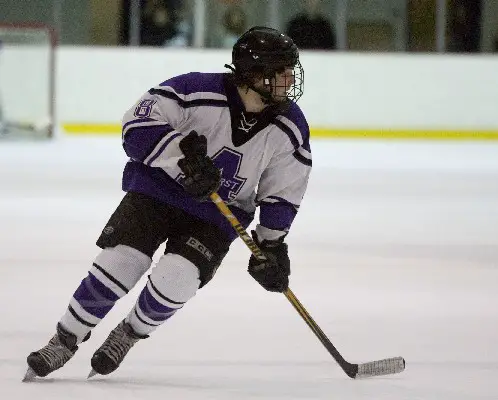 "They have an awfully good goaltender too," commented Arena. "He has proven his ability over a full career there and he will challenge us to beat him. Our seniors played there back in the [20]05-06 season and we lost, 4-2. Their style has been pretty consistent under Mark Taylor as coach and we will have to work hard to compete against Hobart."
"One of the keys to Saturday will be Amherst's staying out of the penalty box. Although they lead the nation in penalty killing efficiency, the Lord Jeffs will look to play more 5-on-5 hockey and decide the game there.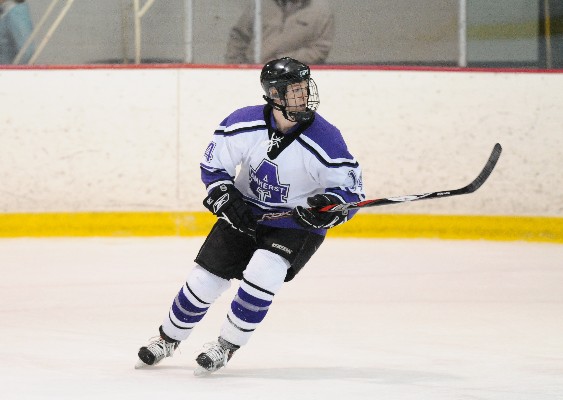 "Spring break begins for the students after classes end on Friday afternoon. For the men's hockey team they are hoping that the end of their season doesn't come until after March 21. A trip to the Frozen Four in Lake Placid is on the line and that's the spring break location to which the Lord Jeffs want to make their reservations.