Gustavus Adolphus Golden Gusties (17-10-0 overall, 10-6-0 in MIAC)
What started out as a reasonable response to a conference getting checked into the boards repeatedly by the system has turned into a question mark for the MIAC champion Gustavus Adolphus Gusties as they head into the program's first NCAA Tournament appearance since 1993.
Prior to the 2007-08 season, the MIAC pushed its league championship game from the Saturday prior to the NCAA Tournament to the Wednesday in the middle of the week. This was in direct response to a system that had, for years, awarded NCAA tournament bids in a manner that forced the MIAC winner to play an opening round game on the first Wednesday of the national tournament.
However, with the addition of the eleventh team to the national tournament this season, the West Region finds itself with two quarterfinal games, and specifically the MIAC champion Gusties find themselves with 10 days rest heading into a road contest with one of the top teams in the country.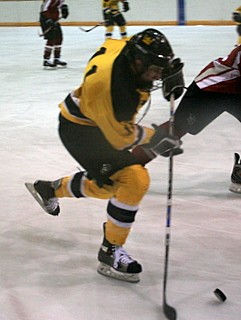 Only two other teams enter the tournament having had as much rest as Gustavus. Elmira, also 10 days, fell at home to Neumann Wednesday night in the opening round. The other, St. Scholastica, also plays Saturday.
However, Gustavus Adolphus coach Brett Petersen believes the time off was actually a benefit to his team.
"I think it was actually a blessing in disguise," he said. "Just cause of where we were physically and mentally, the break, I think, did us good. I'm pleased that we didn't have to play Wednesday, which is even better for us. So right now with our situation currently the break was very much needed."
Petersen guides a Gustavus program that hasn't had much success on the national stage heading into this season's tournament. The program has made just three NCAA tournament appearances, the last of which occurred in 1993. Each time the Gusties fell in the opening round, having yet to secure an NCAA victory. To Petersen, however, this is ancient history.
"That happened so long ago, our guys were in diapers that last time [Gustavus was in the tournament]. We're just kind of in the moment and our approach is that this is just another opportunity for us to continue to play and we're going to play here the same way we've played the last two or three weeks."
This weekend's contest pits the Gusties against a foe they've seen before: the University of Wisconsin-Superior Yellowjackets. In the previous meeting on Jan. 9 between these two teams, Gustavus pulled out to leads of 2-0, 3-1 and 4-3 before eventually falling 5-4 when Chris Wilson buried the overtime winner 4:15 into the extra frame.
Petersen viewed that game in January as a mirror image of the 5-2 victory his team secured over Hamline a week ago.
"I thought there were a lot of similarities looking at the two games … where it seemed to me that Superior got stronger as the game went on and they wore us down, especially late in the third period and into overtime. In my opinion, they were clearly the better team in the second half of that game. Looking at our game Wednesday, I thought Hamline got off to a good start against us and then I felt we got stronger as the game went on. So it was kind of opposite games."
Petersen understands that execution will be key to Saturday's game if the Gusties are to overcome one of the most highly regarded teams in the country.
"Well, number one we need good goaltending. That's always a key this time of year. And then a big thing for us is we need to be very smart with the puck. Superior has a great transition game and we just need to be smart and not turn the puck over. If we're able to do that, I think we'll be able to hang in there. But if we turn it over, we'll be on our heels and that'll be advantageous for Superior."
Gustavus got to this point playing some of their best hockey recently. On Jan. 10, reeling from the weekend sweep by Superior and St. Scholastica, the Gusties were just a game above .500 at 8-7-0 overall. Part of the early struggles were do to logistical obstacles Gustavus had to overcome early in the season.
"We had seven or eight weeks at the start of the year where we didn't have ice at our arena on campus," Petersen said. "And we were in a school bus driving 30 to 40 minutes one way to practice every day. And then also playing our home games away from our own venue because we had major restoration issues with our ice arena.
"We finally moved back in just before Christmas. So we came out of Christmas break and just got into our normal routine of our friendly confines and having the ability to practice every day on campus and we just kind of settled down and I think the whole thing has had a dramatic effect on our second half."
Since the weekend against Superior and St. Scholastica, Gustavus is on a 9-3-0 run, including four of their last five and three in a row. Nor has that stretch been a cakewalk for the Gusties, defeating perennial power St. Thomas three times, once in the MIAC semifinals, and the Hamline Pipers twice in three tries, the last for the conference championship.
That game involved Hamline jumping out to an early lead before the Gusties stormed back with five unanswered goals–which may serve as motivation for Gustavus moving forward.
"It does a couple of things. First of all, if you ever get in a position like that again, you can draw from that experience," Petersen said. "But on the other hand, it's something you don't want to get in a habit of doing because I think you're just fighting fire and fire and we were able to dodge a major bullet early and recover. But it certainly wasn't something that was in our game plan from the outset."
But it all comes down to win-or-go-home Saturday night, and Petersen is expecting a classic.
"In regards to Superior, we're certainly familiar with them. We get to play them once a year. If you look back at our scores the last three to four years, we've had very good, close games with them. And I anticipate another one of those close games this Saturday."
Based on January's contest, it just may be a thriller.
University of Wisconsin-Superior Yellowjackets (23-3-3 overall, 11-1-2 in NCHA)
Unlike its NCHA brethren, Stout and St. Scholastica, which qualified for the NCAA tournament, Superior enters the fray with a long and storied NCAA tournament history.
This weekend's quarterfinal match-up against MIAC playoff champion Gustavus Adolphus will be Superior's 12th appearance in the NCAA tournament. It is 25-15-1 all-time in NCAA tournament games.
Superior made the NCAA tournament six consecutive years from 1992-97 and rattled off another four year run from 1999-02. They also qualified in 2006.
Additionally, the Yellowjackets have a great track record of making the Frozen Four in years they do make the tournament. They qualified for the Frozen Four in 1992, 1994-97, and 1999-02. That translates to Superior making it to that coveted destination in nine of its 11 previous NCAA appearances.
In its last Frozen Four season in 2002, the Yellowjackets stunned Norwich with a come-from-behind 2-1 victory in overtime of the national championship game.
In the minds of the Superior faithful, playing in the NCAA tournament is expected annually, and though it's been nearly three calendar years since their last appearance, this time around the Yellowjackets enter the tournament with a bang.
Despite a loss to Stout in last weekend's Peters Cup finals, the Yellowjackets have been the dominant team in the West Region this season. Their 23-3-3 record is best in the West and earned them the top seed in the region.
Speaking to www.jackethockey.com, Superior head coach Dan Stauber is clearly pleased that the Yellowjackets once again have earned a crack at the national title.
"This is what we play for. It's such a special thing to be able to play in the NCAA tournament and have a shot to go to the final four," he said. "I never got to play in an NCAA tournament, but I have coached in a few of them and it is such a fun experience. I hope that our players realize how special a time this is and how much fun they are about to have."
Saturday's quarterfinal meeting with Gustavus Adolphus might be a fan's delight as both teams will take the ice with plenty of offensive firepower.
In terms of the Yellowjackets scoring prowess, they lead the NCHA with 4.41 goals per game this season. Aside from being tops in the NCHA, that total ranks tied for sixth-best in the nation.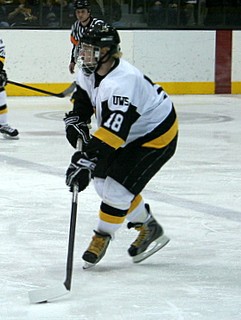 That is no surprise considering the Yellowjackets considerable depth and talent at the forward position. They are led by a pair of junior forwards in Braden Desmet and Chris Wilson who have posted 35 and 33 points on the season, respectively.
Senior Kevin Huck also cracked the 30 point barrier and has posted 32 this season, while sophomores Logan Isley and Talon Berlando each have contributed 29.
All told, Superior boasts 15 players who have scored in double digits this season. Four of those are defensemen, with junior Art Clark and senior Ryan Kuntz each having tallied 14. Right on their heels are junior Brian Bina and freshman Kent Detlefsen. Both have notched 13 points on the season.
Though the Yellowjackets will hit the ice with a defensive cast that can shine on both ends of the ice, their biggest defensive asset is likely senior goaltender Chad Beiswenger.
Beiswenger is the only goaltender to have touched the ice for Superior this season and holds a 23-3-3 record, 2.01 goals against average and .917 save percentage. His efforts earned him player of the year honors in the NCHA.
Though the Yellowjackets possess a NCAA tradition that Stout and St. Scholastica do not, they do hold one thing in common with the Blue Devils and Saints: experience.
Fourteen regular skaters–the bulk of which were there in the 2006 NCAAs–for Superior are upperclassmen, which means they will be hitting the ice with a relatively battle tested squad come Saturday.
Though not much of that experience came in the NCAA tournament, it could very well prove to be a positive considering not one Gustavus Adolphus player has any NCAA experience at all.
They say one can't put a price on experience and perhaps that was the case as the Yellowjackets rallied to defeat the Gusties, 5-4, in overtime when they met in early January.
Whether that quality played a role in that win or not, if the Yellowjackets can once again find a way to down the Gusties they will earn its 10th trip the Frozen Four in only 12 tries.