Players work together on the ice to reach a common goal, but there is more to a team than just those who wear a jersey. It may be a surprise, but the laundry and locker rooms don't clean themselves, and the water bottles and equipment don't just magically appear on road trips.
Student managers of each program work hard behind the scenes to help their teams run smoothly, especially come game time. They may not be skating in practice, but the managers are surely dedicating just as much time as the guys in the weight room.
Melissa Wade recently spent time with the Boston College managers, and also sent questions to the Hockey East schools' managers to get a feel for the leaguewide experience. The questions asked were as follows:
Equipment Manager:
1. How many student managers?
2. Duties? Approximate hours in an average week?
3. How many applicants/how do you choose your managers?
Senior Student Managers:
1. Why did you choose to do this?
2. Favorite college experience that was due to being a student manager?
3. Hardest thing about being a student manager?
Justin Murphy, Boston College Senior Student Manager: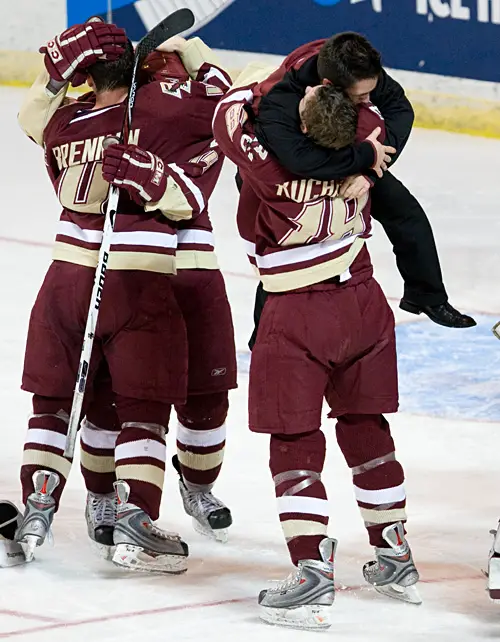 1. I was a manager of my prep school team, and a longtime BC fan as my older brother, Ryan, played under Coach York from 2001-2005. It seemed like the obvious way to help the team, and I was fortunate enough that there was an opening my freshman year.
2. The game against Miami last year in the NCAA tournament is probably my greatest memory and experience (thus far, at least). The two-minute stretch where we scored three goals to come back from a 2-0 deficit was one of the wildest things I've ever seen in hockey. The emotion on the bench that night was incredible, and I will never forget what it was like to jump over the boards in my dress shoes when Whit [Joe Whitney] put home the game winner in OT to send us to Denver.
3. The two hardest things about being a manager are 1) trying to please everyone, and 2) not having any control over the outcome once the puck drops.
Sean Patno, Mass.-Lowell Head Equipment Manager:
1. I have five student managers.
2. For most of them, their duties are to film one practice a week with laundry duty after practice (they have designated days). Each manager is needed for a home game where they each have specific tasks that they are responsible for. Tasks such as filming the game, filling bottles between periods, setting up benches and penalty boxes before games, cleaning up after the game, laundry after the game, and keeping stats on the computer are all expected of our managers. Only two managers come on away games, each performing various tasks mentioned above. Each manager averages roughly eight hours a week.
3. There are anywhere between 20 to 30 applicants annually and we select them through a selection and interview process at the beginning of the school year.
Cormac, Mass.-Lowell Senior Student Manager:
1. Loved hockey and I had work-study so it was the perfect fit.
2. We were losing to UMaine and I was filling up water bottles on the bench when the Maine mascot came over and threw a wet towel in my face and the crowd went wild. When we went back to the locker room area and the teams were getting ready to go on the ice I saw the mascot and bodyslammed him, and all the UML players went wild; some told me that it motivated them to play harder.
3. Getting attached. When I was on the road the team became my life, and two first-round exits to Maine in the playoffs were heartbreaking.
Eric (E-Money), Mass.-Lowell Senior Student Manager:
1. I chose to be a student manager at the University job fair. When I found out I'd be receiving work-study, I thought I'd be working for the dining hall, the library or something else that I really didn't want to do. I had been a fan of hockey since the Springfield Falcons and Worcester IceCats entered the AHL. I was never able to be a player, so working for the team was the next best thing. It was really a no-brainer for me. I could be washing dishes or moving books around or I could be doing this job that I love.
2. My favorite college experience that was due to being a student manager came [the weekend of March 13-15]. I've been with the team since my freshman year, and we had never made it out of the first round of the playoffs. I've only been traveling with the team for two and a half seasons, but my previous experience with the Hockey East playoffs — last year's three-game series with Boston University — was heartbreaking. This year, it was really amazing to watch this team grow and improve, and to win the playoff series in Vermont. It was really the best experience I've had so far.
3. I can't really say that I'm a fan of doing laundry after overnight trips. It isn't anything that's actually hard; it just makes coming home take a bit longer. There really isn't any one thing that I can pinpoint as being all that hard — if nothing else, then just because I like doing this.
Josh MacDonald, Maine Director of Hockey Operations
1. Two paid positions and four volunteers
2. One dedicated to laundry 15 hours per week, one dedicated to team video operations/equipment — 35-45 hours per week. Volunteers range from five hours per week to 30 hours per week depending upon class schedule and demand for activities that week (on average eight per person).
3. Applicants are accepted to volunteer positions as they show interest in the program, they dedicate the time they can and through attrition and continued dedication they fill any paid positions that become available. An average volunteer stays on for three years.
Robert Hayes, Maine Senior Student Manager: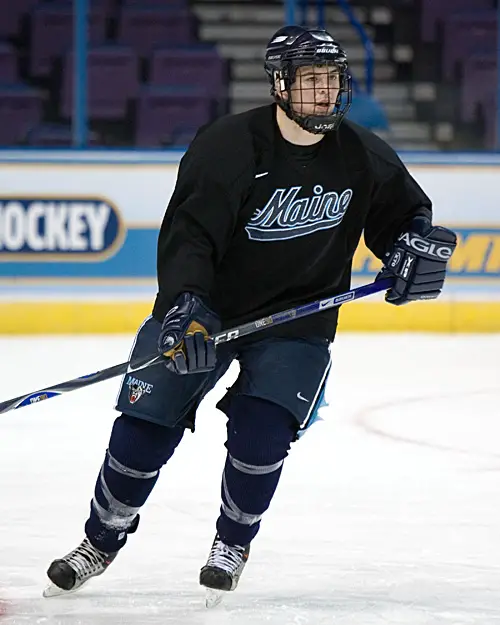 1. I chose to do this because I love the game; I had played my whole life and I wasn't ready to give it up. I can't imagine my life as a normal college student, but having the structure and team-oriented atmosphere associated with this hockey team has made me a better student.
2. My favorite college experience associated with being a student manager is definitely practicing at the Frozen Four. We had a ton of injuries that season, so I had served as a practice player most of the season, and just being on the ice in St. Louis, knowing that the team was only two wins away from a national championship, was something very special for me.
3. The hardest thing about being a student manager is the hours I have to keep. I have abandoned all weekends, arriving at the rink around 10 a.m. and leaving around 2 a.m. on game days. It is a lot of work, but it has been worth it.
Rob Coppola, Merrimack Senior Student Manager
1. One of the main reasons I became involved with Merrimack hockey was because I kind of fell into it. My dad has worked here my whole life as the director of the Physical Plant on campus, so I had always been a big fan and I went to high school down the road. After school I would come to the rink every day and just help the manager out that was here at the time with everything he needed. Because I had known the coaches for quite a while, they did not mind and I even traveled with the team everywhere they went, except for plane trips until my senior year of H.S. By my junior year I was the main person sharpening skates and doing a lot of the work associated with being a manager. When I got to college I continued doing it because I loved it so much, had met so many awesome people doing it, and have made hundreds of friends. There are not to many things that are better than being paid to watch hockey, and this being my eighth year doing it, working upwards of 50 hours a week much of the school year, I don't regret a single minute of it.
2. I would have to say that my favorite experience that was due to being the equipment manager is the traveling. I have been to Omaha, Neb., Detroit (twice), Anchorage, Ak., Minnesota and many other places in the past eight years. I had never flown in a jet coming into this, and when I was a junior in H.S. the team allowed me to travel to Omaha with them for the Maverick Stampede tournament. For me, Alaska was my favorite place to go by far. I love the outdoors and going to Alaska is one of the best places to go to really experience it. If I had never joined the hockey team I can't imagine I ever would have been able to experience that.
3. Probably one of the hardest things about being the equipment manager at Merrimack is the time that you have to put in to do it. At times I will be working almost 50 hours a week, if not more. There is a little bit of down time involved but when you are a full-time student, it is still quite hard. Being the one with the most experience at Merrimack when it comes to hockey equipment managing, there is also a lot of pressure from a lot of people. I have one person that helps me who is in his first year at Merrimack, and he takes a bit of pressure off, but between teaching him things and getting things done is still a lot of work. Even though it is a lot of work and the majority of it goes unnoticed, it feels good to know that I am helping out the team so much, and helping to make future professional athletes. When the team succeeds, I feel as though I helped in a big part to make that happen. So all the long days and nights, in the end, are worth it to me.
Matt Nareski, Northeastern Equipment Manager:
1. I have 11 work-study students and one volunteer.
2. Basically everything besides skate sharpening and heavy sewing. I have taught one student to sharpen skates so that the women's team would have coverage while I was with the men's team. The students do laundry, locker room cleanup, locker room setup for games, inventory, light repair work and set up the visitors when they come to Matthews. Also, I take all the players equipment early to away rinks and set up the locker room there. So I always have one or two students with me at all times on the road and some of them keep me in check and organized.
3. I have two students who work a tremendous number of hours a week, probably between 30 and 40, but after 20 hours, it's volunteer time. The rest of them will work between five and 10 hours a week.
3. I will get anywhere between 30-50 applicants in the fall. I send out emails to every one of them, but only 15-20 get back to me. I will bring them in and show them around and let them know the details of the job. I will normally hire every student who wants to work here, but there are students who just don't work out or will quit after a few days.
Providence:
1. Three student managers — all sophomores.
2. Their duties include laundry, keeping the locker rooms clean and various other tasks.
Charles Mackey, Vermont Equipment Manager
1. One.
2. Skate sharpening, laundry, locker room setup, work practice, work bench during games, pregame setup and postgame breakdown, general staff support. 20-25 hours per week.
3. Student manager is a volunteer position and is usually filled by referral.
John Gobeil, Vermont Senior Student Manager:
1. I love hockey. I played in high school at North Country Union in Derby, Vermont, and wanted to stay involved with the game. A lot of my friends at school were already on the team and roommates of mine. Also, this is something I may want to do in the future. I'm interested in maybe working on the business side of hockey.
2. My favorite experience was making the Hockey East finals at the TD Banknorth Garden last season. I also have enjoyed the fun times with the guys on road trips and just being part of the team.
3. The hardest part is balancing the time demands that come with being the manager along with my schoolwork and overall college experience.