Boston's National Team
Crosstown rival Northeastern's head coach, Greg Cronin, recently called BU "the best professional team playing college hockey."
Professional? Try national.
The Terriers boast seven players who were recruited out of the U.S. National Team Development Program in Ann Arbor, Mich., including standouts Colin Wilson, Jason Lawrence and Brian Strait. Strait captained the 2008 World Junior Championship team, and also won bronze in the 2007 tourney.
Drinks are on Kieran
After a rough outing, how many of those goals would Boston University netminder Kieran Millan want back?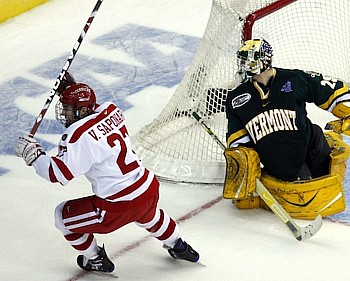 "He'd probably want two of them, and maybe three," said BU head coach Jack Parker, who had to speak for his tremendously relieved goalie since the frosh was already on the bus after the late-ending contest. "One went off his shoulder and in … but he made a couple of big saves too," the coach allowed.
The third goal was widely considered the softest of Millan's short collegiate career, as Vermont's Josh Burrows wristed a wobbling whiffler from 25 feet out that dipped under the 'keeper's left glove.
The 19-year-old goaltender isn't old enough to buy a round for his supportive forwards just yet, but there's no doubt he'll be accountable for a few IOUs down the road.
PIMs PROblematic
The Terriers haven't been afraid to mix it up all year long, taking the 12th-most penalty minutes per game in the nation. The penalty-kill was strong enough — 13th nationally — to make up for the infractions, and the PK kept opponents on their toes with 10 shorthanded goals as well.
But Thursday's penalties nearly did the Dogs in, as UVM scored twice in seven man-up opportunities, including the Catamount's go-ahead goal midway through the third to make the score 4-3. Vermont's power play hadn't been setting the world on fire, either, failing in its eight previous advantages in the NCAAs.
Bounce Bounce Bounce
In a game as wild and high-scoring as this, it's easy to forget exactly how many times fortune came into play.
For starters, Terriers Nick Bonino and Colby Cohen each rang the elbow of Rob Madore's goal, where the post meets the crossbar.
On BU's second goal, the Catamounts just missed an opportunity to bury a looping puck that flipped over Millan. Sophomore defenseman Colby Cohen knocked the rubber out of mid-air to save the Dogs, and on the transition up-ice the Terriers scored a goal on a very similar play.
Vermont sophomore Justin Milo broke his stick attempting what could have been an easy one-timer into an open net early in the second period. The puck skittered wide, but Milo bounced back from his bad break with a gritty goal minutes later.
Strong Weak on the Draw
Vermont senior captain Dean Strong had been winning faceoffs at a 62 percent rate over his last 23 games, and had won at least half his draws in each of those games.
Yet the center was only eight for 21 Thursday night, and BU's game-winning goal was a direct result of a clean Colin Wilson win against Strong.
Wilson drew the puck straight back, Chris Higgins blasted a long shot off Madore's post, and Wilson drove the net to bury the rebound … a cruel twist of fate that ultimately sank the Catamounts.
"We talked about keeping him from doing what he likes to do so well," said Parker of the terrific triggerman. "He likes to win it back towards his goalie, and we brought somebody up, especially when we were a man up so that they couldn't play what we call 'Cornell,' which is a certain type of play. That helped us out, because he did win it back to that area but we jumped on it.
"Sometimes he put it where he wanted to, but they didn't get the puck."
Odds & Ends
The Terriers advance to their 10th title game with the victory, but despite their reputation as a traditional hockey power, BU is only 4-5 all-time in the NCAA championship game.
Not that history — recent or otherwise — has any bearing on Saturday's national finale, but Boston University has won every title it has contended for this season: the Ice Breaker, Denver Cup, Beanpot, Hockey East regular- and postseason, and Northeast Regional tournament titles all landed on the Terriers' shelf.
The Terriers are now on a 16-0-2 run away from home, and goalie Millan is 15-0-1 outside Agganis Arena on the season.
Vermont became the sixth Hockey East team to have its 2008-09 season terminated by the Terriers. BU beat Providence to close out the regular season (which was PC's last game of the year), then dispatched of Maine in the first round, Boston College in the Hockey East semifinals, and UMass-Lowell in the league championship. The Terriers then edged New Hampshire in the Northeast Regional finale, and now stencil a Catamount on the side of their cockpit. Of the eight Hockey East squads that qualified for any form of postseason play, only Northeastern (lost to Cornell in the Midwest Regional) and Massachusetts (lost to NU in the first round of the Hockey East playoffs) avoided the lethal Terriers.