On a team with this year's Hobey Baker winner Matt Gilroy and another Hobey finalist, Colin Wilson, Boston University sophomore defenseman Colby Cohen seemed an unlikely candidate to score a game-winning goal for a national championship.
In his first season last year, Cohen had three goals and 13 assists, putting him 10th among BU's scorers. This year, Cohen netted eight goals, including the championship-winner on a deflected shot at 11:47 in overtime, and had 24 assists as the Terriers' seventh-highest scorer and the second-highest scoring defenseman in Hockey East, behind Gilroy.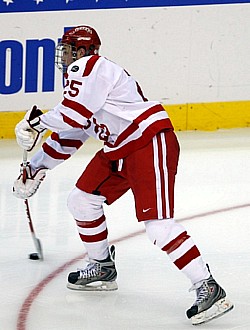 So while the finish of tonight's championship game contained several surprises, the fact that Cohen found the net to end the game may have been among the least of them.
BU coach Jack Parker said that anybody who paid attention to the Terriers this season could have seen Cohen perform the same trick, minus the securing of a national title, in any given night.
"The reason he got the game-winning goal," said Parker, "is [because] he's a terrific offensive defenseman who can shoot the puck 100 miles an hour.
"The reason we recruited him [was because] he was a great power-play guy, not only because he can move the puck and get great plays, but he's got a cannon, and that's what he brings. When we're recruiting guys, we like to see something special. What we like about this guy, what makes him special….[is that] he's such a great offensive defenseman, especially with the shot."
Cohen's goal was the only point he scored this weekend, but not for lack of trying. Cohen hit the pipe in the second period of the Terriers' 5-4 semifinal win Thursday, hit the pipe again tonight in the middle stanza, and attempted four shots total in the game.
"I'm getting close to scoring some goals this weekend and I've been hitting a couple of bars," said Cohen. "I just let it go and I saw it get blocked and go up and over the goalie's glove.
"I saw it go in and that was it. I don't remember anything after that. Just an unbelievable feeling."
When pressed, Cohen said that he tried to make a move around Miami defenseman Kevin Roeder on the game-winner, but he was interrupted by Gilroy.
"Colby, you closed your eyes," joked Gilroy.
"And then I closed my eyes and shot it, and here we are right now," replied Cohen.
Cohen, a native of Villanove, Pa., was a member of the U.S. National Development Program before playing for the Lincoln Stars (USHL). In 2005-06, Cohen was a member of a U.S. Under-17 squad that won a silver medal.
Cohen was drafted by the Colorado Avalanche in the second round of the 2007 NHL Entry Draft, 45th overall.
Cohen was productive on both sides of the puck this weekend, blocking shots in both tournament games. His outright stick save in the first period against Vermont, with the puck rolling up and over goaltender Kieran Millan, who was positioned at the outer edge of the crease, created the transition that led to a goal moments later, putting BU up 2-0.
Of his goal Cohen said, "I got lucky, I guess," but his coach wasn't buying that.
"I don't think anybody, if they've watched us, they know enough of Colby Cohen," said Parker.