The NCAA tournament and Frozen Four exposure was valuable for Bemidji State, but it also lost its starting goaltender after everything settled down.
The Boston Bruins confirmed Wednesday that they have signed goaltender Matt Dalton to an entry-level contract.
Dalton, who had two years of eligibility remaining, held Notre Dame and Cornell to one goal apiece in backstopping the Beavers' stunning weekend at the NCAA Midwest Regional on March 28-29.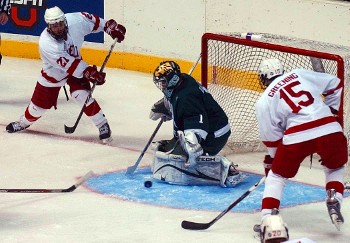 "It's unbelievable," Dalton said in a news release. "It hasn't really set in yet because I am still going to class and finishing up school. But growing up, this is what you dream of. Obviously, I haven't played in the NHL yet, but just to have the opportunity to further my career and sign an NHL contract is
amazing.
"My time here [at Bemidji State] has been special. The relationships I have made will be with me for the rest of my life. Also, the opportunity that I have been given by the coaching staff is unbelievable.
"Right now, I couldn't be happier."
Dalton started 31 of the Beavers' 37 games last season, posting a 19-11-1 record, a 2.19 goals against average and a .921 save percentage. He was a second-team all-CHA selection but led all goalies with a 1.94 GAA in league play.
"This is a great opportunity for Matt," Bemidji State coach Tom Serratore said. "His life-long dream has been to play in the National Hockey League. The success he's had this year and the role he played in helping Bemidji State advance to the Frozen Four has allowed him to move closer to fulfilling that dream."
The departure comes amid uncertain times for the Beavers, who next week will make a presentation to the WCHA, to which it has applied for admission.
The CHA will disband after next season.
"As hard as it is to see Matt go, anytime your players have an opportunity to move on to a higher level, it validates what you are doing as a program to develop players and is a credit to the success you've been able to achieve," Serratore said.
Dalton's departure leaves the Beavers without a goaltender with collegiate experience on the roster. Orlando Alamano, who played in six games last season, was a senior.
Dan Bakala did not appear in an official game in his freshman season, but he was 3-0 in exhibition play.