Bemidji State coach Tom Serratore is done talking about last season's Cinderella run to the Frozen Four.
Believe it or not, he'd rather talk about this season and the Beavers' chances.
"There never really was a hangover," said Serratore, whose squad also won the CHA regular-season and playoff titles. "We shouldn't even be talking about last season. There are memories, but we're all beyond that. This is a different team now with different players."
Any chances to replicate the 2008-09 season, however, might be dimmed by the fact BSU has two freshmen goalies and a sophomore that saw few minutes after sophomore Matt Dalton signed with the Boston Bruins last spring and Orlando Alamano graduated.
"What are you going to do?" Serratore asked. "Any time you lose a player to the NHL it's a big loss, but there's nothing you can do. That's the hand you're dealt. You just move on. We have three capable goaltenders and we hope one of them can step up and take charge."
Dan Bakala didn't see any regular-season action last year, but did go 3-0-0 in exhibition games. Mathieu Dugas and Travis Bosch had decent junior careers and should see game action immediately.
Still, the loss of Dalton will sting, at least in the early going, as will Tyler Scofield's graduation. Scofield finished as the third-highest scorer for BSU's Division I-era teams last year.
"Matt Dalton is a big loss; he had a very solid year last year and will be missed," BSU senior captain Chris McKelvie said. "With that being said, I have a lot of confidence in our goalies this year. They are very hard workers who are eager to get better and are also very competitive. Not only that, but our defensive system and defensive core is solid as evident from last season, and it's great to have knowing those guys are on the blue line for us."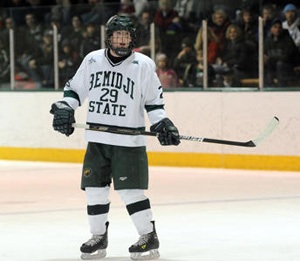 The BSU defense is where Serratore feels the strength of the Beavers lies. He also said that he doesn't see any freshmen making an impact this season.
"We have a lot of returning guys back in our 'D' corps and have a lot of maturity back there," Serratore said. "With our freshmen, as a program, we don't put much emphasis on our freshmen. If they play, it's a bonus, but to expect them to take the next step right away and be significant players is unfair to them."
McKelvie, an assistant captain last season, sees being named captain this year as just a sign he's a role model for the rest of the team, freshmen included.
"I think a big thing with leadership is that you always let your actions speak louder than your words," McKelvie said. "Guys are going to see through you if you say one thing and don't follow through with it yourself. There have been some great captains in this program's history and I think the one common denominator is that they always put the team before themselves. You have to do everything you can to make sure the team brings their best every day."
Junior forward Matt Read and sophomore defenseman Brad Hunt made the All-CHA preseason team and emerged last year as legit players at the Division I level. Improvement is expected not only of them, but also from the entire team as it may be a bit of a bumpy road.
"We have a lot of work to do with some very tough challenges throughout the season," McKelvie said. "It's a special group of guys in the locker room who are very determined to win this year and I fully expect us to have success. We must come prepared for every weekend and the results will take care of themselves."
Even if there is no NCAA tournament appearance this season, any team that plays the Beavers will quickly see that last year was no fluke.