And the beat goes on for Bemidji State.
Honestly, this is a team that's looking like it will not only keep up with the rest of the WCHA next year, but for the time being will be a team that looks unstoppable in CHA play.
The facts don't lie.
The Beavers are one of three unbeaten teams in the nation and are off to their best start in 25 years at 7-0-1. That seven is also lucky as it's their ranking this week in the USCHO.com/CBS College Sports Poll — the school's highest ranking ever.
Goaltending was looking like a big-time issue heading into this season after Matt Dalton bolted for NHL money with Boston. Two freshmen and an unproven sophomore were what BSU was leaning on this season.
Now, that unproven sophomore, Dan Bakala, is 6-0-1 in his last seven starts with a goals-against average of under 1.00 and a save percentage hovering near 98 percent.
Wow. Matt who?
Look at last weekend when Robert Morris and a proven goaltender, Brooks Ostergard, came to town. The Beavers allowed just one goal over both games and swept the series from the Colonials.
This weekend, though, BSU travels to Minnesota for a series with the unranked 3-4-1 Gophers, who have struggled this year and had sophomore defenseman Sam Lofquist leave the team this week for the OHL's Guelph Storm.
Minnesota isn't even ranked and one Minneapolis blogger, Roman Augstoviz of the Star Tribune, this week wondered if it's the Gophers who are going into this series as the underdog.
Methinks he's bang-on.
History is on Minnesota's side, however.
Minnesota has won all six previous meetings with Bemidji State, outscoring the Beavers by a 35-9 count.
Ouch.
The past five matchups have been played at Mariucci Arena with the most recent series being Feb. 6-7, 2004. The teams first met on Oct. 14, 2000, in Bemidji. Aside from a 2-1 win on Feb. 6, 2004, the Gophers have won each of the other five games by at least four goals.
Alas, that's why they play the games.
Bemidji State Handles Robert Morris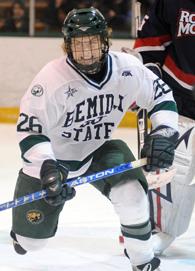 In Friday night's 2-0 win, Bakala made 23 saves and made goals by Matt Read and Jordan George stand up.
The game was scoreless after 40 minutes and RMU had the best scoring chance of the game 13 minutes into the second period.
Bakala moved to the right post to make a save, but was unable to corral the loose puck, leaving the net wide open for J.C. Velasquez. Just as Velasquez fired the shot, BSU freshman defenseman Brady Wacker dove across the crease to deflect the shot wide.
Jake Areshenko recorded his first NCAA point with an assist on Read's tally.
Ostergard finished with 37 saves.
The next night, BSU had 13 skaters register points in a 6-1 rout of the Colonials.
Brad Hunt had three assists in the game.
Darcy Findlay, Tyler Lehrke and Ian Lowe gave the Beavers a 3-1 lead through two periods with a Denny Urban goal late in the second being the only blemish.
Read, George and Emil Billberg finished the scoring barrage in the third.
Bakala turned aside 27 shots for the 'W,' while Eric Levine made 34 saves in the loss.
Niagara Still Winless After UMass Sweep
Niagara came into its delayed home-and-home set with No. 19 Massachusetts looking to end its winless drought, but came up empty with a 4-1 defeat Friday night and a 4-2 loss Sunday afternoon.
In the series opener Friday night on the road, the Purple Eagles had a 1-0 lead on a goal by Ryan Olidis 22 seconds into the second period. UMass scored two to take a 2-1 lead into the third period, where the Minutemen added two empty-netters to seal the deal.
"A lot of our game I like, even with the tight loss," NU coach Dave Burkholder said. "We played a great road game, but sadly we sputtered on our last power play in the second period. We ended up taking a penalty and they converted on the man advantage. When you play a team as good as UMass, they will make you pay for your mistakes."
Andrew Hare finished with 29 saves for Niagara.
NU dropped to 0-7-1 in another tight game Sunday.
On a day where Niagara honored the 1999-2000 team that earned the program's first NCAA tournament berth, the Purple Eagles came out strong early.
Again, Niagara had an early lead when Egor Mironov scored six minutes into the first period.
"I think that we came out with a lot of energy," Burkholder said. "We were excited to finally be back at home after a six-game stretch."
The Purple Eagles held a 1-0 advantage until early in the second period when UMass struck twice in a 50-second span to take a 2-1 lead. Burkholder then yanked starting goalie Adam Avramenko for Chris Noonan.
Niagara would tie it halfway through the second stanza when Chris Moran found Olidis in the slot for the one-timer.
UMass scored two goals late in the third to put the game away.
"We were too sloppy today," Burkholder said. "UMass played a patient and good road game and in the end got the victory."
Noonan made 25 saves coming off the bench. Avramenko stopped 11 shots in his 24:56 of work.
NU Gets Commitment From Austrian Black Hawk
No stranger to having European players in their program, Niagara will have Austrian-born Patrick Divjak in its lineup starting next season.
The Waterloo Black Hawks forward is playing his third year in the USHL and his first with Waterloo after the past two years with the Sioux Falls Stampede. During his time in Sioux Falls, he also participated in the World Junior Championship for Austria.
"We felt we had a big opportunity when Patrick became available over the summer," Waterloo coach P.K. O'Handley said.  "He's been a good fit with our power play centering a veteran group."
Divjak will play for former Black Hawks forward Tim Madsen, who is a member of Niagara's coaching staff. Madsen skated for the Hawks in 2003-2004, winning a Clark Cup title, before joining the Purple Eagles in the fall of 2004.
Niagara has dressed Finland natives Hannu Karru, Timo Makela (a former captain), Mikko Miettinen and Mikko Sivonen throughout the course of its history.
CHA Commish Discusses Status of League
In the Niagara Gazette this week, acting CHA commissioner and Niagara AD Ed McLaughlin sat down for a Q & A session with Gazette sports writer Tim Schmitt.
McLaughlin, who has always been up-front and straight to the point, held nothing back when asked about the situation that happened over the summer between Alabama-Huntsville and the CCHA.
"I talked with athletic directors in the CCHA and I talked with Huntsville," he told the newspaper. "I didn't play a part in any of the application process or anything like that, but I unsuccessfully campaigned for them. I campaigned for them, though. It was our hope that we'd find a home for everybody. If the home wasn't together, we wanted everyone to have one. It's disappointing, but you can't tell people how to do their business either.
"I think there are geographical obstacles that make it hard for the CCHA teams to wrap their brains around it. You're already going to Alaska, and they don't see Huntsville as a hockey place, even though they have great tradition. The CCHA has minimum operating numbers in terms of dollars, and that's certainly not anywhere near where the CHA teams have been. I think Huntsville committed to getting there, but I think it was night and day, what they've been spending and what we've been spending."
McLaughlin was also asked if he feels powerless at times, if he feels like he's being twisted and his thoughts on Bemidji State getting accepted into the WCHA.
"It's one of the single most bizarre things of my professional life," he told the newspaper. "And we've had some bizarre experiences. Bemidji is a big rival for us. And while I'm happy for them and their progress, you want them to do well, but as the Niagara AD, not this year. I was happy for them last year too. It was great for our league [and] it was great for college hockey that it happened. But it's a really bizarre dynamic because it's hard to close down a league and to keep focused on things. You don't want people to say that it doesn't matter.
"The championship game back on CBS College Sports this year, that was an important thing for me because I don't want the kids to ever think that we don't care. It's a sad thing, but we can't have the kids experience not be the same."
And Then This From Don Lucia
Minnesota coach Don Lucia, on his weekly radio show this past Monday, gave praise to his squad's opponents this weekend from Bemidji State and also touched on the ever-changing landscape of college hockey.
"Bemidji State has an unbelievable tradition in hockey with Bob Peters going back 40 years," Lucia said. "And they have won countless Division II titles, NAIA titles, and All-Americans, NHL, Olympians. I think it's great that there is going to be another [WCHA] team in the state of Minnesota. They are going to have a great facility to play in.
"I was a huge proponent of Bemidji State being a member of the WCHA because it is good for college hockey. We always have to be looking at the big picture and what is good for college hockey. And college hockey is unique because we are a sport where Bemidji State can compete with Minnesota, Wisconsin and Michigan. You can't do it in other sports, but hockey is the one-sport where it doesn't matter whether you are Division III like Colorado College or a Big Ten member.
"Everyone is basically on an equal footing."