Niagara wishes all its games could be on Wednesday night at home.
After putting an "0-fer" on the board through the first six weeks of the season, the Purple Eagles finally got in the win column with a 4-1 win over RPI at home on Wednesday.
"To come out and play a full 60-minute game against a good team feels great," NU coach Dave Burkholder said. "Our third period really put a big exclamation point on our effort. It truly was our best period of the game."
Brent Vandenberg notched his first collegiate multi-point game with two goals and an assist and now has a three-game point streak.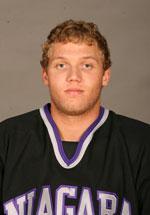 "Tonight, I was in the right spot at the right time," Vandenberg said. "We have to play tough in front of the net, since all goals won't be pretty, but they will count just as much on the scoreboard."
Giancarlo Iuorio and Egor Mironov also scored for the Purple Eagles, who also got two assists from Chris Moran and 19 saves from Adam Avramenko.
The game was also just the second-ever game played on Hump Day at Dwyer Arena. NU beat Hobart, 12-3, during their inaugural season 13 years ago.
NU won't have to wait another 13 years for the next Wednesday game — just one week. Next Wednesday night, Niagara travels to Robert Morris for a Thanksgiving Eve tilt.
Last weekend, Niagara and RMU played a home-and-home series that saw the Colonials win, 5-3, Friday night at Niagara and then the two teams play to a 3-all draw Saturday night in suburban Pittsburgh.
Friday night, Chris Kushneriuk's hat trick led the way for RMU with his third goal midway through the third period proving to be the game-winner.
Nick Chiavetta and Scott Kobialko also tallied for Robert Morris and goalie Brooks Ostergard finished with 38 saves.
Andrew Hare, in his Dwyer debut for Niagara, turned aside 29 shots. Moran, Vandenberg and Ryan Olidis were the only three to beat Ostergard.
"We had a good weekend and got rewarded," RMU coach Derek Schooley said. "We played hard, battled and competed on Friday night. We got some timely goals from Chris Kushneriuk and played well defensively. On Saturday, we showed a lot of drive and character coming back from two goals down to tie Niagara. It was a very exciting hockey game. Niagara is a good team and certainly much better than their record indicates."
Back at the Island Sports Center Saturday night, a three-goal outburst in the second period in a span of 3:15 gave NU a 3-1 lead, but two late goals in the second and third periods brought RMU into the stalemate.
"We played a great road game," said Burkholder. "We were looking for that fourth goal to win the game, but instead only have a point to show for it."
Brendan Sheehan, Mironov and Paul Zanette scored three goals in three minutes in the middle stanza, but Nathan Longpre's second of the game at 16:56 of the second made it a one-goal game and then Trevor Lewis' tally at 16:05 of the third tied it up.
"The freshmen in particular were truly an energy line for us this weekend," Burkholder said. "Their goals were a result of nothing but hard work and it really got the ball rolling for us."
Avramenko made 31 saves, while Ostergard kicked out 35.
Kushneriuk added two assists for the Colonials.
This weekend, RMU heads west to No. 7 Colorado College — never an easy team to play, according to Schooley.
"Colorado College plays an up-tempo style and they are very well coached by Scott Owens," Schooley said. "They are getting excellent goaltending and have some high-end players. This should be another challenging weekend for us with a high level opponent and a long trip to Colorado Springs."
Beavers Notch First-Ever Win Over Minnesota
Bemidji State hit their first rut this season when Minnesota snapped their undefeated streak Saturday night on the road, but BSU rebounded with their first-ever win over the Gophers Sunday night.
Minnesota took a 4-1 win the first night and the Beavers responded with a 6-2 win the following evening.
"Overall, I thought it was a pretty good hockey game," said BSU head coach Tom Serratore Saturday night. "Did we put 60 minutes together? Obviously not. [Minnesota] won the special teams battles tonight and typically the team that wins the special teams battles wins the games."
Jordan George started the scoring just 2:03 into the game, but that's where the offense stopped.
Dan Bakala made 25 saves in suffering his first collegiate loss. He had started the season 6-0-0.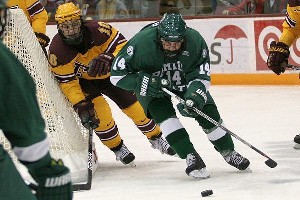 Sunday night, BSU never trailed and wound up with what Serratore called a "monumental win."
"[Minnesota] is one of the premier teams in the country and obviously Minnesota's Pride on Ice," said Serratore. "Anytime you can win a game in this building you take it. Mariucci Arena is a very difficult place to play. I am very proud of our guys. I thought the biggest thing we did tonight was that we defended extremely well. I thought we took the middle of the rink away and I think that led to a lot of our success."
Jamie MacQueen led the Beavers' attack with a pair of goals, while Shea Walters, Matt Read, Brad Hunt (also with a helper) and Aaron McLeod added single goals to back Mathieu Dugas' 25-save performance.
George contributed two assists for BSU, who are now 8-1-1 overall. Minnesota now sits at 4-5-1.
And oh yeah, BSU is ranked eighth in the nation. Minnesota? Nowhere to be found.
UAH Swept by UMass-Lowell Down South
After a fast start this season, the Alabama-Huntsville Chargers have cooled down and were swept at home last weekend by then-fifth-ranked Massachusetts-Lowell and former Niagara coaches Blaise McDonald and Jerry Forton.
UAH managed just one goal all weekend in losing 3-1 Friday night and then 4-0 Saturday night.
Kevin Morrison's breakaway goal 46 seconds into Friday's game was the one time the Chargers lit the lamp.
The UAH penalty killers did hold the Lowell power play (fifth-best in the nation going into last weekend) scoreless both nights.
Cameron Talbot made 30 saves Friday and another 27 on Saturday night as Huntsville's losing skid at home is now at a half-dozen games.
UAH now hits the road for 10 straight road contests starting with a series at Bemidji State this weekend.
"We're working hard," UAH captain Ryan Burkholder said to the Huntsville Times. "It's just we're having trouble scoring. The chances are there. It's going to come."
Like Brother, Like Brother
Colin South played for the same junior team as his older brother, Furman, and will join him at the same college team next year when both will be part of the Robert Morris squad.
Colin is a 6-foot-1, 195-pound forward who has 18 points in 17 games so far this season playing alongside Ben Murphy and RIT recruit Adam Mitchell with the Bay State Breakers of the Eastern Junior Hockey League.
"Playing Division I college hockey has always been a dream of mine and now I will be able to realize that dream when I attend Robert Morris University next fall," said Colin. "I am very excited to further my hockey career along with my education. I am also excited to play with my brother, Furman, on the same team and have my parents in the stands each night."
"Colin is a big part of our team," said Bay State head coach David McCauley. "He adds offense and accountability to our lineup. I am very excited for Colin and the South family that both boys are close to home playing Division I college hockey."
The South family resides in nearby Sewickley, Pa.
BSU Makes Two Recruits Official
Bemidji State announced this week that forwards Radoslav Illo and Jeff Jubinville signed their letters of intent during the early signing period and will join the WCHA Beavers next fall.
Illo, a fifth-round pick of the Anaheim Ducks last June, currently plays for the Tri-City Storm of the United States Hockey League, while Jubinville is with the Wenatchee Wild of the North American Hockey League.
"Both of the players in this year's early signing class have the skills and abilities help us to transition to the WCHA, while maintaining the same unique characteristics that are Beaver hockey," said BSU assistant coach and recruiting coordinator Ted Belisle.
Illo will be the fifth BSU player that has been drafted into the NHL, joining current Beavers defenseman Chris Peluso (Pittsburgh) and BSU alumni Andrew Murray (Columbus), Gary Sargent (Los Angeles) and Dale Smedsmo (Toronto).
Illo will also be the first Slovakian to join the BSU program and will accompany Emil Billberg (Sweden) as the only European-born players on the Beavers' 2010-11 roster.
"Rado's skills and abilities as a hockey player and a person will be a nice addition to Beaver hockey," said Belisle. "He has a dynamic shot, he is a goal scorer and his potential was noticed by the NHL and Anaheim. We are very excited about adding a player with good size that can get up and down the ice and score goals."
Prior to joining the NAHL, Jubinville, an Edmonton native, played two seasons with the St. Albert Steel of the Alberta Junior Hockey League, where he put up 37 goals and 96 points in 119 games.
Jubinville currently plays for former BSU graduate assistant coach Ryan McKelvie and follows Dugas as Wenatchee alums to the Bemidji State roster.
"Jeff Jubinville is a very skilled player," McKelvie said. "He is one of the fastest skaters in our league, has excellent hands and shoots the puck well. He's got good hockey sense, finishes all of his checks, and is not afraid to go to the tough areas. He should fit in well with the up-tempo style of play at Bemidji."
"Jubbie is a dynamic skater who brings talent to our forward group in every situation," Belisle added. "He is reliable defensively, while offensively he has skills to produce. The fans will really get excited about his speed and the way he can get around the rink."
Illo and Jubinville are the 17th and 18th early period signees at Bemidji State since the program made the jump to Division I in 1999.