Coming into this season, no one expected much of the Colorado College Tigers. They were picked eighth in the preseason coaches poll, and most media picked them to finish seventh or eighth.
One of the reasons for the low expectations was the departure of sophomore goaltender Richard Bachman, as well as the graduation of Drew O'Connell, leaving the Tigers with a huge hole to fill at what many feel to be the most important position in hockey.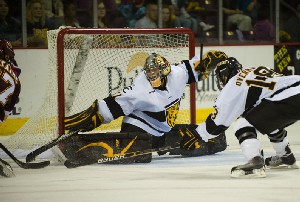 Entering December then, the Tigers have exceeded all expectations, ranked sixth in the polls and sharing first place in the WCHA with archrival Denver, whom they play this week in a home-and-home series.
A large part of the Tigers' early season success can be attributed to the emergence of freshman goaltender Joe Howe, was has started 12 of the Tigers' first 14 games and is currently ranked 11th in goaltending in the country, with a .934 save percentage and 2.0589 goals against average.
"We've been very pleased with Joe in the early going," said Tigers coach Scott Owens. "We've been very happy with the consistency, and the poise he's had. He's able to make the routine saves and he makes the big saves. He's played like an upperclassman, not a freshman."
After starting CC's first game of the season and earning a 4-2 win against Northeastern, Howe earned both starts the following weekend against Wisconsin in Madison, earning a win and a tie, and hasn't looked back. The confidence gained from that weekend has been crucial to both his and the team's success.
"It was good to get that first win and kinda get it out of the way right away," said Howe. "I was really nervous for the next couple games playing at Wisconsin."
"They started him in Wisconsin and they've had confidence in him and played him a lot, so they've given him the opportunity to be successful," said Tigers captain Mike Testwuide.
Howe stands 5-foot-11 and weighs 190 pounds. He came to CC from the Waterloo Blackhawks of the United States Hockey League, and also was the goalie for the Team USA junior team that won a gold medal at the World Junior A Challenge in 2008.
Howe started playing goalie in squirts in Minnesota, where his older brother also played goalie.
"He made me play goalie so he could shoot on me," laughed Howe. "That was one of the reasons I fell in love with it right there. I still like playing out and do so when I play pond hockey back home. I always wanted to be a goalie though and love being a goalie."
Howe's father Dick Howe played hockey at Notre Dame, and when it came time for Joe to choose a school, Notre Dame was certainly in the running. In fact, CC initially trailed Notre Dame, Minnesota, and North Dakota in his picks of schools to play for.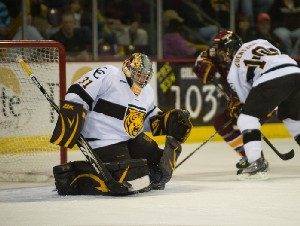 "I visited CC last and it was probably at the bottom of my list at that point, but I loved the area, the program, I really liked coach Owens and [assistant] coach [Joe] Bonnett and it just kind of felt right when I came down here and I knew it was for me," explained Howe.
Of course, by the time Howe needed to commit, rumors were swirling that Bachman was going to depart for the pros, so he certainly knew he might get a chance at more playing time.
"There was also that possibility that Richard was going to sign; it wasn't sure at that point, but he probably saw an opening to get a shot," said Owens. "I think he's a really good student and was very interested in the academics."
"I actually had dinner with Bachman; he was down here in the summer taking a class so I talked to him a little bit," said Howe. "I knew there was a possibility he would leave. He wasn't even sure at that point, but I looked at it either way I thought it was a good situation; if he does leave, I get a chance to battle it out for some playing time with another freshman and junior Tyler O'Brien, and if he doesn't leave, I get one year, maybe two, more likely one, to learn from one of the better goalies in the WCHA."
Coming into the season, Testwuide and the rest of the seniors expected they'd have to improve their offense to be successful, but Howe's play has given them increased confidence.
"At the same time we still have to score the goals; he can't be there every night," said Testwuide. "We need to keep doing what we're doing."
"The team felt confidence when he was playing, that if they made a mistake, it wouldn't cost them, so guys are able to open up and play their game instead of being very tight," explained Owens. "We've also tried to create a little bit of a looser environment this year, and I think that's boded well for everyone."
Howe has good quickness, sees the puck well and is a good skater. However, his confidence has grown with the team's successes, and that feeds his play. He also had a chance to establish himself under the radar, as the Tigers were not expected to do as well this season.
"Our whole team, we didn't have any pressure and have kind of garnered an underdog mentality, and for him I think it definitely helps not having that pressure on him," said Testwuide. "But at the same time, he knew he had to step up and fill Richard Bachman's shoes, which isn't a very easy thing to do."
Howe himself has tried to avoid any sense of pressure, and is concentrating on playing well.
"They didn't put any pressure on me and say I had to live up to the freshman season Bachman had or anything like that," he said. "I think that's a bad expectation to put on yourself. I had high expectations for myself. I wanted to prove people wrong and show that I could be a high level goaltender and have that type of season."
While the Tigers may not have been expected to do well, the team never doubted it could have success this year. Howe's play has been a boon, and the team expects to compete for the WCHA title this year.
"A lot of people were saying this was a rebuilding year for CC, but if you ask any of the eight or nine seniors if it's a rebuilding year, they'll tell you it's not," said Howe. "We're trying to win a championship this year despite what people said. People in the locker room have that mind-set. Whoever might have thought, we came into this season to win a championship."