Coming into the season, the Denver Pioneers were favored to win the WCHA title in most media and coaches' polls. Part of the reason for that was goaltender Marc Cheverie, who in his first season as a starter posted a .921 save percentage and 2.3418 goals against average while starting all 40 games.
With the role of favorite thrust upon them, some goaltenders might have wilted, but Cheverie posted four shutouts in his first 10 games and is currently ranked fifth among goaltenders nationally with a .940 save percentage and 1.7680 goals against.
"Four shutouts in the first 10 games is pretty huge," Pioneers captain Rhett Rakhshani laughed when asked about Cheverie's performance. "I think he's a very consistent goalie and has been rewarded for his hard work. I think just his maturity is the one thing he's grown in, both in the locker room and around the rink. He knows that he's been there, that he has the experience and a whole season of starting under his belt, and you can see that."
For the Pioneers, then, perhaps the scariest moment of the season occurred on Oct. 30 in a game against Minnesota State. In the third period, after a collision with Justin Jokinen, Cheverie was taken off the ice on a stretcher, bleeding from a deep cut to his left calf. The injury ultimately required around 30 stitches to close, and kept Cheverie out of the lineup for three weeks.
"Any time your starting goalie goes down, you get a little nervous," said Pioneers assistant captain Tyler Ruegsegger. "After finding out what happened to him, we were happy he was all right. We just wanted him to get back as healthy as possible."
"About 30-ish, give or take five," said Cheverie, when asked about the stitches. "I didn't really know how serious it was until I got to the hospital. The doctors were a little worried, but once they found out there were no ligaments or nerves damaged, I was a little more relaxed, because I knew it wouldn't be as long. It was a scary experience, but I'm glad it's over."
Cheverie's goal after the injury was to make it back in time for the North Dakota series on Nov. 20-21.
"I did a lot of rehab," explained Cheverie. "The flexibility was gone. My calf and my knee, I couldn't move it. That was the hardest thing, getting back to being able to move it."
"[Assistant coach] Derek Lalonde spent time with him in the video room watching tape, and the majority of the time Marc spent in the training room rehabbing with Aaron Leu, our trainer," said Pioneers coach George Gwozdecky. "I think Derek spent, on that Tuesday prior to North Dakota, Marc was officially released to go to full practice, and Derek did some light drills with Marc on the ice in the crease. It wasn't until Thursday that Marc was released to go full."
Cheverie earned a shutout in his first game back, and kept the Sioux to two goals in the second game, helping Denver earn a critical sweep.
Coming into December, with a crucial series with archrival Colorado College looming, Cheverie's performance again would be critical to the team's success. Denver hadn't beaten CC since 2007, but in the first game of a home-and-home series on the road, Cheverie earned the game's first star, stopping 26 shots. In the second game, with several defensive breakdowns, Cheverie kept the Pioneers in it at times, but it wasn't enough to prevent the Tigers from earning a tie.
Cheverie came to Denver from Cole Harbor, Nova Scotia. Prior to playing for the Pioneers, he played for Nanaimo in the British Columbia Hockey League. He was drafted in the seventh round by Florida in 2006.
According to Gwozdecky, the Pioneers started looking at Cheverie early.
"It probably would have been when [Glenn] Fisher was a junior [2005-2006]," he said. "We were looking Fisher's sophomore year, and seriously started looking during Fisher's junior year, so that's probably when we identified Chevy."
"I visited Cornell and North Dakota before DU," said Cheverie. "I looked at Michigan State and CC a little bit as well. I chose DU because overall, the city and school, what it had to offer, has a great balance of academics and hockey. It's not just a hockey place or an academic place. Just the guys here, I felt like some other places I felt you could tell you were in the United States and here I couldn't tell. The guys were so laid back and I wanted someplace that felt like home."
During his first season, Cheverie spent most of his time on the bench, backing up senior Peter Mannino. Cheverie played five games that year, winning his first collegiate start against Bemidji State.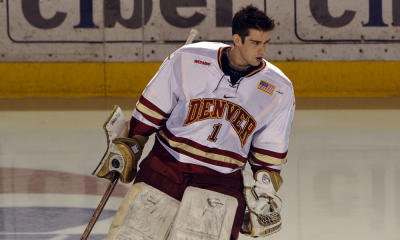 "It was really good to be around him and see his practice habits, and obviously becoming good friends was a good overall experience for sure," Cheverie said of Mannino.
One thing his teammates have noticed about Cheverie's play this season is his calm demeanor, which the team seems to feed off of.
"I always tell people I think his leadership on this team is huge, and that drips down," said Rakhshani. "Every single game he plays, he's ready to go, and I think everyone else on our team feeds off that preparation."
"There's a lot less uncertainty," said Cheverie, when asked about his play this season. "If you look at this time last year, now that I've proved myself, I know I can play at this level and succeed and excel, and once you know that, there's no real reason to panic. If you're focused and relaxed, chances are you'll have a good game."
Cheverie's play is one reason for the Pioneers' success this season. Denver is ranked No. 2 in the USCHO.com poll and is first in the WCHA.
"Last year was a year where he played a year on a regular basis, and I think the confidence he gained from that, the understanding and know how of what it takes to play at this level, together with what he's done with his strength and conditioning in the off-season, based upon how he played, I think those are the reasons he's continued to improve and develop like he has," said Gwozdecky.
Now a veteran, Cheverie finds himself in the mentoring position that Mannino had with him a few years ago, as he helps freshman Adam Murray adjust to the speed of college hockey, something that hasn't gone unnoticed by his teammates.
"In practices or when the goalies go out to work on things, he's always there, helping them out and encouraging them," said Ruegsegger. "I think as the starting goalie, that's your job. I know Mannino did it with Cheverie and I think he's passing the torch along."
For Denver, which has a young defensive core, having Cheverie is a huge boon, and helps the team play better.
"I think you don't want to look at it that way, that if the puck gets behind us then 'Chevs' will save it, but I think you still have to be very defensive and I think our team has learned that if we're not being very good on defense, then Chevy will save us out from time to time," said Rakhshani.
Echoed Gwozdecky, "I think it helps them relax and helps the whole team feel more comfortable. They don't have to be mistake-free. Marc is there and is going to correct many mistakes they make in front of him. I think whether it's the young 'D' corps or those old veteran guys, it's the same feeling of the confidence you have knowing that you've got a guy back there who can make you look pretty good at times."
For Cheverie and the rest of the Pioneers, however, the goal is getting back to the NCAA tournament and doing better than they have the past two years, where they flamed out in the first round. Cheverie acknowledges that there is some pressure from being the front-runner, but isn't worried about it right now.
"We might be No. 2 or No. 3, but it doesn't matter until those PairWise Rankings come out. I don't even pay attention to them. I'm looking forward to getting back there, but we have a long season ahead of us."