The second season has arrived.
Not that the stress of the past few weeks has not created its own playoff like atmosphere, but now it's for real. One and done. The reality now hits home that after 60 minutes of hockey — or sometimes more — your season could be over and you put away the sticks, skates and pads until a new season begins.
For teams on the winning side, you get to play another week or maybe go to the big dance starting in March. The only guaranteed entry is winning the conference championship so no one is taking anything for granted — it's just about winning and moving on.
The matchups are finally set in both conferences and there are some interesting pairings coming up in this weekend's quarterfinal action.
There's the perennial power versus the new kid on the block; matchups of teams that last faced each other the first weekend of the season; interstate rivals for bragging rights and even a rematch of last year's championship pairing from the ECAC East. Let's look at the games, their likely outcomes, and preview what the conference semifinals could look like in a week's time.
ECAC East
No. 8 University of New England @ No. 1 Norwich
Regular season result: Norwich won 4-2 in the very first conference game for the Nor'easters.
Preview: The Cadets are likely already through to the NCAAs whatever the outcome of the conference playoffs but the sting of last year's quarterfinal loss against underdog UMass-Boston has this year's Norwich team focused on regaining the title and keeping their national ranking.
UNE coach Brad Holt admits "[w]e caught them at the right time of the year the first time."
Now the Cadets are firing on all cylinders led by the line of Blake Forkey, Chad Anderson and Kyle Thomas so don't expect Norwich to step off the accelerator now. For UNE the challenge has been scoring goals but over the past three weeks the offense has been better behind freshman Jake Moscatel and junior Jack Nolin. Either Mike Roper or Dallas Ungurian is going to have to have the game of their lives if there is a chance here for the visitors in their first playoff game.
Prediction: Norwich doesn't take anything lightly and is focused on the conference crown. Overall it's been a strong developmental year for UNE and they will get a playoff education in Northfield this weekend.
Score? Norwich 7, UNE 1.
No. 7 UMass-Boston @ No. 2 Babson
Regular season result: UMass-Boston defeated Babson 5-4 in overtime at home on Dec. 9 just prior to the semester break.
Preview: This is a rematch of last year's title game where Babson was seeded seventh and UMB seeded eighth. This time around Babson is hosting at home but both teams have struggled in February. Babson is 2-4-0 and riding a four game losing streak in February while UMass-Boston is 1-4-1 and coming off a 1-1 tie at Amherst to end the regular season.
Both teams need to get their game back quickly and the result may very well come down to the play of the goaltenders. Senior Ryan Donovan has been magical at this time of the year for the Beacons and this is his last chance to lift his team in the playoffs. For Babson freshman Zeke Testa has emerged as the Beavers' top netminder and he will have to continue his consistent and poised play to help Babson towards repeating as conference champs.
Prediction: There is a lot to like in this one. Travel partners, a rematch of the 2009 title game and teams with talented offensive players that can light it up when they get it going. Offense is going to be a given here but expect the senior experience of Donovan to carry the day in another overtime thriller.
Score? UMass-Boston 5, Babson 4 (OT).
No. 6 New England College @ No. 3 Castleton
Regular season result: The teams tied 2-2 back in the second game of the season in November.
Preview: This is another matchup of teams that have struggled with consistency in February. Both teams have posted 2-4-0 records this month and are looking for that proverbial full 60 minute effort. NEC has always fared well at Castleton but this game will likely come down to special teams and which goalie finds his rhythm when it's needed most.
NEC's Aaron Harvey and Castleton's Arthur Hollinger are really the keys to creating a confident group of players in front of them. The home rink favors the Spartans but experience and special teams favor the Pilgrims.
Prediction: Mark Ehl, Alex Muse, Johan Granath and Trevor Turner have the experience of playing in big games and the maturity and veteran leadership for NEC will carry the day for the road team.
Score? NEC 4, Castleton 2.
No. 5 Skidmore @ No. 4 Southern Maine
Regular season result: The earlier matchup ended in a 3-3 tie just three weeks ago.
Preview: The four versus five matchup is always expected to be the closest and most highly contested of the quarterfinals. Skidmore comes into the game having finished 1-4-1 in February and riding a three game losing streak. Southern Maine is just 2-3-1 in February but comes in having won their last two games at home to grab the final home-ice berth in the playoffs.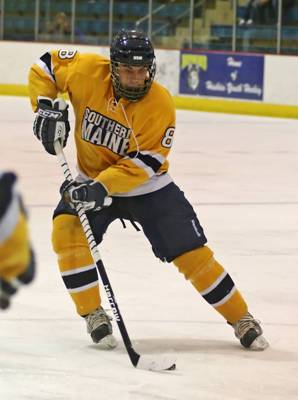 Both teams like playing on the Olympic-sized ice so expect this one to be a very up-tempo contest. Once again the biggest question here is not whether Alex Mykolenko and Matt Czerkowicz for the thoroughbreds or Chris Travis and Dan Rautenberg for the Huskies will get their chances.
Instead the question is whether or not mason St. Hillaire for USM and either Colin Bessey or Andrew Ross for Skidmore can be the big stopper in the playoffs for their teams. Both teams have struggled with consistency in goal so the team that finds it this weekend will move on to the semis.
Prediction: Southern Maine proved it could play well when it needs to and St. Hillaire was solid last weekend in surrendering just two goals on 48 shots. The Huskies have the firepower and home ice.
Score? Southern Maine 4, Skidmore 1.
NESCAC
No. 8 Colby @ No. 1 Bowdoin
Regular season results: The tradition that has become such a big college hockey event in Maine went all Colby's way in December. The White Mules took both ends of the home-and-home series by 4-2 and 4-3 scores.
Preview: Throw out the records in this intrastate rivalry which has seen Colby hold the upper hand over the past couple of seasons. Bowdoin has not lost in February going 6-0-0 and outscoring opponents 32-13 along the way. For Colby, the end of the season was a challenge with just a 1-4-1 record to show but a key win on the last day to insure their place in the playoffs.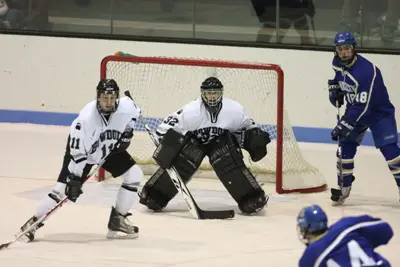 Bowdoin will be led by junior Kyle Shearer-Hardy and senior Colin MacCormack offensively while Michael Smigelski and Billy Crinnion will counter for Colby. A key for the Polar Bears may be the play of senior goaltender Chris Rossi who is 12-0-1 this season but did not play in either of the prior games between the two rivals.
Prediction: Rossi is the difference for the home team who continues their high level of play and takes advantage of the opportunity to host the NESCAC championship weekend at the "Sid."
Score? Bowdoin 5, Colby 2.
No. 7 Tufts @ No. 2 Middlebury
Regular season result: Back on the first night of the season, Tufts scored with 57 seconds left in regulation and took a 3-3 tie with the Panthers at home.
Preview: "I really would prefer not to go to Vermont," said Tufts coach Brian Murphy. "We are happy to play anywhere but it is a challenge to play up there on the big rink."
Tufts may have some trepidation based on prior results against Middlebury where two prior playoff games finished at 7-1 for the home team. This year the Jumbos may hold the secret weapon in sophomore goalie Scott Barchard who stopped 43 against the Panthers on opening night and is among the nation's leading goaltenders with a .942 save percentage.
Middlebury is 7-1-0 in February and averaging over four goals per game while giving up just two per contest. Tufts finished with their best placing in NESCAC ever and enjoyed a strong finish to the season going 4-2-0 in February. Middlebury has home ice and a strong and balanced offensive attack led by Martin Drolet and John Sullivan but they will have to solve Barchard early in the ultimate game of offense versus defense.
Prediction: A goalie can definitely steal a game for any team in a one-and-done format. Tufts has the right guy between the pipes to do it but Middlebury just has too much firepower and will get enough on the board to hang on and advance.
Score? Middlebury 3, Tufts 1.
No. 6 Hamilton @ No. 3 Williams
Regular season result: In the first league weekend following the break, Williams downed Hamilton 3-2 in overtime on a goal by Cody Skinner.
Preview: All season long Williams has looked to the solid goaltending of Ryan Purdy, consistent scoring from Alex Smigelski and strong defensive zone play. For Hamilton, getting healthy has helped the Continentals regain some much needed scoring with Joe Buicko and Chris Lorenc leading the way.
Williams has been strong all season and has earned their national ranking with their consistent level of play in all three facets of the game. Home ice will matter here and Williams' overall team speed will be a difference maker.
Prediction: Purdy has been among the league's best goaltenders and has last year's playoff run to reference and build on in this year's playoffs. Williams has overall better depth and doesn't have to make the long bus trip.
Score? Williams 5, Hamilton 2.
No. 5 Trinity @ No. 4 Amherst
Regular season result: Back in the second game of the season, Trinity knocked off Amherst 2-0 behind the goaltending of Wes Vesprini.
Preview: This is a heavyweight fight between the pipes so don't think high-scoring contest here. Wes Vesprini has proven all year that he is one of the conference's best and Cole Anderson has built on last year's outstanding season to play virtually every game this year as Amherst looks to retain the title they earned for the first time last season.
Special teams are likely to be a big factor here and that's where the Lord Jeffs excel. They led the country in penalty killing and were among the leaders on the power play. There is a lot of experience on the roster that knows what it takes to succeed at this time of the season so look for Keith Nelson, Matthew Rhone and Mike Baran to keep their focus on avenging the earlier loss this season.
Prediction: This one is a game that will be decided by someone taking advantage of just that one great opportunity or cashing in on a mistake. Both teams play great hockey in their defensive end and have a guy waiting in the crease that will cover up for a lot of mistakes. This is a one goal game, maybe an empty net goal to close out the scoring, but it's close to the end with Anderson stealing the spotlight from Vesprini.
Score? Amherst 2, Trinity 0.
NE-10 Conference Tournament
For the two D-II teams in the ECAC East that are not eligible for the conference playoffs, their season comes down to a chance to be one of just three teams in the country that can win their final game of the season. St. Anselm heads into the NE-10 tournament as the top seed again but has only been able to skate off with the D-II title just two times.
"It was a great season for us to finish in second place overall in the ECAC East," said hawks head coach Ed Seney. "We are very proud of how we played this season against many of the best D-III teams in the country and while we didn't finish as strong as we would have liked, we still have chance to win a championship.
That has been one of our goals all season so we are focused on playing whichever opponent comes through the first round paying attention to controlling our abilities and our game. I feel like we always play in this tournament with a target on our backs — everyone brings their best to play us."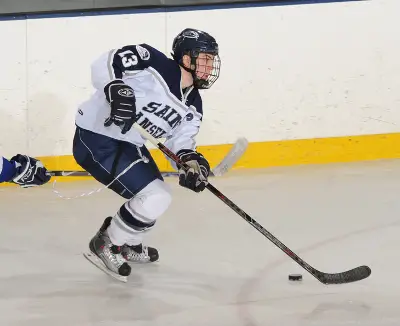 Leading the way for the Hawks is the leading scorer from the ECAC East, Coleman Noonan. Noonan has 17 goals and 20 assists for 37 points and also has eight power-play goals to spark the St. A's offense.
"Coleman is a great kid," said Seney. "He is a junior captain and a very talented offensive player who has really improved his overall game this year in all three zones. He is a leader on the ice and makes big contributions for this team. We will need him to keep it going if we want to be one of those teams that has a chance to its final game of the season."
Of equal importance, the back end will need the Hawks to continue to see strong play from goalie Alex Wyse. Wyse will be expected to shoulder the load in the playoff run and snap the current three game losing streak that the Hawks finished the regular season with in the ECAC East.
The defending NE-10 champions from St Michael's are the number three seed in the tournament that also includes Stonehill, Assumption, Franklin Pierce and Southern New Hampshire University. Assumption and St. Anselm have earned first round byes and will face the winners of the quarterfinal match-ups to be played this weekend.
There is playoff hockey everywhere this weekend and for some it may not only be the end of the season, but for most seniors, the end of their hockey careers. To all the seniors who have enjoyed so much from the game of hockey and life as a college student, congratulations and best wishes in all of your future endeavors. The time is now. Win today to play another day!
Drop the puck.