Oswego Lakers (25-2-0 overall, 15-1-0 in SUNYAC)
The last time the Oswego Lakers were in the NCAA playoffs, they hoisted the national championship trophy high above their heads.
That was in 2007, and they got in after being upset in the SUNYAC semifinals. They took their second chance and ran the table. This year, Oswego returns to the NCAA playoffs through the front door thanks to a dominating victory over archrival Plattsburgh, 6-3, for the SUNYAC championship and the automatic berth.
"I'm proud of our guys," Oswego coach Ed Gosek said. "Proud of our staff. When you win a championship, it's easy to forget the people that make it all possible."
Now comes the next step.
"Sometimes your league championship can be your pinnacle, your high point to the year," Gosek said. "With this team, they realize there's more out there, and they want a piece of it."
The three seniors from that squad remember that piece — assistant captain Neil Musselwhite (the only Division III player selected to compete in this year's NCAA Frozen Four Skills Challenge), assistant captain Brad Dormiedy (SUNYAC Best Defensive Forward), and captain Tyler Lyon.
"These things don't happen without those [leaders] doing the right things," Gosek said.
Oswego has been the class of Division III this year. They lost their second game of the season, 2-1, to Elmira after beating them 7-2 the night before. They lost the last regular season game to an inspired Geneseo, 3-1, when the Lakers had nothing to play for. Both those losses were on the road and the only blemishes to a 25-2-0 season.
They beat three of the teams in the NCAA playoffs (Plattsburgh thrice, Elmira twice, and Adrian). Oswego has blown teams out, won in close contests, and made impressive comebacks. They score a lot (second nationally) and on the power play (seventh), and don't give up much (fourth).
Needless to say, with team statistics like that, they have many individual players on top of the individual stats lists as well (two of the top three scorers and assist leaders, the nation's top shorthanded goal scorer, fourth top rookie scorer, and fifth and sixth in goals against average.)
Perhaps the most impressive aspect of Oswego is their depth. In the conference title game, it was the fourth line that helped garner the win, scoring two key goals.
"I thought their performance was outstanding," Gosek said. "They did everything we asked of them. They kept it simple. They gave up nothing again. Those guys are the unsung heroes. I don't know of a lot of championship teams that can expect to get point production out of their fourth line. It makes it that much sweeter because it really is a team effort."
Gosek knows they will be going up against a similar type team in Bowdoin.
"There's not much drop off from us," he said. "They are a very similar team. They can roll four lines just like us. They can skate just like us. They're a quality team."
One of the keys to the Lakers has ridden below the radar: goaltender Kyle Gunn-Taylor, the other senior on the team. A slow progression at Oswego coupled with the skating stars on the team has pulled the spotlight away from him.
Gunn-Taylor started his career at Buffalo State and made an impression in his sophomore year. After a falling out there, essentially missing his junior year, he transferred to Oswego.
A Paul Beckwith injury provided Gunn-Taylor an opportunity to seize. And seize it he did. Recently, he has been playing his best hockey of his career, fulfilling the promise everyone saw from him at Buffalo State. You can't go far in the playoffs without solid goaltending.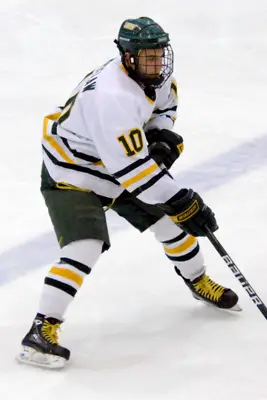 "He got back to playing the way we hoped, like he was at the beginning of the season when he was hungry and wanted to prove he was a quality goaltender and deserved a spot on the team," Gosek said.
As for their opponent, Oswego has only faced Bowdoin three times and lost them all.
"I think it helps it's somebody different," Gosek said. "Instead of Plattsburgh for the fourth time or Elmira for the third time, it's someone new. The guys would get up just as much if it was someone familiar, but there's that unknown element that's exciting, someone you have not seen. They pay a little more attention, listen to what we have to say a little more."
They will also listen to the three seniors who are the only players to experience an NCAA playoff game. And a national championship.
Bowdoin Polar Bears (19-6-1 overall, 14-4-1 in NESCAC)
Following Sunday's disappointing 3-2 loss in the NESCAC conference finals to Middlebury, the Polar Bears were quickly forced to change their moods from the dejection of defeat to the excitement of playing on the national stage this weekend.
"It was a terrific hockey game on Sunday," said head coach Terry Meagher. "The place was rocking and these kids have set a new standard for our new rink and have definitely earned a spot among the 11 teams starting this week. I felt like the last four or five weekends were all like playoff games just trying to keep the top spot in the regular season standings right through the conference championships so I believe we are ready for the challenge of playing Oswego this weekend."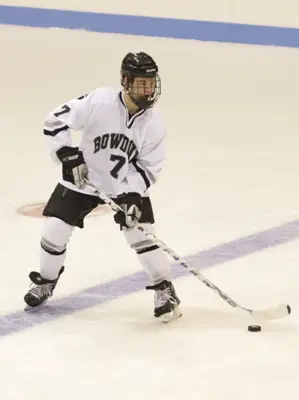 The battle between Oswego and Bowdoin will be one of contrasting styles as both teams play with different player alignments that will require adjustments for both coaches to make during the course of the game.
"I have known Eddie [Gosek] for a long time," said Meagher. "He and George [Roll] before him have done a great job with that program as they are consistently among the best in the country after winning the championship just couple of years ago. We play a three-back alignment that is quite a bit different than their three forward approach that has a strong element of physical play and counterattacking to create offense.
"We certainly are familiar with a couple of their players in Justin Fox and defenseman Kevin Huinink who transferred from Salem State. They are very talented and I am sure represent the level of play we can expect to see on Saturday night."
Kyle Shearer-Hardy is the leading scorer for the Polar Bears from his back position. He has leveraged his great skating and transition game to create offense from his back position and create transition matchups for opponents.
"Kyle has had a terrific season for us this year and certainly earned his place on the first team all-conference team this season. We will need him and several other of our key players to play well on Saturday in order to advance on in the tournament."
Seniors Colin MacCormack and Mitch Dillon have size and a physical presence that helps to drive the aggressive Bowdoin forecheck and penalty kill units. Among the leading teams in the nation, Bowdoin is a threat to score on any penalty kill and can create issues for power play units that compromise their puck movement to avoid a mistake that turns into a Polar Bear goal.
"We really won't change much about how we play for this game," said Meagher. "We really will focus on executing our game plan and making adjustments based on things we see from them that may impact us a bit."
Senior goalie Chri Rossi will have the task of holding of the potent Oswego attack. The netminder has had a magical season especially in the second half of the season where he was unbeaten until last week's one goal loss in the conference championship game. His 14-1-1 record is impressive and he certainly hopes to add another win this weekend.
"Chris has overcome some injury issues this season and really asserted himself in the second half of the season," noted Meagher. "He is such a competitor and really keeps his focus 'inside the glass.' I expect he has already put last weekend behind him and is excited about playing on the national stage this weekend."
"This is really exciting for Bowdoin to play in Oswego," said Meagher. "I don't think the Bowdoin colors have ever played at Oswego and we are very excited to play in their new rink, in front of a great crowd and with a chance to advance in the tournament. We know we will need to play well and really are looking forward to the opportunity to showcase our program."