Norwich Cadets (24-1-4 overall, 16-1-2 in the ECAC East)
The road to Lake Placid is never an easy one, even if you are the top ranked team in the country.
The Norwich Cadets were just 48 seconds from the end of their season but dug deep for a goal by freshman Steven Schroeder in the final minute of play to tie the visitors from Elmira and scored early in overtime to send the hard working Soaring Eagles home with a 2-1 loss. The winning goal came off the stick of yet another freshman, Pier-Oliver Cotnoir, who like many of his young teammates have made significant contributions to this year's edition of the Cadets.
Cotnoir and Schroeder along with freshmen Kyle Thomas and Blake Forkey are all among the top 10 in scoring for the Cadets and have combined for 58 of the team's 142 goals this season.
"We have had a lot of injuries along the way this season, so the freshmen have had the opportunity to play and contribute," said head coach Mike McShane. "At this point of the season they aren't really first year players anymore having played almost 30 games this season.
"Overall we have a fairly young team so they need to chip in for us to be successful. I was confident that we would be good this year but their quick adjustment to this level and strong contributions on the score sheet have helped us get where we are. Of the final four teams, Plattsburgh was the early season No. 1 and we were ranked 15th — I think we are the surprise team here."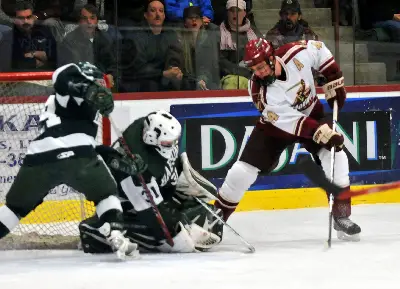 Over the course of the last 10 games, including the NCAA quarterfinal round and ECAC East conference playoffs, the Cadets have won eight in a row and nine of 10 since the beginning of February. In that span the Cadets have outscored their opponents by a 45-14 margin and limited opponents to just one goal in seven of the 10 games.
Over the course of the entire season, Norwich has held opponents to two goals or less 18 times in 29 games, including seven shutouts. The solid defense and great goaltending — along with balanced scoring — is why Norwich has been successful this year. And it all starts on the back end.
"The kids are really excited," said McShane. "We have already had a practice on a big sheet to get used to difference in width and overall size. A lot of European teams that play on that size rink all the team are passive forechecking teams focused more on neutral zone trapping.
"We are all about aggressive play on the forecheck and applying pressure to force turnovers which can be a challenge in trying to take away angles and forcing people to run out of room in the corners or behind the goal."
Norwich's semifinal opponent is a familiar one: the Plattsburgh Cardinals from the SUNYAC conference. The two teams have faced each other twice this season with Norwich taking both games on home ice. The first game actually is recorded as a tie but needed to be decided in a shootout after an overtime period to settle the Primelink tournament in November. Norwich won the shootout and the tournament.
In early January, Plattsburgh again traveled to Northfield and this time fell to the Cadets by a 4-1 score. Norwich was led by Thomas, who had a hat trick and Schroeder who had three assists. In Lake Placid, Plattsburgh by virtue of their proximity to the Olympic village, will undoubtedly have the feel of home ice advantage but these two teams always play tough, close hockey games any time they play and you can count it with a national championship on the line.
"They are very good," said McShane. "They probably are a little bigger than us so I expect the physical part of the game to be there. We have already seen them twice but those games don't mean much at this time of the year. We are excited about the opportunity to play in Lake Placid and certainly the kids are ready to go."
The "kids" have been ready to go from the first drop of the puck and young and inexperienced or not, they have held up well in the pressure that is conference tournament play and the NCAA tournament. If defense and goaltending win championships, then the Cadets have the right armament to hold off the best competition the Division III Final Four has to offer.
Cadets: move out!
Plattsburgh Cardinals (19-5-4 overall, 13-2-1 in SUNYAC)
Sports can be funny at times. It has been stated often how last year's Plattsburgh team was the one that was supposed to make it to Lake Placid. This year's team was … well … probably not a contender. You won't get any arguments from Plattsburgh's head coach Bob Emery. In fact, even heading into the Division III national championship weekend, you still won't get any arguments from Emery.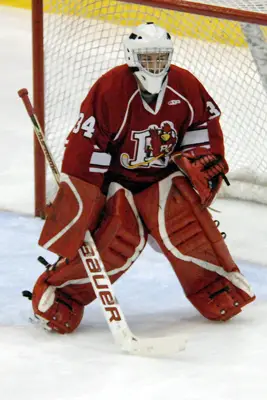 "I said all along, we're a work in progress," he said. "We lost a lot of quality hockey players last year. I will continue to say we're a work in progress all through the weekend no matter what happens."
So far, what has happened is Plattsburgh has extended their record for NCAA playoff appearances (20) and final four appearances (11). For Emery, this is his 14th appearance and 10th championship weekend. He has won the only two national championships for Plattsburgh that counted (1992 and 2001; 1987's title was vacated by the NCAA infractions committee).
One of the reasons Plattsburgh is at this point is their tough schedule. They may have lost a number of those tough games — they played seven games against NCAA playoff teams, going 2-5-2, with only one of those games at home — but it got Plattsburgh into the playoffs and have prepared them for exactly this situation.
They beat Middlebury in the quarterfinal round, 3-2, in overtime, after taking a 2-0 lead. This came after splitting with the Panthers during the regular season (a 3-1 win and 5-3 loss).
"We probably saved our best game of the year this past weekend," Emery said. "We had some great quality chances in that game. If we could have put in one or two more, we would have had much more of a cushion at the end."
Their next opponent is also a team from Vermont, a Primelink Shootout team, and a team Plattsburgh has played twice this year. However, in this case, Plattsburgh did not beat Norwich in those two games, tying them 1-1 and losing, 4-1.
"We know Norwich. They know us. It's going to come down to goaltending and execution," Emery said. "They're like Middlebury who we practiced for all week, and hopefully, we can continue to do the same for what we practice for this week."
Who will play goal will be a key question. Don't be surprised if you see both goaltenders if Plattsburgh can make it to Saturday. Against Middlebury, Josh Leis got the nod and made 21 saves. The question isn't who Emery will select; the question is will his selection be hot that day. Both are quite capable of stealing a game. Both are also capable of allowing a game to slip away.
Emery continually bemoans the fact that his team has trouble scoring. They are certainly not the high powered offense of the last two years. It will be a tough road on Friday, as Norwich has the stingiest defense in the country, letting up just 1.38 goals per game with seven shutouts. The Cadets allowed just one goal in each of their last six games.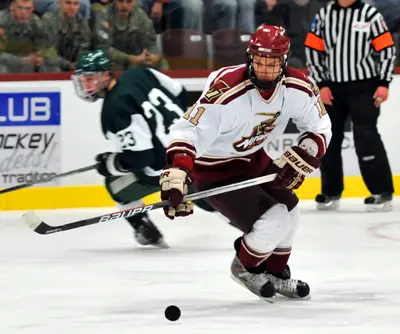 Also, when you combine that with goaltending that needs more support, the team cannot take as many chances as they used to, thus cutting down on the scoring opportunities.
Will the larger ice surface enable Plattsburgh to get more things going?
"I'm not so concerned about the ice surface," Emery said. "I think we're fortunate to have played at Middlebury last week which is pretty close to Olympic size, and handled it well in that rink. No matter what size the rink is, small or large, you always have to protect the prime scoring area."
One of the reasons Plattsburgh is always a contender is because they are so disciplined on the ice. The minuscule number of penalties they take is a prime example of this.
Emery has been able to figure out a game plan to beat teams with better skills and more firepower in the past. In 2001, Plattsburgh beat an undefeated RIT — at RIT — in the national championship game.
The Cardinals may be coming into this national championship tournament as the underdog in a rebuilding year. However, the other better skilled and more firepower teams on paper better not take them lightly.