The night of March 13, 2010, is one of those situations where you'll always remember where you were and what you were doing.
The date ranks up there with Nov. 22, 1963, and Sept. 11, 2001.
March 13, 2010 — the day the CHA died.
OK, in all fairness, the death of a college hockey league has no business being mentioned with the assassination of JFK or the terrorist attacks on our great country.
To be brutally honest, I'm not even really sure many people care that the CHA is no more.
And it's a shame nothing more could be done to not only salvage the league, but to expand the league.
What might be the saddest and most frustrating aspect of all is that in last Saturday night's CHA title game between Niagara and Alabama-Huntsville, the score sheet doesn't reflect the true No. 1 star of the game — the referees.
Now, granted, I was not at Dwyer Arena, but in watching the game at home, the Niagara disallowed goal was clearly a goal. Not sure what replay the refs were reviewing, but when Giancarlo Iuorio chopped down the puck past UAH goalie Cameron Talbot, his blade was about a foot below the crossbar.
Then, in overtime, a slashing call? There's an unwritten rule that the whistles get discarded in OT — especially in a title game. But again, let the refs dictate the game.
What's even worse is BOTH refs made the call. An obvious call? Borderline. In OT, I don't think you make that call. That call led to a Huntsville power play and the eventual game winner.
The Chargers also had a goal disallowed, but NU's was a game-changer and should have been overturned.
I also hear that as soon as the game ended and Keenan Desmet etched his name in the history books 1:34 into overtime, the final score was never tacked up on the scoreboard. Why? Because the scoreboard was turned off.
You stay classy, Niagara scoreboard operator. Go chew on some sour grapes and sit in the box to serve your unsportsmanlike penalty.
UAH goalie Cameron Talbot, the tournament MVP, blanked Robert Morris in the semifinals and then made 40-plus saves in the title game. Money, I say.
Now, I understand that it would have been a fairy tale if Niagara won on its home ice and went back to the NCAA tournament. The fact of the matter is that Alabama-Huntsville is going as one of two CHA teams to the NCAAs with Bemidji State, which won 23 games during the regular season, but none last weekend.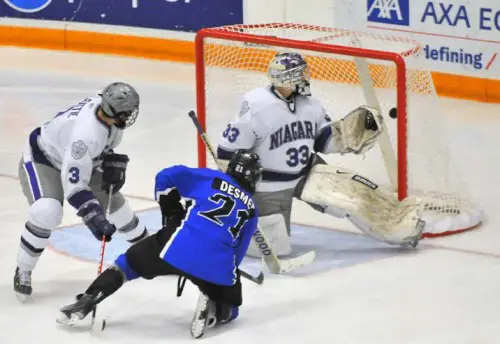 A cool little side note is that the first CHA tournament 10 years ago featured NU and UAH in the finals — Niagara won that one and then upset New Hampshire in the first round of the dance.
Some people may claim that the CHA isn't a "real" conference and maybe those people are right. But the four teams that made up the CHA the past two years played their hearts out, pulled some non-conference upsets along the way, all the while playing Division I hockey — the main underlying factor.
No CHA player I have ever talked to saw the CHA as a throwaway league or a pseudo-league. They all said it's D-I hockey and that's all that matters.
The league always had its critics, and that's fine. I was probably one of them. I just wish there was a non-shortsighted commissioner out there that would take Huntsville into his conference. That still may happen, but next year, UAH will be an independent and basically play a season full of meaningless games. No playoffs. No championship. No NCAA tourney.
Good thing UAH made this season count, eh?
In all the years that the CHA was around, no team's success was ever a fluke. Non-conference teams that looked past the CHA usually came away with a loss or two.
But stability is what the league lacked from day one. Army came and left. Findlay came and folded. Wayne State came, won three straight CHA titles and then shut 'er down. Air Force came and flew away to Atlantic Hockey. Robert Morris came and though the Colonials don't have any championships to show for their efforts (two finals losses in OT), played extremely well and should be a middle-of-the-pack team in Atlantic Hockey with Niagara.
Bemidji State will fit in nicely in the WCHA and probably should have been there years ago.
All that's left for Bemidji State and Alabama-Huntsville is the round of 16, where all teams are on level footing — 16 of the country's best. No CCHA vs. CHA or whatever. It's like playoffs in any sport — all back at square one — zip-zip.
Do us proud, BSU and UAH. Because those precious few that read this column are all that truly care what happens.
R.I.P., CHA.
Godspeed.
Win For UAH Helps With Healing
After the senseless and gutless on-campus shooting at Alabama-Huntsville a few weeks back that rocked the university, UAH bringing some positive news to the school last weekend is most definitely a good thing.
"We're obviously really excited," Chargers coach Danton Cole said. "Our university's been through some tough stuff lately and it's a good win for the university and the people there."
Beavers On The Bubble?
The PairWise may show the Beavers qualifying for the NCAA tournament and BSU coach Tom Serratore is assuming his team will be playing in a regional next weekend.
"Right now we are taking the approach that we are in," said Serratore. "I think that is what you have to do. I just told the guys in the locker room that we are going to come back Thursday and get prepared for a regional. We just have to watch and wait right now, but we are ranked high enough now that we feel good about it."
A return to the Frozen Four would surprise no one this spring. No one.
Burkholder Emotional After Finals Loss
After going on the record and saying he felt Iuorio's goal was a good goal and Jim Burichin's OT penalty was a bad call, NU coach Dave Burkholder put it all into perspective.
"This was not the way I wanted our senior class to go out," Burkholder said. "For everything our senior class did for our program, we deserved better."
Right on, Burky. Right on.
RMU Happy to be Done with CHA
Robert Morris coach Derek Schooley, in an interview with the Niagara Gazette, said he's glad to be getting a change of scenery next year.
Schooley noted that last Friday's game between Robert Morris and Huntsville was the seventh between the two due to the league's 18-game unbalanced regular season schedule.
"That's unhealthy," Schooley said. "It helps Niagara and Robert Morris going into a very good hockey league to be able to play numerous teams. Who wants to see Robert Morris play Niagara seven times, or four times here? That's the difference.
"Our guys are sick of seeing the same teams."
On A Personal Note …
Not sure what role USCHO will find for me next season, but I can honestly say that being the CHA Correspondent since the 2005-06 season has been very rewarding.
I recapped Wayne State games from 2000 until 2008 and am also a 2001 WSU graduate.
I'm also a big believer in superstitions and jinxes.
Last Saturday night, I was, for some unknown reason, wearing a Lansing Lugnuts minor league baseball hat. My brother is a 2005 Niagara grad. My point here? It would have been nice to see NU win and my brother happy, but the Lugnuts lid said otherwise. Why? Cole played college hockey for Michigan State — in East Lansing.
Just how it was meant to be, I guess.