For St. Norbert senior Markie Menacher, spring break thoughts naturally migrated to Cancun, Florida or any other warm destination where college kids convene to party and enjoy a break from school — especially one located mere miles from Green Bay, Wisconsin.
Winters there are usually enough to make anyone think about a warmer climate, no gloves or hats and maybe even an early jump on the summer tan.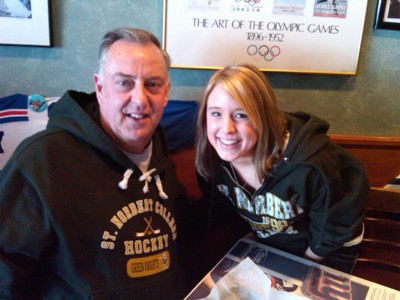 Not so for Markie!
Due to an ongoing love of the game of hockey and her relationship with one St. Norbert's talented defensemen, Markie is spending her spring break in Lake Placid, New York with her Dad, Bill and about 200 other Green Knight supporters at the D-III Frozen Four.
Boyfriend Mike Bernardy (eight goals, 12 assists, 20 points) is a junior defenseman playing for St. Norbert and the relationship with Markie has spawned a hockey love affair across the Menacher family and friends back in Wisconsin.
"I never watched a game before Markie and Mike started dating," said Bill Menacher. "Hockey just wasn't a big thing in our family but it is now. We have 24 seats at every home game between all of the friends and family and we are really excited to watch Mike and his teammates."
Never watched a hockey game? Seemed a little difficult for me to believe as I talked to Bill and Markie over lunch at Players Restaurant overlooking a frozen Mirror Lake in Lake Placid.
"Did you have any thoughts about watching a hockey game when you sat in Herb Brooks Arena yesterday afternoon to watch the semifinal game?," I asked. "Yes — of course yes," said Bill. "I think we all watched "THE GAME" in the Olympics back in 1980 and I have watched some Olympic hockey since but not really any college or pro hockey."
Markie, on the other hand is a big fan. Of course she is a big Knights fan but she also got her hockey fix by watching the Green Bay Gamblers, a local junior team in Wisconsin.
"I really love watching the game and am a big hockey fan. It's an exciting game to watch and it's a great event on campus with the games at St. Norbert."
So a big fan and now dating one of the St. Norbert players — any stress watching the games or superstitions before games?
"It's definitely different watching the games where Mike is playing," said
Markie. "Especially when he is on the ice, I get nervous hoping everything will go right for him and the team. I think that's where the superstitions help."
Apparently even at the collegiate level, hockey players are superstitious about certain things and particular rituals that are believed to promote good luck or positive outcomes.
"There are definitely things that have to be done the same way before every game," said Markie. "We always have to go to the same breakfast place and Mike has to have Eggs Benedict. I have to layout his suit and clothes for each game — he won't touch the clothes unless I do. He also gave me a winter hat I need to wear during the games — most of the time I hold it in my lap but I do wear it when things get a little too close. So far it must be working since we are here with another chance to win a national championship."
As we looked out the window at a frozen and snow covered lake, I asked Markie:
"Wish you were somewhere warmer?"
"No way! This has been a great trip! Lake Placid is really a lot of fun and has such a great atmosphere walking around town. This morning my Dad and me went down the bobsled run and it was really exciting and scary all at the same time. Besides when Dad said he was covering the trip how could I say no?"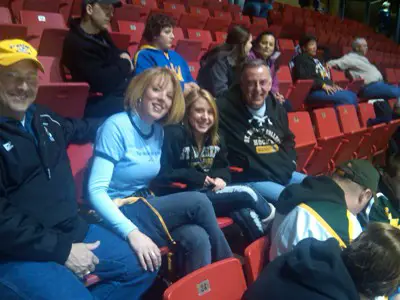 For the Menachers and about 200 of the traveling contingent from Wisconsin, tonight's championship game was not an expected destination this march but certainly a welcome one. As for the remaining friends and family who didn't make the trip.
"They are all watching the game in a restaurant not far from campus," said Bill Menacher. "This has been a great trip and we are already thinking about plans for next year's Frozen Four in Minnesota."
Tonight they are focused on finishing this season and hopefully watching one more win for their Green Knights — one more win that will end the season with a title and truly usher in the spring season at St. Norbert's.