Robert M. DeGregorio Jr., already the commissioner for Atlantic Hockey, will add the same duties for the CHA women's league.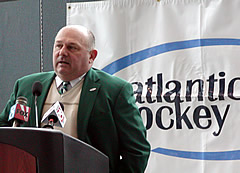 "We want to place the management of our league in the hands of an experienced leader," Niagara athletic director Ed McLaughlin said in a statement. "Commissioner DeGregorio is known throughout the hockey community and he has the management experience to lead and grow our league into the future."
The CHA is one of four leagues in Division I women's hockey.
"I am very excited about this new opportunity," DeGregorio said. "The CHA is very competitive and it will be an honor to be associated with this very successful group of institutions."
Also, David Rourke was named CHA director of media relations and Eugene Binda was named supervisor of officials.