Can Hockey East go 4-for-4?
The league has earned three straight national championships, starting with Boston College in 2008, followed by Boston University and then the Eagles again.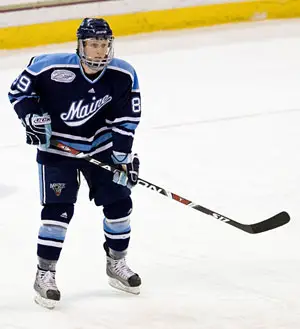 It wouldn't be a shock to see Hockey East continue the streak and if it does, BC is once again the leading candidate.
"Who are you going to pick No. 1?" BU coach Jack Parker asks rhetorically. "It's obvious. BC."
BC was the unanimous choice by Hockey East coaches to finish first and it's easy to see why. The Eagles return almost everyone from the squad that won league and national titles, trailing for only 55 seconds over the final 792-plus minutes. (That's more than 13 games.)
Making a comparison to Maine's legendary 1993 team that went 42-1-2, Northeastern coach Greg Cronin says, "BC could get 40 wins this year. They're clearly the thoroughbred."
(To put that claim in perspective, BC went 29-10-3 last year. A 40-win season, thus, would require a record something like 40-1-1.)
Maine and New Hampshire look to be the most serious challengers with a ton of returning talent held back only by question marks in goal.
After that, it's anyone's guess. The final home ice berth could be as hotly contested as last year when Northeastern, a team that missed the playoffs by one point, finished only four points out of third.
Here, then, are thumbnail views of each team's outlook. Click on the links for more details.
1. Boston College
Barring a massive bout with injuries, the Eagles should win the Hockey East title. This is a national championship team that returns almost entirely intact.
Coaches — 1st; Dave — 1st; Jim — 1st
2. Maine
The Black Bears were on a great path when last season ended. If they get back on that wagon from the get-go this year, they'll be the one team that could push BC.
Coaches — 2nd; Dave — 2nd; Jim — 2nd
3. New Hampshire
If goaltender Matt DiGirolamo can fill the void left behind by Brian Foster, the Wildcats should be a top-10 team.
Coaches — 3rd; Dave — 3rd; Jim — 5th
4. Boston University
Freshmen and sophomores everywhere on this roster. How far can they go?
Coaches — 4th; Dave — 5th; Jim — 3rd
5. Northeastern
A lot of returning talent from a team that came so close.
Coaches — 5th; Dave — 4th; Jim — 4th
6. Vermont
Holes to fill up front, but solid goaltending and defense.
Coaches — 6th; Dave — 7th; Jim — 6th
7. Merrimack
The program made some great strides forward last season but the question remains whether the Warriors can win away from home. Would love to be proven wrong on this one.
Coaches — 7th; Dave — 6th; Jim — 8th
8. Massachusetts-Lowell
The River Hawks were decimated by graduation and, despite having some talented recruits, may take a while to get going. They could be a home ice dark horse, though.
Coaches — 8th; Dave — 10th; Jim — 7th
9. Massachusetts
How quickly can the freshmen fill all the holes?
Coaches — 9th; Dave — 8th; Jim — 9th
10. Providence
Unless this team magically finds offense, don't expect it to leave the Hockey East cellar. Defense has improved, but 1-0 wins are way too hard to come by.
Coaches — 10th; Dave — 9th; Jim — 10th