Todd: Well, Jim, it was just your typical weekend in college hockey. The top two teams in last week's USCHO.com Division I Men's Poll combined to go 0-3, with No. 1 Boston College falling to Notre Dame and No. 2 North Dakota being swept by Maine. Honestly, I was more surprised to see the former. I vow to no longer be surprised when North Dakota falters in the first half of the season, knowing what we know about how the Fighting Sioux play down the stretch. But BC was coming off an impressive sweep at Denver. Did the Greg Cronin-fueled 40-win talk get to their heads this early?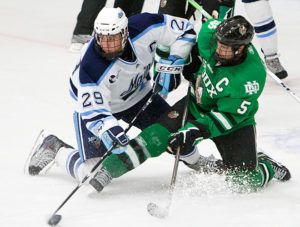 Jim: Personally, I don't think anything got into BC's head. This was an easy game to lose. Rivalry game, on the road, early season. All of those things put together said that if the Fighting Irish could keep BC's offense under wraps they stood a chance. That seems to be what happened. I think BC is still a great team and voted them No. 1 myself this week. Unlike you, though, I was shocked at the way Maine manhandled North Dakota. The Sioux looked helpless on Friday night and from what I saw, besides jumping to an early lead, Saturday night wasn't much of an improvement. I know that Dave Hakstol teams tend to be second-half clubs, but this series still really shocked me.
Todd: I watched some of that Friday night Maine-North Dakota game on TV, and it occurred to me that the Black Bears have to get a fairly significant boost out of playing at home. I know most teams with a dedicated fan base do, but Maine might get have a little bit more than average. Does that sound about right?
Jim: The Alfond Arena is a pretty special place. It is a fairly old barn that was modernized in the Shawn Walsh era toward the beginning of the 1990s to build balconies that overhang the ice at both ends. Players literally feel like fans are on top of them in this arena. It's certainly no heaven for a visiting team to play there. I am all for the modern arenas, particularly if you can fill them like, say, Boston University does. But I will take a super-loud, old-fashioned barn any day over today's modern marvels. You agree? Or have the big-time buildings in the WCHA jaded you?
Todd: I find myself leaning toward the newer buildings, but I always regret never having been able to see a game at the old Mariucci Arena. The old Ralph Engelstad Arena at North Dakota had character and a bit of an intimidation factor from the history that was there, but I think the new building has a built-in intimidation factor, too, from the opulence. The atmosphere at the Dane County Coliseum was great a long time ago, but after a while, it became clear it was time for Wisconsin to move to campus.
The last two "old-time" arenas left in the WCHA are in Duluth and Houghton, and the old-timeiness is wearing off. Minnesota-Duluth is moving into new digs later this season and Michigan Tech has done its best to modernize its building. It's somewhat refreshing to go into an older building with a lot of history in it, but the arms race in the WCHA has pretty much mandated newer facilities.
What building out East would you recommend every college hockey fan should see a game in?
Jim: We've mentioned Alfond, which I think is a must. I also think that Northeastern's Matthews Arena, the oldest ice rink in North America, is on the must list. I've never been to Cornell but have heard that Lynah is one incredible building. And I also think that Vermont's Gutterson Fieldhouse needs some sort of mention on that list as well. I agree that certain old buildings have overstayed their welcomes. Yale and Harvard both come to mind. Merrimack's Lawler Arena, though I haven't seen the renovation that was done over the summer, also may be on the way-too-old list.
I think there are also a number of really cool new buildings. BU's Agganis Arena is one of the best built new arenas I have seen. New Hampshire and Massacusetts-Lowell have identical buildings both opened in the last 15 years. It's been quite some time since I've been there but I seem to remember thinking that Clarkson was a pretty cool new arena (albeit, this was back in 1992!).
The one issue I often have with the newer barns is the size. It doesn't seem to be a problem in the WCHA, where the popularity of each school and the geographic locations make for packed houses at Minnesota, North Dakota, Denver and Wisconsin. Out east, there's just too much competition. I can leave my house in Boston and be at no less than 10 Division I schools in less than an hour. Nowhere else in the country can you say that, so a 10,000-seat arena would just never fly out here. BC is close at 7,884, and only fills the place on four or five nights a season.
Todd: I think you'd also like to maintain some demand for your product, so, even though it doesn't make everyone happy, schools probably want to have people not able to get tickets rather than having a ton of empty seats. One of the big issues I've seen in the WCHA is, because the announced attendance is based on tickets sold, the crowd figures tend to be skewed. Then you get into corporate suites and the like, and it sometimes doesn't seem like college hockey anymore, which is a shame. But, progress comes at a price, I guess.
Jim: I agree wholeheartedly. I'm very happy to see college hockey take major steps forward. For as many critics as there were last April when the Frozen Four was played in a football stadium, I was one who felt it was great to see the game played in front of record crowds. Ever since attending my first Frozen Four in 2005, I've always believed this is something that people must experience. I've always believed the Frozen Four is much more than just the games. It's the friendships and relationships that are built with hockey fans from all over the country. To have thousands of people experience that for the first time last April had to be special, no?
Todd: I think time will heal whatever wounds were opened by the Ford Field sightlines and setup, and we'll be left with the attendance numbers and the fact that everyone who wanted to see the Frozen Four in person was able to do so. That hasn't happened in a while. You'd hope that there were some new connections made, both between fans and other fans, and between new fans and college hockey.
Anyway, on to this week. There are a couple of series I'll be keeping an eye on out West, and the first one that jumps out is Denver at North Dakota. The Pioneers are a marginal 2-2-2 out of the gate, while the Sioux crashed hard last weekend at Maine. If one of those teams can come away with two victories, what a turning point it could be.
The other may not jump off the page, but a home-and-home series between No. 13 Notre Dame (4-1) and Western Michigan (4-1-1) could be quite the litmus test for new coach Jeff Blashill and the Broncos. Their start has been a promising one, but a meeting with a ranked team that just knocked off the No. 1 team in the country should show us if Western is for real. What's on your radar?
Jim: I'm interested in seeing how Boston College responds to their first loss last weekend against a Merrimack team that most believe is probably the most-improved team in the country over the past two seasons. I'll also have my eye on New Hampshire and Cornell. Many believe that Cornell is a top contender this year and getting under way against a New Hampshire team that seems pretty good despite some major losses a season ago will be a test for the Big Red.