The wounds from Monday night's 4-1 loss to Canada in the semifinals of the World Junior Championship may still be fresh for the United States, but less than 24 hours later, it was a team focused on the future, not the past.
Team USA had what coach Keith Allain described as a "solid" practice on Tuesday to prepare for Wednesday's bronze-medal game against Sweden.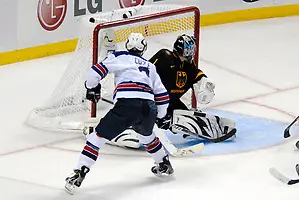 "I think we're better now than we were before practice," Allain said. "That's the beauty of having a practice on a day like today. I think the guys were disappointed, obviously. We didn't play the way we wanted to play last night. As a result, we didn't get the outcome we wanted last night.
"We had a talk with them before practice and I think by the end of practice their spirits were pretty good."
Boston University freshman Charlie Coyle, who enters the final day of the tournament leading the U.S. in scoring with six points, said the team simply has stopped focusing on changing what they cannot and are worried only about what they now can control, which is its medal destiny.
"There's nothing we can do about [the Canada game] now. We're focused on Sweden right now," Coyle said. "It's still a big game for us. The bronze medal is up for grabs, so we're looking forward to that."
Coyle said he hopes the team can play the "USA game," which he describes as using its speed and attacking, creating opportunities by getting into traffic areas and taking away the eyes of Swedish goaltender Robin Lehner.
U.S. forward Nick Bjugstad said that in addition, the U.S. team will need to find the energy level it had earlier in the tournament, particularly after being severely outworked by Canada in the semis.
"Mentally, it is tough to get [the Canada game] out of your mind, but you have to do it as a team," Bjugstad said. "We were having a good time this morning and trying to get our minds off of [Canada]. So [bringing energy] is key going into tomorrow's game."
Wednesday's opponent, Sweden, is a team that Allain considers the best in the tournament. He said it's strong on the puck and a tremendous puck-possession team. That will require the U.S. to be smart when it possesses the puck and limit turnovers that proved so costly against Canada on Monday.
"This version of Sweden is much more aggressive than teams in the past," Allain said. "They forecheck much harder than they have in the past and they're stronger in the puck battles than older Swedish teams were."
One underlying story of Wednesday's game will be U.S. goaltender Jack Campbell. One of the most successful netminders to put on a USA sweater in amateur competition, Campbell will be playing his final game representing his country in an international junior competition.
Allain spoke wonders about Campbell on Tuesday and portrayed him not just as a great goaltender but as a great teammate.
"His record speaks for itself," Allain said of Campbell. "The championships he's won and the games he's won in international competition have been just amazing.
"I think just as important is that he's a fantastic kid. What he said to me this morning was that he really wanted to get a gold medal for the guys who were new to the team this year. That's how he approaches it. He's just a great kid."
Now Allain, Campbell and the rest of Team USA have less than 24 hours to make sure that this U.S. team can get ready to face Sweden. Beyond the X's and O's, though, Allain is confident he won't need much to motivate his team.
"We're competitive people," Allain said. "Every time you put on that sweater you want to win. The fact that we have the chance to play for a medal makes it even better."