Jim: Well, Todd, big week of hockey in back of us and plenty to talk about. Let's start with the World Junior Championship, where the U.S. team escaped from Buffalo with a bronze medal, that despite a rough performance against Canada in the semifinals that kept the U.S. from having a chance to repeat its gold-medal performance of a year ago. Still, I think that you have to consider this a successful tournament for the Americans, who captured a medal on home soil for the first time ever. It was also the first time the American ever earned medals in back-to-back years. Do you agree this one is a success for the U.S.?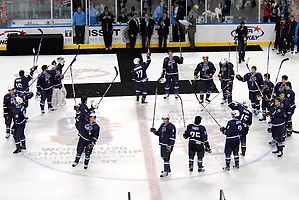 Todd: When I look back over the last few weeks, and what we heard going into the tournament about how experienced and skilled the U.S. team was (granted, for an Under-20 team, that's all relative), I really have to pause before marking this one down as a complete success. In the scope of the Americans' entire World Juniorexistence, yes, this recent stretch has been great for USA Hockey. The gold last year and a medal this year are important pieces of the puzzle. But there's a part of me that thinks the U.S. team fell short of expectations. It should have been playing for gold.
Jim: That I can't disagree with. I think if the Americans played any team besides Canada in the semifinals, they win. There was a mental block about playing Canada in any game outside of the finals. I had a bad feeling about the semis before the game was played and the nightmares came true when the U.S. played arguably their worst game of the tournament in the penultimate game. That said, they have to be very proud of how they bounced back and beat Sweden, itself an excellent team, to capture the bronze. So maybe we can't call it a complete success, but in the big picture this is one medal for which the U.S. should be proud.
Todd: Given the circumstances after the Canada game, I was impressed by the way the U.S. played to get the bronze. Even on TV, you could tell that there was a drive to come away with something from the tournament, even against a pretty formidable Sweden team.
While the players get back to their college teams, let's get back to college items, too. I mentioned last week something to the effect that the Ohio State-Miami series would be an indicator of how viable the Buckeyes would be as a second-half foe, and I think they showed that they mean business by beating the RedHawks twice. They're still only tied for sixth place in the CCHA, but at 12-8-1 overall and with a six-game winning streak, how far do you think the Buckeyes can get this season?
Jim: I think last weekend was an enormous step forward for Ohio State. To win both of those games against a very good Miami team is impressive, particularly when you look at how well its defense did at shutting down the RedHawks' talented forwards. I don't think that the current CCHA standings are necessarily indicative of which teams are the best and worst. Northern Michigan and Ohio State are tied in the points column, but given the results of last weekend (Northern got blown away by Notre Dame) it's quite obvious these two teams, right now at least, are worlds apart.
Todd: Ohio State is just poking its head into the PairWise Rankings at 25th, so the Buckeyes are still a long way out of the at-large NCAA tournament picture, but they're at least trending in the right direction if that's going to be part of their discussion this season. Miami, as of this writing, is only five spots ahead in 20th (technically, a tie for 19th, but losing that comparison), so that will be interesting to watch going forward.
Jim: Speaking of PairWise, did you notice which team has poked its way up to No. 12? That's Merrimack. And it's certainly a deserving spot for the Warriors, who absolutely dismantled a very good Maine team at home on Saturday. I was there to witness the debacle and it really was as thorough a trouncing as the score represented. It seems even when I say good things about Merrimack, as I did last week in my column, I don't jinx the Warriors. I really do think it's time, at least this season, to put the Warriors in the same class as, dare I say, Boston College and New Hampshire?
Todd: First off, it's amazing that you didn't put some sort of hex on them. Second, that would be a major step for the Warriors if it comes about. A reminder: Merrimack is still looking for its first overall winning season as a Hockey East team, and that era dates to 1989. So there's obviously a lot of work to be done for the Warriors to be included with the likes of BC and UNH in the long-term Hockey East conversation. And they have to be careful not to trip over some very winnable games coming up on the schedule to stay in position for a late-season run at conference positioning and the NCAAs.
Jim: I think you just hit on the story of Hockey East. The teams that rise to the top typically win those "winnable" games, as you call them. Right now, those games are likely defined as games against Massachusetts, Massachusetts-Lowell, Vermont and Providence. Northeastern might belong on that list as well but it has been playing pretty well lately (one local scribe called the Huskies the "Beanpot Sleeper" this year, and I can't disagree). But if the Warriors take care of business against these teams, there is no doubt they'll be an NCAA team come March.
Todd: Merrimack has a Wednesday game against Boston University (providing that the weather cooperates) before going out of conference for the last time this season, playing at Alabama-Huntsville this weekend. What's piquing your interest in terms of games on this week's schedule?
Jim: Out East, there are a couple of important games this weekend. On Friday, Rensselaer and Cornell will meet in a big ECAC battle. Both teams are looking to position themselves toward the top of the league standings and earn that first-round bye. In Atlantic Hockey, two of the top teams in Connecticut and Robert Morris will lock horns for two. And, though it may not be the best matchup, Harvard and BU will face off at Agganis Arena on Saturday night. It's always entertaining when these two schools meet. And you? What has your eye?
Todd: No matter the records, you always have to mention a Minnesota-North Dakota series because it seems like there's always something memorable. And there are a few series between ranked teams: Alaska-Notre Dame and Ferris State-Michigan in the CCHA; and Wisconsin at Minnesota-Duluth in the WCHA. A lot of potential for shifts in the rankings and the PairWise. Until next week …