It's Thursday, Jan. 20. Do you know what that means? It means that with the exception of the Beanpot, ECAC Hockey is done with non-conference play for the 2010-11 season.
That makes this an excellent time to take a look at how the conference actually stacked up against "the big boys," the leagues whose fans constantly, consistently and often confoundingly ridicule our pack as the "EZ-AC" … the wannabes of D-I men's hockey.
So let's filter all that noise, and see who's beating whom this year.
By the dozen
As a league, ECAC Hockey went 49-33-15 in non-conference play against non-league competition. (That means the Clarkson-St. Lawrence game in Lake Placid, one of the Union-RPI games and the Colgate-Cornell game in Newark, among others — while irrelevant to the league standings — aren't counted as true non-conference games here, either.)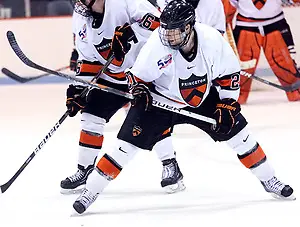 The league played 59 of its 96 true non-con games against Hockey East, WCHA or CCHA opponents, going 22-27-10 in those games. Against the WCHA, our dozen went 8-8-4, 8-9-4 against Hockey East, and 6-10-2 versus the CCHA.
Against Atlantic Hockey and independent Alabama-Huntsville, the ECAC was 27-6-5, for which we can be mildly content.
Halving it your way
The top half of the league (Yale, Union, Princeton, Dartmouth, Quinnipiac and Clarkson, at the moment) were 30-15-4 in non-league play overall, 4-3-0 against Hockey East, 7-5-0 versus the WCHA and 4-5-0 against the CCHA.
The lower tier (again, as the charts read today) was 18-19-10 against non-ECAC'ers, 4-6-4 against Hockey East, 1-3-3 vs. the WCHA and 2-5-2 against the CCHA.
Breaking it down
The team-by-team figures, broken down by overall non-conference results, WCHA results, Hockey East (HEA) numbers, and the CCHA:
Yale: 4-1-0, 1-0-0 vs. WCHA, 1-0-0 vs. HEA
Union: 8-4-1, 2-1-0 vs. WCHA, 0-3-0 vs. CCHA
Princeton: 4-0-0, 2-0-0 vs. HEA, 1-0-0 vs. CCHA
Dartmouth: 2-1-1, 1-1-0 vs. HEA
Quinnipiac: 7-4-1, 3-1-0 vs. WCHA, 0-2-0 vs. HEA, 1-1-0 vs. CCHA
Clarkson: 5-5-1, 1-3-0 vs. WCHA, 2-1-0 vs. CCHA
Cornell: 1-4-1, 0-1-0 vs. WCHA, 0-2-0 vs. HEA
Rensselaer: 8-1-2, 0-1-1 vs. WCHA, 1-0-1 vs. HEA, 1-0-0 vs. CCHA
Brown: 1-1-3, 0-1-0 vs. WCHA, 1-0-3 vs. HEA
St. Lawrence: 4-3-4, 1-0-3 vs. WCHA, 2-0-0 vs. HEA, 1-3-2 vs. CCHA
Harvard: 1-3-0, 0-3-0 vs. HEA
Colgate: 3-7-0, 0-1-0 vs. HEA, 0-2-0 vs. CCHA
Conclusion?
Well, before I start my rambling opine, here are some other inter-league numbers: Hockey East — the ECAC's primary regional competitor — went 5-9-1 against the WCHA and 2-5-3 against the CCHA. (ECAC Hockey was 8-8-4 and 6-10-2, respectively, to save you some scrolling.) HEA went only 9-4-4 against Atlantic/independent competition. (ECAC went 27-6-5 against those foes, for those of you with frosty relationships with your mice.)
The WCHA boasts solid records against all leagues, but guess who gave the westerners the most trouble? ECAC Hockey, baby. None of the other conferences are even close.
Really, all these numbers do is back up what I — and many of you, I presume — have proclaimed all along: ECAC Hockey probably isn't better, as a whole, than the "Big Three," but it's not worse, either.
Yale beat Colorado College (5-1, no less) on Olympic ice in Colorado Springs. Union upended Minnesota in the Twin Cities. St. Lawrence beat, and Brown all but beat, New Hampshire on the Whittemore Center's Olympic sheet, and Dartmouth beat 'em at a (hardly) neutral venue last week. Quinnipiac swept high-flying Nebraska-Omaha and split at St. Cloud State … which Clarkson also beat.
To all you foreign interlopers, don't misinterpret what I'm saying as a proclamation of dominance, or even a boast. Rather, I'd hope that the more rational majority of you will simply take a moment to recognize that — like it or not — this AC ain't so EZ any more.
What's a 1 worth?
While perusing the USCHO Fan Forum one day, I happened across a heated debate regarding the veracity of Yale's No. 1 status in the USCHO poll. Obviously, Yale and ECAC fans defended the pick, while many "Big Three" fans derided Yale (and the Ivies, and ECAC Hockey) as a fraud.
Mr. Jonathan Falk (though I didn't know that was his name at the time, of course) did some excellent research into the history of mid-season No. 1s, and how they fared the rest of the way. I contacted him to request elaboration, and he was kind enough to reply. I'd break it all down and paraphrase his response for you, but frankly, A, I'm not a stats major, so some of this stuff was a little bit over my head, and, B, he did a pretty awesome job explaining what I could understand already, so why take that away from him?
Follow this link to read his report. It should go without saying that history — like records — is made to be broken, but track records, tendencies and precedent are worth consideration, if nothing else.
Eyes on the prize
It's early, but if the season ended today — and all league leaders won their conference tournaments — ECAC Hockey would place four teams in the NCAA tournament: Yale, Dartmouth, Union and RPI (updated PairWise rankings can be found here.)
Still a long ways to go, with a lot of intra-conference kneecapping yet to occur, but it's nice to see. Unfortunately for our little utopian outcome, these four teams have yet to play five games against each other before all is said and done.