Western Michigan's first-year coach, Jeff Blashill, started playing hockey when he was 6 years old. "For the Soo," said his father, Jim, "that's a late start."
Jim and Rosemary Blashill moved their young family to Sault Ste. Marie, Mich., in 1976, when Rosemary was pregnant with 3-year-old Jeff's younger brother, Tim. They already had two daughters, Debbie and Lisa; all three Blashill children were younger than 10. The move from Detroit to Sault Ste. Marie for Jim to teach criminal justice at Lake Superior State was like "moving to another planet," said the elder Blashill.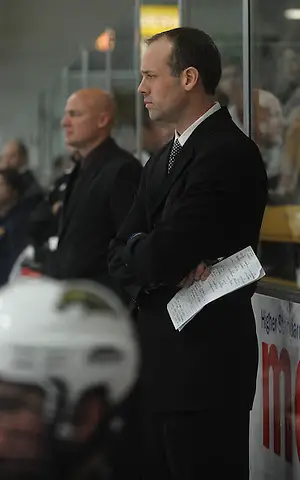 "We lived on campus," said Jim. He and Rosemary have remained in the Soo since their recent retirement. "This was a very different place then. They had these old army buildings, and they rented the old officers' homes to faculty and staff. It was comfortable — certainly it was a unique experience."
For a year, the Blashills lived next door to current Notre Dame associate head coach Paul Pooley, who was an assistant under Jeff Jackson in the 1993-94 season. Jim and Rosemary own the house that was once rented by Frank Anzalone and his family when he coached there. To say that the collective childhood of the Blashill children was affected by Lakers hockey would be an understatement. That Jeff Blashill would grow up to coach Division I hockey is no surprise to anyone who knows him.
"We had a unique life, being the last family actually on campus," said Tim, who has been the head hockey coach of the Big Rapids Cardinals boys high school hockey team since 2005 and is the program coordinator and pro shop manager for Ferris State's Ewigleben Arena. Tim played Division III hockey for Fredonia State in the 1990s and served as a volunteer assistant under Bob Daniels at FSU (2000-05).
"We were the only faculty in that row," said Tim. "They would make us a rink up there, right in our front lawn. The maintenance staff would do that for us and that was awesome. We played pond hockey and we'd go at it pretty good."
Jim Blashill said that Jeff's interest in hockey began well before he started playing at 6 years old. "Before he could read, he was studying the game." At Lakers hockey games, said Jim, his oldest son "didn't like people cheering because it was distracting."
"He was a very analytical goalie," said Tim. Because of the three years between them, the two brothers never played organized hockey together. Tim, a big defenseman, said that he and Jeff differ in significant ways — ways that foreshadowed early Jeff's move from player to coach.
"I was a good soldier," said Tim, "and a lot of coaches liked that, but Jeff always had a bit of the general in him. He's as good a preparer as I've ever known. He kind of had that mentality pretty early on. He was a serious kid. He took the game seriously from an early age. Being a goaltender, there's something of that, too, always watching the game.
"I think he's been on this path for a long time."
Jeff Blashill's path to Western Michigan is as straightforward as they come. After growing up on a steady diet of Lake Superior State hockey, Blashill — who's always been a goaltender — played for the Des Moines Buccaneers (USHL) from 1991 to 1994, and then for Ferris State under Daniels for four years (1994-98), with a career save percentage of .848 and a 4.07 goals-against average in 78 career games. For two of those seasons (1994-96), he shared the net with current Rensselaer coach Seth Appert. In his senior year, Blashill played four games.
"He never complained, with one exception," said Jim Blashill. "It was his senior year, and Bob [Daniels] wasn't going to take him on a trip somewhere and he said, 'I deserve to go,' and Bob took him.
"I think that's where he learned the position of coach. The last two years not playing very much, I think he was another coach. From the bench, he learned the game."
After his senior year, Jeff Blashill remained on the Bulldogs' bench as an assistant coach from 1999 to 2002. Daniels didn't hesitate to take on Blashill, recognizing early that he had coaching potential.
"I wouldn't have pushed them both [Blashill and Appert] forward if I didn't think they'd be good at it," said Daniels. "I thought they both had the personality. They were outgoing. They had a goalie's perspective of the game, which is that you see it from the net out, and I always thought they were both very good recruiters."
Daniels said that Blashill has natural leadership abilities, but he said that there are still a few things his former goaltender can stand to learn.
"I don't think anything about his wardrobe would fire anyone up, personally," said Daniels. "My thing with him is I think he tries too hard. With certain people, there's a sort of understated elegance, and then you've got Jeff. I worked with him. I'm sure Rico [Blasi] tried, too. It started with color coordination, and then you go from there."
After working with Daniels, Blashill was hired as an assistant coach at Miami in Enrico Blasi's fourth season. Blasi echoed Daniels' praise of Blashill, saying that he and Blashill and former assistant and now current Bowling Green coach Chris Bergeron all learned the business of coaching together.
"Jeff's an excellent recruiter and a real student of the game," said Blasi. There is one thing Blasi said he wishes had come from his long-time acquaintance with Blashill. Although Blasi and Blashill both played CCHA hockey in the 1990s, Blasi played for Miami from 1990s, Blasi graduated from Miami in 1994, the same year that Blashill began at Ferris State.
"I wish I had played against him," said Blasi. "I would have had a few more goals."
In 2008, Blashill left Oxford, Ohio, for Indianapolis, just 90 miles away, where he was coach and general manager of the Indiana Ice (USHL) until being hired to replace Jim Culhane in Kalamazoo. In his two seasons with the Ice, Blashill was 72-43-0 and coached his team to a Clark Cup in 2008-09, his first season.
Now in Kalamazoo, Blashill is a little over 100 miles from where he played Division I hockey, and 340 miles from where he fell in love with the game. Tim Blashill is not at all surprised by his older brother's most recent move.
"About four or five years ago, maybe his second year in Miami, I thought I could envision him coaching in Kalamazoo, if Jim [Culhane] left the program," said Tim. Coaching in the CCHA and more specifically in Michigan "was one of the biggest attractions for the job," said Tim.
Jeff Jackson, a coach that all the Blashills grew up watching, has the perfect summary for this son of the CCHA: "He's a Yooper and a goalie. Pretty good by my standards."