For those of you who may be new to the Playoff Quotes game, let me save you some trouble: Here's a time-tested breakdown of what your coach will say depending on his team's position in the standings.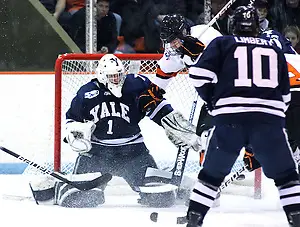 Bottom four: "There's no question, we've had a difficult season. We really struggled to play a full 60 minutes; our health/consistency left a lot to be desired. That said, I think we're finally starting to turn it around — we're getting healthy and our top line/power play/goaltending is clicking nicely. It would be nice to get a home series, of course, but it's really not that important — whether you're in first or 12th, you have to win away from home eventually if you want to be successful. We have to focus on what we can control, and that is our effort and consistency on a shift-to-shift basis. We can't control what other teams do; we just have to go out and give it our best shot and hopefully we can come away with a win."
Middle four: "It's great to be in the driver's seat for home ice, because we all know how much that means in this league: Being able to sleep in our own beds and play on our own ice can make a world of difference in such a tight conference. I'm sure a few of the guys could've used a bye week to rest up a bit, but I like the way we're working lately, and in my opinion a week off can hurt you as much as help you, momentum-wise … especially the way we've been playing for the last few weeks."
Top four: "I'm real proud of our guys for getting us to this point, but there's a lot of work to be done to get to the next level. They've earned every point this season, and so long as we take care of business this weekend, they'll have earned a week's rest, too. Our leadership/goaltending/defense/consistency has been exceptional, and I'm very confident in this group going forward. The bye puts us one week closer to Atlantic City, and from there, who knows what can happen. I'm very, very happy with what we've been able to accomplish so far, but we know that it's only going to get tougher in the weeks ahead."
Any of that sound familiar? Oh, I should also add the obligatory conclusion to each quote:
"This is, in my opinion, the toughest league in the nation, and it's no surprise that Yale/Union/Rensselaer/Dartmouth is ranked where it is. Every game is hard-fought and it is the most competitive conference top to bottom in the country. We know that it's only going to get harder in the playoffs, and we have to be prepared for that."
There are only two or three ECAC coaches I can't easily imagine saying any of those lines verbatim, and that's only because they never answer their phones.
What is funny to me about this season is that for all the hot streaks that I've documented this year — Union, Yale, Brown, Clarkson, Princeton, Quinnipiac, RPI and Cornell, in approximate chronological order — the final standings are shaping up to be about as "loose" (if that is the appropriate counter to "tight") as I've seen in a few years now.
Two teams (Union and Yale) are racing for first place. Two out of four contending squads (Cornell, Dartmouth, RPI and Princeton) will earn a first-round bye. Eight out of 10 (the last six, plus Clarkson, Quinnipiac, Brown and St. Lawrence) will play at home in their first playoff games of 2010-11, leaving Harvard and Colgate to scoreboard-watch in the hopes of avoiding the basement.
With what they know going into the weekend, all in all most teams will end up happy come Sunday morning: Only as many as five of 12 will have fallen short of Thursday aspirations, and that's not including the possibility of a co-championship split between the Bulldogs and Dutchmen.
So with that, our final installment of …
What we know
Fight for first
Union and Yale will finish 1-2, with actual placement yet to be determined. If the teams tie, the title is technically shared and there'd be some figuring to be done in seeding for the playoffs: If Yale wins and loses while Union ties and loses, Yale takes the top seed with more league wins. The same thing happens if Yale wins and ties while Union ties twice.
However, things get tricky beyond that. Should the Dutchmen and Bulldogs finish with identical records, the next tiebreaker is record against the league's top four. If Dartmouth finishes in the top four, Yale would take the top seed. Each team is 1-1 against RPI this season, and with Yale yet to play Cornell and Union facing Princeton, things are quite hairy beyond the Dartmouth stipulation.
If Cornell and RPI finish 3-4 in one way or another and Yale loses or ties the Big Red this weekend, Union would get No. 1. If RPI and Princeton round out the top four, anything short of a Union win over the Tigers would give the edge to Yale. However, should Yale beat Cornell in the former situation, or Union beat Princeton in the latter, or if Cornell and Princeton finish 3-4 and Yale and Union each beat, draw, or lose to those respective teams … we move on to tiebreaker No. 4: Record versus top eight.
If the top eight stayed the same as they are now — everyone except Brown, St. Lawrence, Harvard and Colgate — Yale would win the top seed. But, if Brown or SLU made the jump into a home-ice series, Union would have the edge.
Read the scenarios from top to bottom, because they are written in order of tiebreaker priority … but please read them all, because that really taxed my brain.
Bye, bye love
That is, we love byes. Cornell has the inside track (I can barely believe I'm saying that, after the way the Big Red started the year) with the tiebreakers on Dartmouth and Rensselaer and a two-point lead on Princeton. RPI holds the head-to-head advantage over Dartmouth as well, while Dartmouth swept Princeton. Therefore, a three-way tie between Cornell, Dartmouth and RPI would go to Cornell first, then RPI, with Dartmouth left out in the cold. If Cornell, Dartmouth and Princeton tie, the order would be Cornell, Dartmouth, and Princeton, 3-4-5.
The 'Tute and Tigers tangle in Troy on Friday, with RPI having won the first meeting. The funny thing is that regardless of the result, if Princeton and RPI tie in the standings, RPI will have the edge: Rensselaer already won the first meeting between these teams, and the Engineers would also own either the next tiebreaker — league wins — or, if that's a draw, the record against the top four.
In the case of a four-way tie at 11-9-2 records, the order would be Cornell in third, followed by RPI, Dartmouth and Princeton, as the four teams' records against each other are broken down by points: Two for a win, one for a tie.
Hunt for home
Quinnipiac, Clarkson, Brown and St. Lawrence are all fighting to take — or hold — a coveted home-ice position for the first round. QU and 'Tech are tied with 17 points and hold the final home seeds at this moment, with Brown (14 points) and SLU (13) praying for some outside help if they hope to avoid a road trip next weekend.
For the record, Clarkson has the tiebreakers over Quinnipiac, Brown and St. Lawrence. The Saints hold the head-to-head advantage over QU, and Brown over QU and SLU. None of these four teams play each other this weekend, which makes things a little easier.
All the Golden Knights need is a tie, or for Brown or St. Lawrence to miss out on one solitary point (which is to say, taking no more than three points this week) to assure themselves of another weekend at home.
The Bobcats need to win to insure a home series, or hope that Brown loses once and that St. Lawrence ties or loses. If QU can take one point this weekend, it will eliminate the Saints from home-ice consideration, but will need Brown to tie or lose.
Bruno and St. Lawrence clearly need to pass Clarkson and tie QU, at the very least.
See you on the road, Raiders and Crimson.
Acting locally, noticed nationally
Two conference stars are up for the prestigious Lowe's Senior CLASS Award: Union's Stephane Boileau and RPI's Chase Polacek.
Per ECAC Hockey:
To be eligible for the award, a student-athlete must be classified as an NCAA Division I senior and have notable achievements in four areas of excellence — community, classroom, character and competition. The list of finalists follows this release.

An acronym for Celebrating Loyalty and Achievement for Staying in School, the Lowe's Senior CLASS Award focuses on the total student-athlete and encourages students to use their platform in athletics to make a positive impact as leaders in their communities.
Boileau was also one of 25 nominees for the Hockey Humanitarian Award, and while he didn't make the cut, league-mate Aleca Hughes — a junior on Yale's women's team — made the cut as one of eight finalists for the honor.
The league has nine preliminary nominees for the Hobey Baker Award: Jack Maclellan (Brown); Alex Killorn (Harvard); Allen York and Polacek (RPI); Adam Presizniuk, Jeremy Welsh and Keith Kinkaid (Union); and Broc Little and Denny Kearney (Yale) are on the list so far. Vote early, vote often: We want more smart kids on the podium!
Notable numbers
Everyone knew that Yale's offense was dynamite, Union's power play was lethal, and you couldn't swing a dead cat without hitting a top-flight goalie in this league. We all knew that, in November and December. But what about now?
Well, right now Union has the nation's longest unbeaten (and winning) streak, at 9-0-0. The Dutchmen also have the most wins (24) in the land, while Yale has the best winning percentage (.815).
St. Lawrence, Clarkson and RPI rank sixth, ninth and 10th, respectively, in the nation in penalty killing, with Cornell (13th) and Dartmouth (16th) lurking. Union's power play is still the best around at 29.5 percent, a whole 4.2 points ahead of second-place Air Force. Yale is third and Princeton is sixth, on opposite sides of the 24 percent mark.
The Big Green and Dutchmen rank sixth and seventh in the country in fewest penalty minutes per game, as Dartmouth is whistled for 10.9 and Union 11.
On to the offense. No shock here: Yale (4.41 goals per game) and Union (3.76) are Nos. 1 and 3 in the country in scoring, with only Boston College in between. The ECAC duo also holds the top two seats in average scoring margin as well, which is no surprise since Union (2.09), Rensselaer (2.16) and Yale (2.22) are first, third and fifth — respectively — in Division I defense.
Speaking of stingy, the Engineers' Allen York (1.99), Union's Keith Kinkaid (2.00) and Big Blue's Ryan Rondeau (2.06) are each in the top seven in the country in goals-against average, with Dartmouth's James Mello and Princeton rookie Sean Bonar just beyond. Mello, York and Rondeau each boast elite save percentages between .925 and .930, so the low GAA numbers aren't all thanks to lousy offenses (that's for all you nay-saying big-school blowhards).
RPI's Nick Bailen, Harvard's Danny Biega (USCHO's third star of the week) and Princeton's Taylor Fedun are lighting it up from the blue line with the best of 'em, each averaging nearly a point a game. Rookie Daniel Carr out of Union is tied for the national lead in power-play goals (11), and his 18 goals overall are tied for second among all D-I frosh. Not to be lost behind Carr's snipe stats are Yale and Princeton rookies Kenny Agostino and Andrew Calof, who are each averaging about a point a game and are ranked ahead of Carr in offensive production.
And when you get to the most obvious statistics — goals and points — what does it mean when ECAC Hockey has only three players (Polacek and Yale's Brian O'Neill and Andrew Miller) in D-I's top 20 scorers? Or that only O'Neill, Polacek and Brown's Jack Maclellan are among the country's 20 most-prolific goal scorers?
It means that these players have embraced the words of every coach they've had since mites: It's a team game, and we're watching some pretty extraordinary teams.