There's a bounty crop of Atlantic Hockey players finishing up their college careers this season, especially when it comes to forwards. Several teams are going to have to replace a lot of points after this season.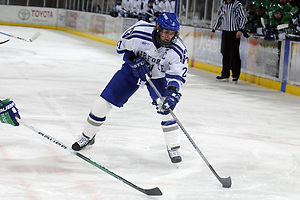 As the final weekend of the regular season approaches (a look at the playoff picture for each team can be found in the latest edition of the Atlantic Hockey blog) let's look at the players who will be moving on.
Air Force: The seven Falcons seniors have 79 wins to date, tied for second all-time at the school. This class won the AHA title as freshmen and sophomores. It includes two 100-point scorers, Derrick Burnett (112) and Jacques Lamoureux (109 in three seasons). Lamoureux is a former AHA player of the year and Hobey Baker Award finalist.
American International: A class of six includes Steve McLeod (68 career points) and Tom Mele (51, including 30 goals). Defenseman Mike Little has played in a team-high 128 games.
Army: Up front, the Black Knights lose leading scorer Cody Omilusik (107 career points). Joey Amon and Pat Copeland have combined for 235 games on the blue line. Goaltender Jay Clark has appeared in 79 games with a 2.97 goals-against average.
Bentley: Five seniors include the team's top two scorers, Erik Peterson (92 career points) and Dustin Cloutier (90), as well as goaltender Joe Calvi (75 starts).
Canisius: Like Bentley, the Golden Griffins are losing a dynamic duo in Cory Conacher (137 career points) and Vincent Scarsella (124). Conacher is the Griffs' all-time points leader. Canisius loses 10 players in all, the largest class in the AHA.
Connecticut: One of the bigger senior classes in recent years (eight players) includes Andrew Olson (84 career points). Olson has played in 141 games, tops in school history. Six of the eight played in at least 100 games, for a total of 765 contests for the class of 2011.
Holy Cross: This senior class is going out with a bang, as the Crusaders are enjoying their best season since 2005-06. Everett Sheen is closing in on the century mark (98 career points to date). Goaltender Adam Roy has been the go-to guy since the holidays, helping Holy Cross to a nine-game unbeaten streak, the second-longest in school history.
Mercyhurst: Eight seniors include a lot of firepower up front — five of the Lakers' top seven scorers this season are seniors, including Scott Pitt (124 career points), Steve Cameron (107) and Mike Gurtler (93). Goaltender Ryan Zapolski has made a whopping 98 starts in net.
Niagara: The senior tandem of Paul Zanette and Bryan Haczyk have combined for 52 goals out of 113 so far for the Purple Eagles. Both came into their own this season, scoring almost half of their career points in their senior campaigns. Blueliner Ryan Annesley has racked up 69 points to date.
Rochester Institute of Technology: The Tigers lose their top two scorers, Andrew Favot (124 career points), and Tyler Brenner (23 goals this season). Brenner is foregoing his final year of eligibility. This class of five won three AHA regular season titles and was national semifinalists last season.
Robert Morris: This class has led the Colonials to their best season ever. Nathan Longpre needs a point to become RMU's all-time leading scorer (136 points) and Denny Urban has tallied an amazing 111 points from the blue line. Longpre, Urban and Chris Kusheriuk are three of RMU's top four scorers this season.
Sacred Heart: This class has made it to Rochester twice so far, including the championship game last season. The Pioneers lose three of their top six scorers, including Patrick Knowlton (23 points this season; 79 in his career).
Around the league
It's time again for miscellaneous factoids from around the AHA:
• Air Force's Lamoureux became the all-time goal scorer in AHA history when he scored his 57th league goal on Saturday, surpassing Army's Owen Meyer (2010). Lamoureux broke the record in just three seasons — he played a year at Northern Michigan before transferring to Air Force.
• Canisius freshman Ben Danford is having an unprecedented season for the Golden Griffins. He's got 20 assists so far this season, which is the most ever for a rookie blueliner at Canisius and tied for the best season ever by a defenseman at the school.
• Another freshman having a record season is Connecticut's Cole Schneider. He has 29 points so far, tied for the best season ever by a UConn rookie.
• Robert Morris' Longpre has been sidelined by injury his past two games, leaving him tied for the school's all-time points lead (136 points). The Colonials haven't skipped a beat, winning both games without him.
Check the blog on Friday for picks. Next week we'll break down the four first-round playoff matchups.