A last round of thoughts to some questions, comments, and opinions I heard at the Frozen Four:
St. Paul should be the permanent site of the Frozen Four. That might have been the best Frozen Four I had ever attended (Milwaukee was a close second). It was a hockey city, a hockey state, a hockey crowd, and the four teams that were there were all close enough to St. Paul to get there and support their team.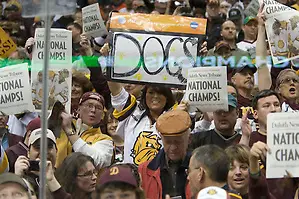 The North Dakota faithful travel very well anywhere and the Minnesota-Duluth fans showed up in droves for the final. Michigan had a great group of fans, and Notre Dame had support.
The best line about the Sioux fans I heard was, "They are like Deadheads the way they follow the team everywhere; all that is missing is the tie dye."
The Frozen Four should always be in a city that lives and breathes hockey — and preferably college hockey — like Boston, Detroit, Denver and Minneapolis/St. Paul. I still think Toronto should host one; what a marketing opportunity for college hockey in a ripe and fertile market for elite players.
This was a great pick to host this event and the city of St. Paul, the planning committee, the venue, the games and everything that went with it was tremendous. The atmosphere was electric, proving college hockey championships should be in hockey arenas. If any kid aged 10-16 was there, he had to have turned to his folks and said "I want to play college hockey."
Great job!
Was Minnesota-Duluth really the best team at the Frozen Four? I'll quote Jack O'Callahan on this one. I once asked O'Callahan about the 1980 Olympic team and whether it was among the best teams of all time for what it had accomplished. He said, "At the time we were the best in the world." Good enough for me, so the answer is, yes, Duluth was the best team there. The Bulldogs beat two good teams to win it.
Did Michigan overachieve in beating North Dakota? In some ways yes and in some ways no. Michigan got outplayed and outshot but when you look at the game again the Wolverines weren't as outplayed as one might think. They gave up a ton of shots but in their own end they were pretty responsible in front of Shawn Hunwick. That was about as pushed to the limit as I have seen Michigan in a long time and they responded. Their underclassmen got the hockey education of a lifetime this season.
You seem to be pretty high on Matt Rust of Michigan. These past four games that Michigan played reaffirmed what I have felt for two years: Matt Rust is as good a defensive player as there is in college hockey. That Duluth didn't blow Michigan out with all those power plays had a lot to do with how well Rust kills penalties. The kid delivered for his team in the postseason.
North Dakota is overrated. No, it isn't; that was a pretty dynamic and well-built team. For the first time in any Frozen Four I have seen them in since Dave Hakstol took over I felt their goalie didn't let them down. I have often felt NoDak was a victim of a bad goal or two against in the Frozen Four. I thought Aaron Dell was as good as he needed to be and gave NoDak every opportunity to win the game. Hunwick was one save better, plain and simple.
Miami seems headed to the WCHA and Notre Dame to Hockey East. Have heard both; have not heard them from anyone I'd consider the authoritative source. Neither would shock me. If they went somewhere together it wouldn't surprise me, either. It's too early to tell. All talk seems pure speculation at this point.
College Hockey as a whole isn't happy with the Big Ten situation. I have heard more people say this than the opposite. The prevailing sentiment I have gathered is that Penn State should have come in as a CCHA team and stayed there as the 12th team.
Notre Dame is back. I'm not sure it ever left despite a poor season in 2009-10. As long as the Jeff Jackson-Paul Pooley-Andy Slaggert trio is running that program, the Fighting Irish will be a force to reckon with. Add in the new building and Notre Dame is here to stay.
So, how do you really feel about the Tom Anastos to Michigan State hiring? This was asked tongue-in-cheek after the column I wrote a week or two ago but at least it gives me a chance to clear this up. I'm an Anastos guy. I like MSU hockey. My wife, cousin and uncle are alums. I think it is a curious hiring that might work. Who the assistants are will be a huge factor. I don't like the entire picture that was painted for several reasons but I would like to see Anastos succeed. However, there is a part of me that feels what he brings to college hockey as a whole is severely hampered by him coaching Michigan State as opposed to having a bigger presence on the landscape.
Hockey East spit the bit in the regionals. Well … not so much. Boston College got beaten by a Colorado College team that showed up and wanted to win and was prepared to do what it took. BC looked like a team that knew how good it was and then couldn't prove it. New Hampshire played very well against Miami but Notre Dame physically dominated it in Manchester. Merrimack was solid against Notre Dame but those kids were in uncharted waters.
The ECAC was unimpressive in the national tourney. That is a case you could make but there were reasons. Rensselaer had been sitting around away too long to be competitive. Union didn't match up physically for what it faced in its regional and Yale was a pretty good team that ran into a much more battle-tested team in Duluth.
Matt Frattin got robbed in the Hobey voting. This was mostly a Sioux thing but I'm not sure that is accurate. He, Andy Miele and Cam Atkinson had terrific seasons. Of the three, there is a case that Miele did more with less around him than the other two did. Could any of the three have won? Absolutely. However, Frattin's consolation prize was taking his first NHL shift for the Toronto Maple Leafs at the Air Canada Center in Toronto on "Hockey Night In Canada" against the Montreal Canadiens with his family in attendance. For a Canadian kid, it doesn't get much better than that.
The officiating was … . Going to be careful here because I have some good friends that wear the stripes across college hockey. I felt the officiating at the Frozen Four was average. I felt the officiating in the title game was not very good. That is said with no emotional attachment to any of the four teams. I do think that there are a lot of good officials that are somewhat handcuffed by the rigidity of the NCAA rules and the way they want games called.
Red Berenson mentioned his displeasure with the officiating after their loss in the title game and I don't think it was sour grapes; he had a point. One NHL scout said to me, "Every time someone falls down in an NCAA game it is a penalty." I think there is a need to let them play a bit more. However, there is also the safety factor and if an official feels that a player's health gets compromised on a hit, that has to be respected. But there have been games with a slate of calls that have just made you shake your head.
Lastly … now that I'm home. There are so many people that deserve credit for making college hockey what it is. Fans read stories on websites and in newspapers, listen to radio and watch televised games and never realize the amount of effort that goes into it.
The most thankless job in college hockey is that of the sports information director. Those folks are the reason you get a lot of the info on your teams that you do. It doesn't appear magically. They are vital for the print and electronic media. To the team SIDs and conference media relations folks, a huge thank you once again for a great season. The all-nighters and long hours and weekends you put in are appreciated.
Special thanks to those who officiate the officials: Frank Cole, Ty Halpin, Steve Piotrowski and Paul Stewart. The time you give to help us at CBS understand the rules and everything that goes into it is a huge help.
One more thank you. There are a lot of great senior classes out there and there isn't enough room to mention all of them, but on a personal note a fond farewell to the senior classes at Michigan, Michigan State, Ohio State, Miami and Notre Dame.
Those schools spent a lot of time on CBS College Sports (now CBS Sports Network) the past four years, probably more so than any other. I wish you luck in your future endeavors and hope to see you continue playing this great game. Thanks for the access, cooperation, and memories.
Congrats to the Bulldogs.
Is it October yet?