By his own admission, Guy Gadowsky has barely had time to breathe in the last week, and that continued Monday as he was formally introduced as the new coach at Penn State before going to meet the team.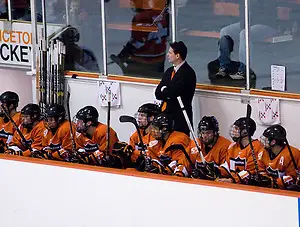 Watching the NCAA West Regional a month ago, Gadowsky had no idea things would transpire the way they did for him to leave Princeton and become the first varsity coach for the Nittany Lions.
"When we did speak in St. Louis, none of this had happened yet," said Gadowsky. "The process hadn't started. It started sort of late with me, and it's really been a whirlwind since Thursday. I haven't really had time to breathe. I was here Thursday [and] Friday and I got the phone call on Saturday asking to make it official around 12 noon."
Gadowsky will take the reins next season as the Nittany Lions play one final season of club hockey. In 2012-13, they will play an independent Division I schedule before playing in the Big Ten Conference in 2013-14.
"It's an extremely exciting situation," Gadowsky said. "You have a miraculous gift and a wonderful hockey family. Joe Battista has worked so hard here to ensure the hockey program is unbelievably successful, so he had probably had this in mind for a long, long time.
"And then you have this wonderful gift. It's really exciting, the prospect of such a fantastic rink in a place like Penn State, where the spirit of the school is phenomenal. I mean, you watch a football game and you have 110,000 fans just going nuts. It doesn't take much to expand your mind to think what you could do with a great product like college hockey with the environment and spirit at Penn State."
Gadowsky was quick to stress that academics will be a strong focus in his recruiting at Penn State, where the athletic department strives for high graduation rates among all of its programs, and said the recruiting process will be similar to what he experienced at Princeton.
Gadowsky did make an exception for the possibility of players departing the Nittany Lions early for pro hockey.
"At Princeton, we look for the best student-athletes all over the place, so it's not like we've had just one niche," he said. "In terms of fit, it's very similar to Princeton in that way, so we will continue that tradition.
"I think, obviously, as Penn State gets better and better, the athletes coming here get better and better and the NHL teams are going to take more and more notice. I expect that to happen in the future and I'll be proud when it does. Aside from the players that leave early by signing pro contracts, I expect that graduation will be their No. 1 priority."
Gadowsky's successor at Princeton hasn't been named. His move to Penn State is just one more in a series of moves that has seen Nate Leaman depart Union for Providence, Norm Bazin being hired to coach at Massachusetts-Lowell, and Rick Bennett hired to replace Leaman at Union. There are also still coaching vacancies at Clarkson and Michigan Tech.
"We had more movement this year than we have had since I've been in it for sure, and I don't know the reason for it," Gadowsky said. "I don't know how to comment on it other than that there's been a lot more movement this year."
Gadowsky admitted that though he is excited about the coming challenge at Penn State, saying goodbye to his Princeton players has been the most difficult part of it.
"I got to talk to the team at 3:30 [Sunday] but that was a complete train wreck," he said somberly. "That was the worst part of all of this. It's been pretty emotional since then."