Assessing talent in sports is as much of an art as it as a challenge.
For years, E.J. Maguire, who passed away earlier this NHL postseason after a battle with cancer, handicapped how great players would be before they were selected in the NHL entry draft. As we approach late June, there's no doubt he'll be missed by the hockey brethren when they gather in St. Paul, Minn., for the 2011 selections.
That said, this year's Stanley Cup Final offers a situation that would have made Maguire salivate. The Boston Bruins had to figure out which player would best replace Nathan Horton, out with a concussion after an Aaron Rome hit in Game 3.
Almost in a tribute to Maguire, Bruins coach Claude Julien made a pick that paid dividends, putting former St. Lawrence standout Rich Peverley on the top line with Milan Lucic and David Krejci. In a critical Game 4, the former Saints forward scored twice, including the game-winning goal early in the 4-0 victory, as the Bruins drew even with the Vancouver Canucks after falling behind 2-0 on the road to open the series.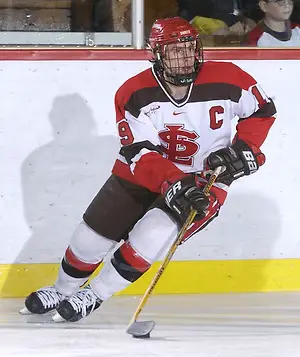 The choice to go with Peverley over other players — including Michael Ryder, who registered three points as the emergency replacement on the top line after Horton was injured in Game 3, and rookie Tyler Seguin — was made because of Peverley's versatility.
Since arriving in Boston in a pre-trade deadline move in late February, Peverley has played multiple roles: checking forward, penalty killer, power play forward. On Wednesday, the versatile forward got the chance to play a new role for the Bruins — scoring forward — and he did just that.
"You want to play as much as you can," said Peverley, who between 2000 and 2004 registered 44 goals and 117 points at St. Lawrence. "I've been jumping into lines, penalty kill, power play. You're trying to get as many minutes as you can. Whatever way they come, it doesn't matter.
"You want to be versatile. That's the way I've tried to play my whole career."
Peverley not only scored two important goals for the Bruins in Game 4, he also made his head coach look brilliant, important in a market such as Boston that is loaded with armchair quarterbacks.
"He moved up on the Horton spot and moved well," Julien said. "He comes to play every day. He's a very serious athlete, takes good care of himself. Right now he's being rewarded."
Should the Bruins put together two wins in the final three games of this series, Peverley and his teammates will receive an even bigger reward: Boston's first Stanley Cup since 1972.
When you think of where Peverley was just four months earlier, winning a Stanley Cup would almost be a minor miracle.
Since leaving St. Lawrence in 2004, Peverley bounced around the minor leagues between the ECHL and AHL. The 6-foot forward got his first sniff at the NHL in the 2006-07 season with Nashville and then bounced to the hapless Atlanta Thrashers in the middle of the 2008-09 season.
Last season, Peverley put up career numbers with the Thrashers, scoring 22 goals and 55 points in 82 games. Unfortunately for Peverley, though, the Thrashers continued to struggle. By February of this season, playoffs weren't even in the cards and rumors began to swirl that the team may be sold.
Last week, the NHL announced the team's sale and an impending move to Winnipeg, Manitoba. Peverley, though, has to worry nothing about that. He arrived in Boston when the team was trying to free up cap space before the trade deadline.
The rest of the story, as they say, is history.
That history is hardly complete for Peverley and the Bruins as they look to bring hockey's Holy Grail to Boston for the first time in nearly 40 years.
With the series even at 2, the scene shifts to Vancouver, where the Bruins struggled to score in the opening two games of the series, both losses. That, though, is a distant memory after the Bruins put up 12 goals in two games on highly regarded goaltender Roberto Luongo.
Two of those goals came from Peverley's stick, and he and his teammates hope those are the first two of many more to come. It truly is beginning to become a rags-to-riches story that would make any coach smile.
"I know he's been through some tough years where he hasn't played in the playoffs," Julien said. "But certainly he's been a guy that's certainly enjoying the moment and giving us what we need."