Ohio State will take on Michigan in an outdoor hockey game, the "Frozen Diamond Faceoff," Jan. 15, 2012 in Cleveland, the MLB Cleveland Indians announced Thursday.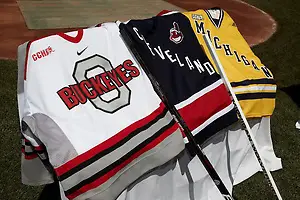 The game, a CCHA contest slated for a 5:05 p.m. faceoff, will be part of Indians Snow Days at Progressive Field.
"This is a great opportunity for our program and student-athletes," Ohio State head coach Mark Osiecki said in a statement. "I was involved with two outdoor games at Wisconsin and they really are something special for everyone involved. It's such a unique experience to play on an outdoor rink in front of so many fans."
The regulation-sized ice sheet will be situated on the infield covering home plate and stretching down the first base line.
Ohio State first played in an outdoor game Feb. 11, 2006, when it faced off against Wisconsin at Lambeau Field in Green Bay, Wis. Osiecki was an assistant coach for the Badgers in the game, which was played in front of 40,890 fans.
The Wolverines first took part in the Cold War game at Spartan Stadium in East Lansing, Mich., on Oct. 6, 2001, against Michigan State and then again versus the Spartans last Dec. 11 in the "Big Chill at the Big House" at Michigan Stadium.
Specifics on the ticket presale will be released in the coming weeks.