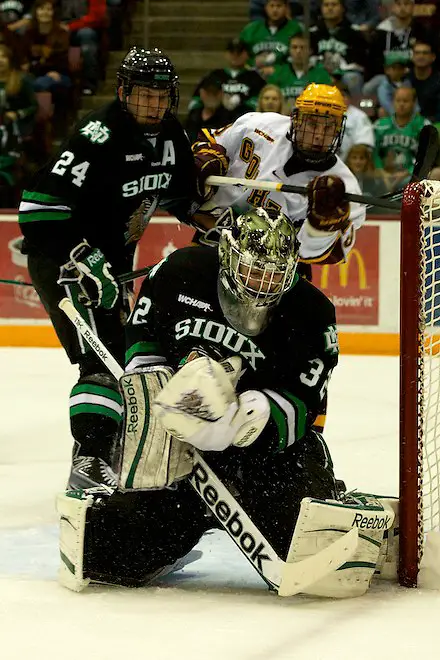 Just when you thought Aaron Dell was going to get some offensive support…
…the North Dakota offense lays a goose egg. Bemidji State beat the Fighting Sioux, 1-0, Sunday evening to drop UND's record to 4-7-1 overall and 2-6-0 in the WCHA.
Dan Bakala is a good goaltender and he did earn the 26-save shutout, but another shutout is unacceptable for the Sioux and its often impatient fan base.
The five shots the Sioux put on Bakala in the first period is not going to cut it, and it kept UND from setting the tempo. Not like the game had much tempo anyway. It was a kind of a boring period to watch.
Not counting Friday's five-goal game against BSU, the Sioux has scored five goals in five games going back to the St. Cloud State series. UND was shut out three times in that stretch.
UMD's Brown and Oleksuk make for a good duo
People in Duluth could've told you that weeks ago.
Goaltender Kenny Reiter has gotten a lot of the credit for Minnesota-Duluth's 10-game unbeaten streak. He does, after all, have three shutouts in that stretch with a .947 saves percentage.
That somewhat overshadowed the great job UMD's offense did since the three-game losing skid at the beginning of the season.
Scott Sandelin put J.T. Brown and Travis Oleksuk together as the wings on a line centered by Jack Connolly before the Oct. 28 game against Bemidji State. Three games later, Sandelin moved Connolly off the line and put Oleksuk in the center spot.
The Oleksuk/Brown line, with new addition Caleb Herbert, has led the team in points in seven of the eight games since their merger. Oleksuk is 3-10–13 and Brown is 6-4–10 since through that stretch.
Who will be minding the net for Colorado College?
Colorado College sophomore goaltender Josh Thorimbert is making a strong case to supplant incumbent Joe Howe and embark on an extended run as the Tigers' No. 1 netminder. After stopping 55 of 58 shots in CC's sweep of Wisconsin over the weekend, the Sakatoon, Sask. native is 3-0 in his last three starts with a 1.67 goals against average and a .950 saves percentage.
Howe, on the other hand, has surrendered 10 goals on 45 shots in 89:54 of play since giving up just three goals on 80 shots in his first 199:34 of action to begin the season.
Although Howe maintains a 4-1-0 record, that number is deceiving for a couple of reasons. First of all, one of the Plymouth, Minn. product's wins came in a one-period relief appearance against Bemidji State on Oct. 15. Secondly, after allowing Denver four goals on 21 shots in just over 30 minutes on Nov. 12, Thorimbert was charged with the 5-4 loss despite giving up just one goal to the Pioneers.
The guess here is that CC coach Scott Owens goes with the hot hand this week when the Tigers travel to Grand Forks to battle the Fighting Sioux; especially considering Howe's 1-2 record, 4.48 goals against average, and .889 saves percentage against North Dakota last season.
But this is still the Joe Howe who nearly led the Tigers to the Frozen Four last season—and this UND team is not equipped with nearly the firepower of its predecessor—so we'll pay close attention to what Owens ultimately decides with his goaltenders this holiday weekend.