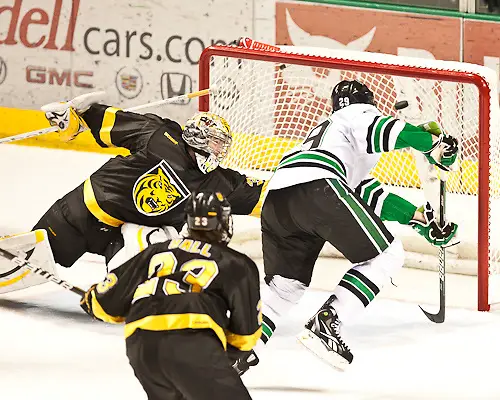 Maybe it was a tryptophan overdose which made it such a tough week to be a ranked team in the WCHA. The conference's top-ranked schools went a combined 3-5-2 including the 1-4-1 mark posted by those in the top 10.
Struggling North Dakota's sweep of No. 4 Colorado College was perhaps the biggest eyebrow raiser of the bunch but No. 3 Minnesota's one-point weekend at No. 20 Michigan State was yet another head-scratcher. Only No. 10 Denver's shutout of Princeton on Friday night stood in the way of a winless weekend for WCHA teams in the top half of the rankings.
No. 18 Michigan Tech and No. 19 Nebraska-Omaha each chipped in a win to the cause but, overall, it was an underwhelming few days for those whose names are preceded by a number.
Un-ranked WCHA teams, however, fared far better against slightly stronger competition. North Dakota, Wisconsin, Alaska-Anchorage, Minnesota State, and St. Cloud State's post-holiday performances resulted in a 5-2-3 mark. The feat was accomplished against foes entering the weekend with a winning percentage of .475 as opposed to the .451 posted by opponents of ranked teams.
Today's poll should see a lot of movement within the WCHA's top 20 membership with No. 6 Minnesota-Duluth (idle this past weekend) likely the biggest beneficiary.
Desperate times call for desperate measures
Singer, songwriter, author and political activist Bob Geldof once said, "Mankind at its most desperate is often at its best." Although Geldof has likely seen very little hockey in his lifetime, his words accurately describe the happenings in Grand Forks and Mankato over the weekend.
The WCHA's pre-Thanksgiving bottom three, North Dakota, Alaska-Anchorage, and, to a lesser degree, Minnesota State each demonstrated the power of desperation as November's schedule came to a close.
It was evident the Sioux took the Nov. 20 shutout loss at Bemidji State to heart.
UND forward Danny Kristo was asked after the game, if he was sick of hearing how the Sioux couldn't score goals.
"Whatever is said is said so we can't dictate that," Kristo said with a laugh.
All it took was 36 seconds into Friday's game for Kristo to backhand the puck into the Colorado College net. Ten goals and six periods later, the Sioux swept the No. 4 Tigers.
Two wins against a highly-regarded team like CC is a great foundation to build off as the Sioux work to get this season going in the right direction.
UND's schedule up to the New Year has a combined record of 15-16-7 between Alaska Anchorage, Nebraska-Omaha and Harvard so let the scoring continue for the Sioux
Harvard has the ninth-worst defense in Division I (3.38 goals allowed per game), right in front of the Seawolves (3.36) and UNO isn't far behind in goals allowed department with 3.31 allowed per game.
This weekend's sweep of CC could be the dawn of UND's annual surge.
Alaska-Anchorage lugged a 1-7-0 conference record to Mankato having scored just seven goals in those eight games (0.88 goals per game). The Seawolves exploded for 10 goals in taking three of four points from the Mavericks by way of a 5-4 win followed up by a 5-5 tie.
UAA stormed out to a 5-1 lead on Saturday night after just 27:31 of play before the Mavericks demonstrated a bit of their own desperation. Minnesota State stormed back with four unanswered goals in the next 22:53 to tie the game with nearly 10 minutes to play. Although the Mavericks were unable to top off the comeback with a win, their urgent effort salvaged one point in the series.
Badgers depend a lot on Zengerle, Schultz, offensively
We saw what Wisconsin can do when Mark Zengerle and Justin Schultz blow up for 15 combined points, as they did this weekend against Mercyhurst.
Zengerle scored one goal with seven assists. Schultz had three goals and four assists. The Badgers probably won't get that big of a weekend again from Zengerle and Schultz together, but its become obvious how vital the pair is to Wisconsin's offense.
Every team needs players that can score a point per game. For the Badgers, they needs even more out of Zengerle and Schultz, or other guys or going to have to step up to balance the offense for Wisconsin to be successful.
The Badgers are undefeated at 6-0-1 when Schultz has a multi-point game but have only one win in nine games in which he records one point or less. Wisconsin is 4-1 when Zengerle has a multi-point game and 3-7-1 when he doesn't.
Last but far from least . . .
A toss of the hat to Colorado College's Rylan Schwartz for his dual-hat-trick performance in the Tigers' pair of losses in Grand Forks.
The junior forward now ranks fourth in the nation with 13 goals in 11 games and is tied with his brother Jaden for the team lead in points with 17. Rylan has shown himself to be somewhat of a streaky scorer with 11 of his goals coming in just four of CC's games, including another hat trick against Bemidji State on Oct. 15.