It's a pretty simple formula: Put Minnesota and North Dakota in the same regional and wait for the fireworks.
But if you think that's a predestined situation in the 2012 West Regional, Boston University, Western Michigan and a dose of history may have you think again.
The Gophers and the Fighting Sioux have been put on opposite sides of the same regional four times since the NCAA tournament expanded to 16 teams in 2003. Of the three in the past, only one has ended in a Minnesota-North Dakota regional final. That took place in 2007, when the Sioux advanced in overtime.
2003 in Minneapolis? Ferris State took care of North Dakota in the first round. 2006 in Grand Forks? Holy Cross sent Minnesota home.
Top seed North Dakota plays Western Michigan in the first round this season, while regional host Minnesota reignites an old rivalry with Boston University.
Here are the previews for the West Regional. Check to the right for game times and locations.
North Dakota Fighting Sioux
Coach: Dave Hakstol, eighth season
Record: 25-12-3 (16-7-5 WCHA, fourth)
How they got in: Automatic qualifier, WCHA playoff champion
Regional seed: First
Last NCAA tournament appearance: 2011
Best NCAA finish: Champions, 1959, 1963, 1980, 1982, 1987, 1997, 2000
Why they'll get to the Frozen Four: This is UND's time of the season. The Sioux are 10-2 in regional play since 2005 and are getting great goaltending from Aaron Dell and consistent scoring from the top line of Danny Kristo, Corban Knight and Brock Nelson.
Why they won't get to the Frozen Four: Western Michigan goaltender Frank Slubowski is smokin' hot going into Saturday with a .937 save percentage in his last six games.
The last four periods North Dakota has played have been completely dominated by the Sioux, making it one of the hottest teams in the country right now.
UND has won seven straight games going back to Feb. 25 and is 9-1-1 in the past 11 games.
"Our coaches emphasize playing our best hockey at this time of the year," said UND captain Mario Lamoureux. "It gets embedded in our mind."
The Sioux defeated St. Cloud State 4-1 in last Thursday's WCHA Final Five quarterfinals but fell behind Minnesota 3-0 after 30 minutes the following night. UND coach Dave Hakstol called a timeout, the Sioux scored once before the end of the second period and poured it on for five goals in the third.
UND blanked Denver 4-0 for the title and has scored 10 straight goals, outshooting its opponents 46-24 without allowing a goal in the last four periods.
"We fight real hard to get here and once you get here you go day by day to play the next night and the goal is to eventually play for the title," Hakstol said after last Friday's win. "We have that opportunity now and we're going to make the most of it."
North Dakota played Western Michigan, its first-round opponent, four times over back-to-back seasons in the late 1990s, and the Sioux won all four. Other than that, there isn't much history between the programs. Both teams played in last season's Midwest Regional, and the Broncos were minutes away from playing UND in the regional final but let a late lead slip away in the first round against Denver.
UND and WMU will be regular opponents as members of the National Collegiate Hockey Conference starting in 2013.
The Sioux are led by their top line — Brock Nelson (27-17–44), Danny Kristo (18-25–43) and Corban Knight (15-24–39). Nelson scored four goals in the WCHA Final Five, adding to the Sioux domination, displayed by an all-tournament team that included all UND players but one (Denver's Jason Zucker).
Three of the four goals UND goaltender Aaron Dell allowed in three games at the Final Five were on the power play. He's riding a .948 save percentage in his last three games going into the regional.
UND also has a rock-solid defensive corps that includes top pair Derek Forbort and Ben Blood. Andrew MacWilliam brings a steady, physical presence on the second pair.
— Tyler Buckentine
Minnesota Golden Gophers
Coach: Don Lucia, 25th season, 13th at Minnesota
Record: 26-13-1 (20-8 WCHA, first)
How they got in: At-large bid
Regional seed: Second
Last NCAA tournament appearance: 2008
Best NCAA finish: Champions, 1974, 1976, 1979, 2002, 2003
Why they'll get to the Frozen Four: 1. They bring a sustainable level of offensive and defensive intensity and not fold in the face of adversity. 2. Kent Patterson gives them a chance. 3. Lucia uses his timeouts efficiently … OK, uses them. 4. No Friday game (the Gophers are 11-9 on Fridays, 15-4-1 on Saturday and Sunday).
Why they wont get to the Frozen Four: While the Xcel Energy Center is a familiar environment for the Gophers, the NCAA tournament is not, and their lack of tournament experience is exposed.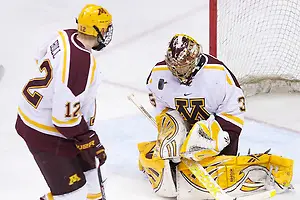 It has been a tale of three seasons for Minnesota, which got off to a red hot 9-1 start before a fairly mediocre 10-10-1 midseason stretch left the Gophers vulnerable to relinquishing their season-long spot atop the WCHA standings.
But Minnesota has gone 7-2 since being swept in Denver in mid-February and, along the way, captured the MacNaughton Cup, given to the WCHA's regular season champion, for the first time since 2007.
Minnesota was among the nation's leaders in scoring offense and defense all year but its scoring margin during the 21-game midseason plateau was just plus-0.66 per game (3.14 to 2.48). In the surrounding 19 games, however, the separation is a whopping plus-2.11 (4.00 to 1.89).
Last week's 6-3 Final Five semifinal loss to North Dakota was a microcosm of Minnesota's season in that it demonstrated, although exaggeratedly, the varying degrees of performance the Gophers are capable of.
The 60-minute span was the best of times and the worst of times for Minnesota this season, which is not to take anything away from North Dakota, whose five-goal third-period explosion equaled 28 percent of the final-period goals (18) the Gophers had allowed to that point all year.
Minnesota coach Don Lucia has repeatedly expressed his excitement for his team's return the NCAA tournament for the first time since 2008, particularly alluding to his seniors who have waited a long time for their one and only chance.
Not surprisingly, however, Lucia avoided discussion this week of a potential North Dakota rematch on Sunday, saying only that the Gophers are looking forward to playing Boston University.
"We know we have a great opponent in the first round," Lucia said of BU. "When you start looking ahead, you are going to end up biting yourself in the rear end.
"[The Terriers] are like they always are; they are one of the elite teams. They have [two] seniors on their team that won a national title [in 2009], so they know what it takes at this time of the season."
The Gophers have shown time and again this season that when they are at their defensive best, especially with one of the nation's best goaltenders (Kent Patterson, 26-13-1, 2.22 goals against average, .910 save percentage), frustration begets impatience in their opponents. The resulting odd-man rushes give Minnesota an opportunity to beat you with its speed and ingenuity.
Led by centers Erik Haula (19-27–46) and Nick Bjugstad (24-16–40), the Gophers are a solid two lines deep offensively with captain Taylor Matson's third line known for its effort and timely scoring.
On the back end, defenseman Nate Schmidt's 38 points (3-35–38) ties him with Denver's Joey LaLeggia for second, to Wisconsin's Justin Schultz (44), in overall scoring among WCHA defensemen.
"This is probably the most important game I've played in my career," said Schmidt. "It's going to be exciting but at the same time we're going to have to play with a little bit more poise and a little bit more determination this weekend in order to beat a team like BU."
— Brian Halverson
Boston University Terriers
Coach: Jack Parker, 39th season
Record: 23-14-1 (17-9-1 Hockey East, tie-second)
How they got in: At-large bid
Regional seed: Third
Last NCAA tournament appearance: 2009
Best NCAA finish: Champions, 1971, 1972, 1978, 1995, 2009
Why they'll get to the Frozen Four: Two months ago, they were the best team in college hockey.
Why they won't get to the Frozen Four: They've been wildly inconsistent since then.
Two months ago, the Terriers looked like the team to beat. They ranked first in the PairWise Rankings and within Hockey East boasted easily the best offense and the best penalty kill. Their team defense and power play ranked second.
Since then, however, BU has stumbled, posting an 8-8 record, hardly the stuff of champions. The once-stellar penalty kill has given up a goal in five of the last six games, including three (plus an empty-netter) against Maine in the Hockey East semifinals. The power play has scored only three times in the last 28 opportunities (10.7 percent) and scored only once in the last four contests.
If the Terriers can get back their mojo, however, they'll be a threat.
"If we don't, the season's over," BU coach Jack Parker said. "We've had some moments in our last eight games where we've looked really sharp and we've played really well. We've had other moments where we've looked like we're disinterested or not very thorough."
While his teammates have displayed maddening inconsistency, goaltender Kieran Millan has been a rock all season long, especially rising to the occasion with 150 saves in the three-game quarterfinal series with New Hampshire and 68 in the deciding game.
He may need to provide comparable heroics since the tournament starts with WCHA regular season champion Minnesota, playing before its home crowd. It'll be a matchup of two of the nation's top offenses.
"They're a terrific skating team," Parker said. "They've got great balance in all their lines, especially their top three lines. You can't pick which is the better line of those three. Their second-line center is their leading scorer. They've got guys with 30-odd points on their third line.
"They've got real good offensive defensemen that jump in the play and create for them and run the point on the power play point. They're a high-scoring team in a tough league, so they've had plenty of experience of competing against solid defensive-minded teams and still been able to put the puck in the net.
"They present a lot of problems. Then you add that they're playing in front of their hometown crowd in a building they're very familiar with. It will make it exciting, it will give them an advantage, but sometimes that puts pressure on the home team as well."
Although BU fans may be few and far between so far from home, Parker said he sees support from another faction.
"We'll have a few people in green and white that will be cheering for us," he said, his smile audible over the phone lines. "Because North Dakota's going to bring some fans."
— Dave Hendrickson
Western Michigan Broncos
Coach: Andy Murray, first season
Record: 21-13-6 (14-10-4-4 CCHA, tie-second)
How they got in: Automatic qualifier, CCHA playoff champion
Regional seed: Fourth
Last NCAA tournament appearance: 2011
Best NCAA finish: First round, 1986, 1994, 1996, 2011
Why they'll get to the Frozen Four: WMU's top line of Shane Berschbach, Chase Balisy and Dane Walters is as good as any line in the country right now, the defense is tight and freshman goaltender Frank Slubowski is an unknown quantity.
Why they won't get to the Frozen Four: Throughout most of the season, the Broncos had difficulty putting together total games in back-to-back contests.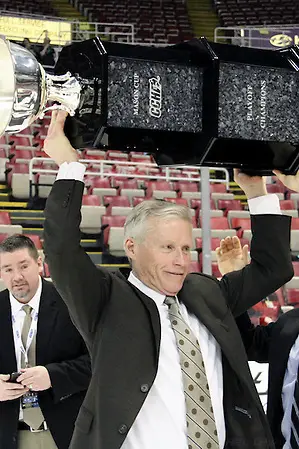 It would be difficult to exaggerate exactly how far this Western Michigan team has come. Crowned CCHA playoff champions last week for the first time since 1986, the Broncos finished the 2009-10 season in the basement before a new head coach, Jeff Blashill, took them to the CCHA title game at the end of 2010-11.
Under their second new head coach in two years — former Los Angeles Kings and St. Louis Blues coach Andy Murray — the Broncos have captured the Mason Cup and are making their second consecutive trip to the NCAA tournament.
In Detroit last weekend, the Broncos made it look easy. First they made a hot Miami team, the defending CCHA playoff champions, look flatfooted in 6-2 semifinal. Then the Broncos beat Michigan 3-2, a game that wasn't as close as the score indicates.
"It's tough to talk after something like that," said Murray. "Your emotions. I'm just so happy for our players. This is all about them. It's all about their commitment. All year they've worked extremely hard. I've had a lot of hard-working teams as a hockey coach — and I'm an old coach, so there's been a lot of teams — but I've got a real hard-working core here."
"I'm speechless," said senior forward and captain Ian Slater, who's been an integral part of the transformation in Kalamazoo. "I don't think I've really won anything in my life — even from a carnival. It's been an unbelievable ride."
Slater is typical of the WMU team: hard working, low key and disciplined. The Broncos' offense may not be flashy, but the top line of sophomores Chase Balisy (13-24–47) and Shane Berschbach (10-22–32) and junior Dane Walters (16-13–29) may be one of the best defensive trios in the nation, and the Broncos' team defense is 10th-best in the country, allowing 2.23 goals per game on average.
During four games of the CCHA playoffs, though, Western Michigan has outscored opponents 18-8 and in their last eight contests, the Broncos have allowed just 1.5 goals per game. In the CCHA playoffs, the WMU power play hit 36.8 percent of the time with junior defenseman Matt Tennyson (11-13–24) and Walters each scoring two. The WMU penalty kill went 15-for-16 in the CCHA playoffs.
Since Jan. 13, freshman goaltender Frank Slubowski (2.03 goals against average, .910 save percentage) has been the starter, and Murray said that Slubowski is a big reason for the team's success this year. "If you've got a good goalie, you've got a good chance to be a good coach," he said. "That's the bottom line."
— Paula C. Weston