Todd: Well, Jim, we're down to the last four teams standing, and the Frozen Four field has a ton of interesting elements. Two stand out to me. One is that we have the regular season champions from the so-called "Big Four" conferences heading to Tampa. The other is the disparity in experience — Boston College and Minnesota have nine NCAA titles and 43 Frozen Four appearances on one side of the bracket, while Union and Ferris State are each making their first Frozen Four trip and have seven NCAA tournament games combined. What are your first thoughts on the field?
Jim: I think the one thing that struck me about the entire field is how stingy the defenses of the four finalists were last weekend. Minnesota gave up the most goals in the regional — four. Union gave up three, Ferris State allowed two and Boston College pitched the shutout. I know goal scoring is down from past years but this seems a little ridiculous to me.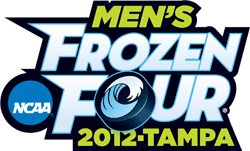 For complete Frozen Four coverage, visit USCHO's Frozen Four Central.
As you pointed out, the semifinals will be two completely different games in terms of experience. It's very impressive to know that the national title game will have a Frozen Four first-timer.
We also have four different leagues represented for just the third time in 10 years. The interesting story lines abound in Tampa!
Todd: I think we'll be hearing a lot about people looking a little deeper into Union and Ferris State — I've already been asked multiple times where those schools are (it's Schenectady, N.Y., and Big Rapids, Mich., respectively, if you're wondering) — and that's great for both those schools and those hockey programs.
Union also carries the flag for ECAC Hockey, which hasn't had a team in the Frozen Four since 2003 and hasn't had a team win the title since Harvard in 1989. How big would you say that is for the league?
Jim: Well, being down in Bridgeport, I can say that Union advancing was huge for the ECAC. You could see the celebration in the fans (who chanted "E-C-A-C" after the closing whistle), the media who cover the league and the administrators from Union and the league. This is a league that feels beat up when it comes to the national picture.
Remember, before this year, Atlantic Hockey and even the defunct CHA had made more recent appearances than did the ECAC. So there is a lot of league pride right now.
Whether this will have any sort of lasting impact on the league, that's hard to say. There are a few programs that are decent year after year. Adding Union to that mix definitely is a good thing.
Todd: On the Ferris State side of things, this is a group that has heard all about the 2002-03 Bulldogs team that won 31 games and made the regional final, and from hearing them talk last weekend in Green Bay, I'd say they're ready to put comparisons behind them. Other Ferris State teams now are going to have to be compared to this one, and it seems like that's a source of pride.
But they were also quick to say that their job isn't done, which is a huge challenge at this point for any Frozen Four first-timer. It's pretty easy to get wrapped up in the hype, isn't it?
Jim: It certainly is. And going back to Union, its businesslike approach is one that really impressed me. Coach Rick Bennett was stern when calling the regional and now the Frozen Four a business trip. And his players have bought into that. There was a small celebration on Saturday, but for the most part it was a team that looked like it had taken care of business. Bennett went as far to talk about that he bans playoffs beards. He said facial hair isn't part of business. There certainly is nothing hokey about this Union team, and that could stand as a major benefit.
Todd: I thought playoff beards were as essential to hockey as sticks, but I guess when you conduct yourselves in a businesslike fashion throughout the season it's good practice to keep it going for the playoffs. Ferris State struck me as businesslike, too, in that they just do what they have to do to win and don't care about style points.
But I don't know if anyone is going about business right now quite as well as Boston College. The Eagles are just making it look easy at times lately and take a 17-game winning streak and a two-game shutout streak into Tampa. How has that defense become so dominant in the second half of the season?
Jim: Well, certainly BC's defensive success started with goaltender Parker Milner. As Dave Hendrickson outlined in his story after Sunday's win, Milner's turnaround after a midseason slump was the product of hard work and dedication. And it certainly paid off. Another benefit for BC is that it seemingly possesses the puck for so much of the game. When your opponent doesn't have the puck, they can't score. In both regional games, BC's forecheck was simply dominant. Both Air Force and Minnesota-Duluth turned the puck over constantly. Because of that, Milner saw few shots in both games and the handful of quality shots he was able to stop.
I do believe that BC will be hard to stop in Tampa. The last team that I can remember reaching the Frozen Four with this significant of a winning streak might have been Maine's 1992-93 title team.
Todd: I think everyone looks to the goaltenders at this time of the season, but you make a great point: If the goaltender doesn't have to face a lot of quality shots, chances are he's going to look pretty good. That's taking nothing away from Milner, but I'd guess the whole is much greater than the sum of its parts with BC.
Minnesota, meanwhile, had an interesting road to Tampa, with a great start and an average midseason. But I think you've got to give the Gophers credit for pulling out of that slight tailspin and getting through a tough North Dakota team in the regional final.
Jim: Particularly given the fact that Minnesota had to go through North Dakota — a team that had demoralized the Gophers a week earlier when it erased a 3-0 deficit in a 6-3 win — and did so decisively. Minnesota really looked impressive on Sunday, dominating just about every aspect of the game against North Dakota.
I will say that having watched all four regional finals — two in person, two on TV — I think that the Gophers may be the only team that can stop BC. No disrespect to Union or Ferris State, but neither offense has the power to score three or four goals on this BC defense, something I think is necessary.
Todd: That's true, but the Frozen Four has given us its share of surprises over the last few years, and I wonder whether the weekend off between the regionals and the semifinals helps even teams out. With the way it has been playing, BC probably would be fine playing again this weekend. Some extra time might give the other teams more of a chance to plan for what the Eagles bring — not that it has helped anyone else recently, I guess.
Jim: I think that it is possible to devise that game plan with nearly two weeks off. Minnesota has that challenge. If it can't accomplish it, Union or Ferris State will have that challenge. I think either could devise a game plan to make things difficult on the defensive end. But, similar to Air Force, I do wonder if that defensive focus can allow for any offensive presence.
We will find out, though, in Tampa. Until then …