Mike Snee was named executive director of College Hockey Inc. on Tuesday and some college hockey coaches turned to their office mates and asked who Mike Snee was.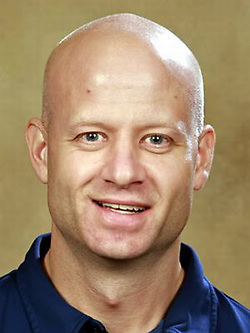 So here's a little about Mike Snee, from his own telling of his hockey life story.
He grew up in Duluth, Minn., looking forward to Friday and Saturday nights not only because it meant the school week was over but because it meant Minnesota-Duluth hockey at the DECC.
After finishing college in the Twin Cities, he took what he called a naive stab at a career in sports, getting an internship in the marketing and ticket sales department of the NHL's Minnesota North Stars. He realized then how much he wanted to do something he liked, not just hold a job.
So he did, working for the IHL's Minnesota Moose, the NBA's Minnesota Timberwolves and then as an original employee of the Minnesota Wild. He started there as the director of ticket sales and left some 10 years later after being the director of sponsorship sales.
He moved on to be the executive director of Minnesota Hockey, the state's governing body for amateur levels of the sport. There, he worked with USA Hockey, which provides funding for College Hockey Inc.
But it was during that time with the Wild that college hockey and Snee's professional life really came together. Because he was already known as a college hockey fan, he was made the point person in the Wild office for the WCHA Final Five when it moved to the team's home, the Xcel Energy Center.
That event quickly became a success, both on the ice and financially.
"I really felt a lot of pride about that and felt that as much as I love the NHL — and I do — it reinforced how much I loved college hockey and the atmosphere around it," Snee said.
Here are some of Snee's thoughts about three of the hot topics in college hockey as he prepares to take over the top job at College Hockey Inc.
On the executive director position at CHI
Paul Kelly was asked to resign as College Hockey Inc. executive director in February after he approached athletic directors to seek a more direct administrative role in college hockey. Some coaches were unhappy with Kelly's departure and the CHI board has since expanded to include coaches and athletic directors as well as the conference commissioners. We asked Snee whether he was satisfied with the authority the executive director position has to work on behalf of college hockey.
"I absolutely believe I do, and I can answer that most truthfully by simply saying I have a great job. I have a job that I love. I have a job where I don't feel like all that we can accomplish has been accomplished, and I'm leaving that.
"So you can trust that I had some questions … of a similar nature, and they were certainly answered in a manner that I was very happy and confident in.
"I did not need a job, nor was I looking for a job. When this kind of came together and they said 'Would you be interested in this?' in a conversation, and I said I would, I mentioned I needed some time because I had to put a resume together.
"Certainly, if I felt that if any degree of what you just said was out there, I would not have taken it."
On upcoming conference changes
We asked about concerns that conference changes coming in 2013 will be a big hit to smaller schools financially.
"I'll be quite frank: As a fan, I'm going to miss the Bulldogs playing the Gophers and the Badgers in games that, at the end of the year, might be determining who's going to win the WCHA. That's fun as heck and those are great games and I'm going to miss that. But as a whole for college hockey, I believe what will happen in the long term will prove to be a good thing, certainly in terms of making it more appealing for other universities out there that don't currently sponsor Division I hockey to sponsor Division I hockey. And if that happens that's more opportunities for players, it's more opportunities for new fans to be discovered, it's more opportunities for young kids growing up in a community that doesn't currently have that program to all of a sudden have a stronger youth hockey program. There's many reasons why you can be confident that, long term, this could likely be a very good thing.
"But how I would respond in the short term is that, to some degree, everything you just said does kind of exist. Like it or not, there is a difference in the athletic budgets at the University of Michigan and Boston College and Minnesota than there is at Union and Ferris State. But the reality is last year Union and Ferris State were in the Frozen Four. …
"One of the beautiful things of college hockey to me is the fact that you have these programs that maybe don't have this big, national brand because they're only Division I in hockey such as Colorado College and St. Cloud State and all of these wonderful Eastern institutions. And they're right there in the game."
On competition with major junior for high-end talent
"I think so much of college hockey that this is going to be a continued presentation of the virtues of college hockey and choosing that development path. These kids obviously want to reach their full potential as a hockey player. There's overwhelming information out there that players reach their full potential going the college route. You certainly can't guarantee they're going to play in the NHL because most kids don't, regardless of whether it's major junior or college. But they're going to reach their full potential.
"And you don't need to look further than … the fact that 33 percent of [NHL] players last year had a college hockey background as part of their development path. The information is there; there's no denying that. And also in general, doing that in the context of a university where you're getting a great education, you're developing and maturing in a great setting, whether or not you end up being an NHL player or a minor league player. You're developing as a person. …
"I am not raising anybody else's children other than mine. So I would not take an individual family or circumstance and ever say they're making the wrong decision. They have to make decisions that are right for their family. I believe it's our job to make sure that that family is making the decision with all the information."