The logos of all 12 WCHA teams line one long corridor near the locker rooms at Ralph Engelstad Arena. The poster-sized monikers of powerhouse after powerhouse loom, reminding passing players of the grueling conference schedule awaiting them.
The average newcomer to these corridors wouldn't seem prepared for that. But Clarke Saunders is not your average newcomer.
Saunders, a junior transfer from Alabama-Huntsville set to expend his final two years of eligibility at North Dakota, made a note when he walked down that hall.
"I think I counted seven teams that I've played in the WCHA," he said.
Actually, not only has Saunders played against seven WCHA teams, he's beaten three of them, stymieing the likes of Nebraska-Omaha (twice), Bemidji State and Denver, showing poise in the unfriendly confines of places like the CenturyLink Center and Magness Arena.
It's experiences like that, coupled with a career that spans four seasons of juniors and two years carrying the heavy load in Huntsville, that have primed Saunders to make the switch to Grand Forks an easier one.
"I'm a little older than most of the guys as well," Saunders said. "I haven't necessarily played in the WCHA or anything but I've played against some of the teams that we play against this year and I think that experience will help."
In just a few weeks of practice and two exhibition games, the 23-year-old Saunders has quickly become one of the guys, impressing his Kelly green and white peers with a professional and veteran demeanor on and off the ice.
"He's a great guy, first off," senior forward Corban Knight said. "He's really got along with all the guys. But on the ice, too, he's a special player the way he works and his competitive nature — it's unbelievable how good he is. I think we're all pretty excited about his potential."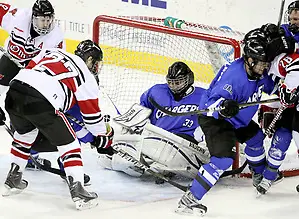 "It's certainly a bit of a change coming from way down south up here," Saunders said, "but everybody's been really welcoming and they've certainly treated me well since I've been here. I've thoroughly enjoyed it so far."
Another, larger sign hangs just outside the home locker room at the Ralph. But that large mural that proclaims "Through These Doors Walk Champions" doesn't faze Saunders either, despite how stark a contrast UND's history and expectation to win is.
Saunders — eligible to play immediately because he transferred when university officials planned to drop UAH's varsity team to club status — won two games in 27 appearances for the Chargers a year ago. A 3.72 goals against average pales in comparison to the national goaltending leaders last season, but Saunders was tasked with backstopping a porous UAH defense that allowed 38 shots on goal per game.
In other words, nobody worked harder for a .906 save percentage than Saunders.
Now, Saunders will suit up for a team that won't put up with fewer than two wins a weekend and whose defense might be among the best in the nation.
"Obviously, we wanted to do as well as we could in Huntsville, but certainly more pressure and more expectations here," Saunders said. "It's the way it should be. We should want to win, should want to compete at the highest level so it's certainly a great opportunity that we have here."
Saunders will compete with freshman goaltender Zane Gothberg for ice time this season, as UND hopes to make a smooth transition to life without Aaron Dell and Brad Eidsness between the pipes. But while Saunders might have the most experience at the Division I level, that won't necessarily translate into an automatic starting role in head coach Dave Hakstol's mind.
"Clarke Saunders has the most experience under his belt," Hakstol said. "He's played a lot of minutes at this level. But I expect it to be a very competitive position for us."
Hakstol added, "[Clarke] is a veteran leader, there's no question. There's no question that Clarke handles himself as a veteran. But when you step on the ice, all things are equal."
But as a testament to his character, Clarke nonchalantly accepts the possibility of riding the bench at North Dakota.
"I know that they have expectations of me, as I do as well," he said. "We'll see. I'm not too sure how the year's going to play out for me, but whatever it is, I'll be grateful to cheer on the guys or play as hard as I can."