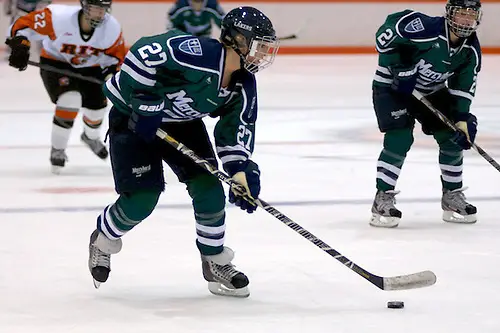 Last week, one of our faithful readers, Ms. London, accused us of being "mainly focused on the WCHA." I don't think that's the case, as I actually love to follow the Hockey East squads, as well as a handful of ECAC teams like Harvard, but I'm afraid I'll start by giving her some fodder again. Last week, I stated that I thought women's hockey was two-tiered, with Wisconsin and Minnesota above everyone else. I seem to have overestimated Wisconsin, but if anything, I may have underestimated the Gophers. Let's start with Minnesota, since you get to see a lot of their games in person. They went on the road last weekend and swept St. Lawrence by 5-0 and 6-0 scores, one week after beating up on St. Cloud. In six games, the Gophers have 40 goals and have only given up one. The question is, can ANYBODY stop Minnesota?
Arlan: Before I respond to your question, I'll respond to Ms. London's comment. She is correct that my focus is on the WCHA more than what would be ideal. The main reason for that is that I live in the heart of WCHA territory. In many areas of the East Coast, one lives within easy driving distance of a half dozen or more teams' home rinks, so it is possible to check out a variety of games in several different conferences. I have five D-I rinks within a four hour drive, and a couple more that are less than six hours away, but every one is home to a WCHA team. Given each hosts only one or two out-of-conference series a year, and many of these overlap, I don't get too many chances to see teams from the rest of the country. Webcasts, live blogs, and news releases all help one to stay informed on the other teams, but it isn't quite the same as getting to watch games in person and speak with coaches and players. We also tend to talk about the top teams more, and the WCHA has been strong in recent years. At this point of the season, I'm also discussing WCHA teams a little more because that conference race has evolved a bit more, as that league jumps into the thick of conference play sooner.
Yes, No. 1 Minnesota can be stopped. After some of the upsets around the league a couple of weeks ago, Gophers coach Brad Frost said, "Hopefully, we're always on the right side of it, but something tells me we won't be the whole year." So Frost expects somebody to step up and knock off Minnesota, and history has shown that no matter how dominant a team can look at times, there will be days where it isn't as sharp or some other squad puts it all together.
As they were last year, the Gophers should be one of the nation's best defensive teams all season, so that should keep them in most games, even if they go into a scoring slump. Noora Räty and new understudy Amanda Leveille have been stingy in net, they still have a formidable wall of lengthy defensemen, and the forwards, including top scorers like Amanda Kessel, Hannah Brandt, Sarah Davis, and Kelly Terry are very conscientious defensively. But they won't be able to hold off opponents like Brianna Decker or Jocelyne and Monique Lamoureux game after game. Illness, injuries, or other teams just improving more can derail a team that starts out looking invincible.
This week presents a new challenge for Minnesota as Ohio State, the surprise points leader in the WCHA, comes to town. Can we look for Nate Handrahan's charges to return to their winning ways this weekend after tasting their first defeat Saturday at the hands of North Dakota?
Candace: Well, I did pick that split with North Dakota correctly, even getting the order they'd win right. It was the only split I picked correctly, as Maine and Providence both got swept, and Syracuse crushed Penn State. So, I am thinking Ohio State is going to make noise in the division this year. However, I think going into Minneapolis this early in the season and getting a win against the Gophers is too tall an order for an Ohio State team that is just getting its legs under it. Nevertheless, the early-season results have to be pleasing in Ohio.
Let's look at another surprising team, one of four tied for second place, along with Minnesota, North Dakota, and Minnesota-Duluth: St. Cloud State. The Huskies swept Bemidji State over the weekend. If you exclude shootout wins, which are technically ties, it was first time since Jan. 16-17, 2009, that St. Cloud swept a WCHA team other than Minnesota State. You, and the coaches, picked St. Cloud to finish last, and OSU to finish seventh and fifth respectively. Is it time to revisit those picks?
Arlan: I don't know that St. Cloud State is that big of a surprise thus far. Despite picking the Huskies to finish eighth, I did say that I thought they would improve their conference record and be more competitive. I had roughly the same problem at the bottom half of the WCHA that I had at the top of the ECAC. When everybody looks to be improved, how does one determine which improvements will result in the most points in the standings? SCSU looks to have two decent goalies and a hard-working team with quite a bit of depth. The Huskies problem in any given game will be finding someone to bury a puck. If they score, they'll win their share. If they don't, well, it's hard to win if you don't score.
I'm more surprised by Bemidji State to date. All signs pointed to a slump, facing big losses both in goal and on defense. Steve Sertich has seemed to pull a rabbit out of a hat in past seasons, and I just figured he'd be a magician once more. The Beavers have to be concerned that their offense has dried up and produced only two goals combined over their last three games; that figured to be the team's strength. It's still early, but my pick of BSU in fifth looks misguided, to say the least.
As for the Buckeyes, I'm not entirely sure how they are doing it, but to date, they have it working. The coaches poll may yet get OSU in the right spot; I'm under no such illusions for my own errant pick of seventh. If they come out of this weekend still atop the league, then look out, because they'll be on top after playing supposed upper-division teams in all three series, two of them on the road.
My column this week talks about both Wisconsin and Minnesota-Duluth, so I won't say much about them here. One observation after watching each for 60 minutes is that neither is yet what we're accustomed to seeing from those two programs. It's still early, they have a lot of young players and returning players that are out of the lineup due to injuries, so it is dangerous to conclude too much, but both Mark Johnson and Shannon Miller will need to work overtime to get their teams back into title contention. Nobody is better at doing so year in and year out, so it'll be fun to watch those teams evolve.
Any additional comments on WCHA teams before we move on to other leagues?
Candace: Well, I'll let you address Wisconsin, which I'll admit has left me puzzled. Even with what the Badgers lost after last season, getting shut out in a series, as they were by Minnesota-Duluth, has to be a concern. That just shouldn't happen.
I think the only other WCHA item to address is North Dakota, which, to my mind, is off to a disappointing start. Losses to Ohio State and Minnesota State don't bode well for a team that was supposed to be giving Minnesota a run for its money for the WCHA crown. Michelle Karvinen is still out, but the Sioux are relying too much on the Lamoureux sisters to carry the load, and that won't work against a team like the Gophers, which has excellent defensive balance and can shut down offensive stars.
Looking at other results, one team that surprised me was Rensselaer, which lost a pair of one-goal games on the road to Hockey East's elite in Boston University and Northeastern, which came on the heels of a win and tie against Connecticut. Looking ahead on the Engineers schedule, there seems to be an opportunity for them to build up some wins.
Arlan: RPI is a team that looks like it could move up if it could make improvements in a couple of glaring areas. Sometimes lower-ranked teams can struggle in every department, so trying to fix all of the problems can prove overwhelming. The Engineers finished tied for eighth in last season's ECAC, but missed out on the playoffs as Brown won a tiebreaker. In league action, their power play clicked only 8.7 percent of the time, last in the conference. That's less than one out of every 11 power-play chances. Any improvement, any at all, should translate into a win or two, some more conference points, and postseason action. The other area of need is in goal. Both of Rensselaer's rookie goalies had sub-90 percent save percentages. If they can tighten up as sophomores and save an extra goal or two on each weekend, the Engineers are a far more dangerous team. Against Connecticut, goaltending was still a concern, as Engineers goalies surrendered four goals on 25 shots in the tie and three more tallies on just 19 shots in winning a day later. Kelly O'Brien got both starts against supposedly stronger offenses last weekend, and the numbers were improved. She held BU to three goals on 33 shots and Northeastern to only one on 21. The power play has inched up to 11.1 percent through four games, so while far from explosive, at least it is heading in the right direction. Before 2012 wraps, Union, Vermont, Princeton, Syracuse, Brown, and Yale are among the opponents that RPI will see, so the potential for wins certainly exists. Now the task is turning that potential into points.
One of the difficulties for teams trying to scramble up the ladder is that those rungs can get pretty crowded, as other teams are attempting the same climb. For RPI, Colgate is one of the teams it needs to best in the standings. After getting overrun by Minnesota and losing more respectable games to Northeastern and New Hampshire, the Raiders under new coach Greg Fargo got into the win column twice versus UConn over the weekend. Given the improvement we saw last year from programs like Brown and Union, does this bode well for the overall competitive balance of the ECAC?
Candace: It's funny, but even coming into this season I felt the ECAC would be pretty competitive. It was the first time in three or four years that I felt Cornell wasn't an absolute lock, and with Clarkson, St. Lawrence, and Dartmouth being strong last year and Harvard always a threat, it seemed the top of ECAC would be very competitive, then you had the middle teams like Princeton, RPI, and Colgate who seemed to be threatening. I think the race will come down to the final weekend this season. Now with the WCHA being so topsy-turvy, I think we are in a "Hold onto your seats" type of season. If I were a betting woman, I'd still go with Cornell in the ECAC, but I could see other teams stepping up.
I'm also going to be intrigued with Mercyhurst and Robert Morris competing for the CHA crown. It's the first time ever that I feel someone else besides Mercyhurst could win the CHA regular season title. What's your opinion on the CHA and ECAC?
Arlan: Mercyhurst seems to be going about its business as usual. Just like last year, we look at the players that the Lakers graduated and expect some decline. There doesn't seem to be any. So if RMU wants the regular season title to go with the CHA tourney championship it won in the spring, the Colonials are going to have to take it, because Mercyhurst shows no sign of handing it over without its usual fight. Junior Christine Bestland is fifth in the country in per-game scoring and is on pace to smash through the 200-point barrier before her Lakers career is finished. Newcomer Emily Janiga is right on Bestland's heels, and she's put up big numbers at previous levels. Sophomores Molly Byrne and Vaila Higson are off to good starts on the blue line. Senior goaltender Stephanie Ciampa is in the top four in the country in all of the primary goaltending categories, and if she and sophomore Amanda Makela can provide the reliable presence in net that the Lakers have always seemed to have, then the chances of Mercyhurst keeping that regular season monopoly intact remain high.
Looked at from the Robert Morris side of the question, we haven't learned much thus far. The Colonials are playing an Ivy-like schedule with only 30 games; they've played four exhibitions to date, but they don't lace the skates up for real until hosting Yale and Princeton this week. I'd expect that both Mercyhurst and Robert Morris will take almost all of the points from the 12 games on the schedule with the three new CHA members, so that puts a lot of importance on games versus Syracuse, and especially head-to-head. If either team snags a majority of the head-to-head points, it will be very difficult to pass in the CHA standings.
The ECAC picture looks far different than the one I'd envisioned if Harvard has neither Josephine Pucci nor Marissa Gedman on its blue line. That likely means Clarkson is the number one contender for Cornell's crown, but Dartmouth has a knack for getting into the mix, and if Kelly Babstock remains on a scoring tear, she could play a big role in inserting Quinnipiac into the discussion. Half the Ivies begin NCAA competition this weekend, the rest the week after, so we'll start to get some answers in the ECAC.
We talk a lot about the top portion of each league, but what do you think of the early results from the new teams in the CHA? In my preview, I ranked RIT above Lindenwood and Penn State. The Nittany Lions' victory over Vermont was the most impressive result by the trio to date. How do you see them sorting out now that they've gotten into the swing of things?
Candace: Talk about putting me on the spot! That's a hard question to answer, as in addition to being the women's editor for USCHO, I am the men's D-III editor, which has a passionate fan base, many of whom believe the top squads could beat D-I teams. I never really had an opinion on that, so I was very interested to see how RIT would stack up against Mercyhurst as the reigning D-III champ. Well, they got crushed. I think the Tigers might be in the best position of these three because their program is established. Lindenwood really has no sort of hockey tradition at its school, and neither does Penn State, though the latter has the cachet of being a Big 10 school. Syracuse pretty much crushed Penn State and Lindenwood is still building, so for now I'll guess RIT will finish fourth.
I'd be curious on your take on those teams, as well New Hampshire, which won two on the opening weekend before suffering a disappointing loss to Vermont last night. Are the Wildcats on their way back?
Arlan: The D-I versus D-III debate is a dangerous one, because there seem to be people that want to interpret any comment in favor of D-I teams as being disrespectful of those that compete at the D-III level. In my opinion, the simple fact is that there are factors in place on the D-III side that limit teams' ability to compete with D-I teams. There are no athletic scholarships. The season is shorter. There is less opportunity for organized off-ice workouts and smaller support staffs. We've seen in D-I that the championships follow those teams that have the most resources to invest in their programs. It isn't about the athletes' desire to win or commitment to the sport. The average D-I player is just provided with better tools than the average D-III player. The club hockey player is at an even greater disadvantage. So the CHA season will provide an interesting comparison of three new D-I programs: one a year into the transition from club, one coming from the very top of D-III, and one that is kind of coming from club, but contains a far greater number of athletes recruited specifically for D-I. I'll agree with you that RIT will finish ahead of the other two, but anything to do with Penn State at this point is largely guesswork, because it has the most new players and likely a larger delta between the maximum and minimum they are likely to achieve.
Yes, the Wildcats are on their way back, but I don't know that they are necessarily traveling on the express. A year ago, they needed to upgrade a number of areas, including depth and goaltending, and I believe that they have succeeded in doing so. I don't know that they'll ever again enjoy the superiority they did a few years ago, when the Wildcats were the big bully atop Hockey East and other teams, outside of Providence, seemed resigned to the fact that they were playing for second. But in order to move forward, they have to get back to being able to consistently win the games that they are supposed to win, particularly at home, such as this week's game with Vermont, which they lost.
One team that has been on the rise in recent years is Maine. The Black Bears made their season debut at Quinnipiac last weekend without senior goaltender Brittany Ott, who has been an integral part of their renaissance. The defensive numbers weren't pretty. Will Maine be this season's BU, where we need to put an asterisk by every game played without a healthy Ott, much like we did in our minds when the Terriers were missing Marie-Philip Poulin?
Candace: Probably. Ott was so key to the Black Bears' success last year that without her, Maine will have a tough time beating any of the upper-echelon teams. We always talk about the importance of goaltending, and I think we saw a lot of that in the weekend's results, as Bemidji State, which lost Zuzana Tomcikova to graduation, was swept by St. Cloud, Providence, which lost Geneviève Lacasse to graduation, was swept by Mercyhurst pretty convincingly, and of course Maine minus Ott lost two to Quinnipiac by big scores, one year after the Black Bears had swept the Bobcats. Good goaltending can help save a shaky defense and save a team when the pucks aren't going in the net, which is why even though Wisconsin is struggling right now, I won't rule the Badgers out, as they have Alex Rigsby, and why Minnesota, with Noora Räty in net and an offense that is firing on all cylinders, is far and away the best team in the game now. I think we'll end this week by offering up congratulations to Boston University's Kerrin Sperry, who set a program mark for wins last night with her 44th career win in the Terriers' 4-1 trouncing of Northeastern. I think BU is certainly serving notice that they are the top dog in Hockey East right now.