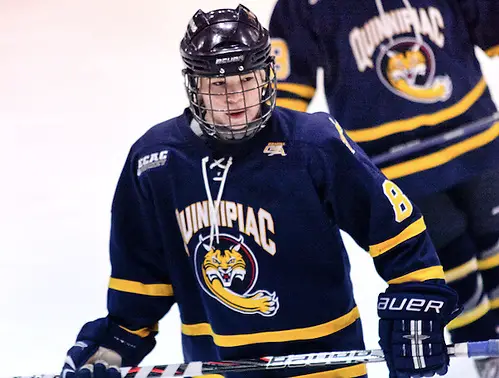 Candace: We had another interesting weekend of results on the scoreboard. Let's start out East. We both had pegged Harvard as a team that might be in trouble without Josephine Pucci and Marissa Gedman, yet they opened impressively by blanking Quinnipiac on the road and thrashing Princeton. Perhaps we underestimated Katey Stone's troops?
Arlan: I did think that they'd win both games, and the Quinnipiac game was close. Katey Stone thought her team won convincingly, while Rick Seeley felt his team outplayed the Crimson for three periods, but was hurt by taking bad penalties. Both coaches agreed that Laura Bellamy was strong in the Harvard net. The Crimson got a pretty snipe from Jillian Dempsey on a give-and-go while on a power play and a goal in the final seconds of a period when the puck squirted to Hillary Crowe out of a pile, and that was the difference. Harvard clearly overwhelmed Princeton, winning 9-1 while outshooting the Tigers 49-17. The Crimson are deeper up front, and with the arrival of Emerance Maschmeyer, they have another option in goal. If the blue line can hold up, they may contend even without Pucci and Gedman. However, if they lose either Sarah Edney or Michelle Picard for any length of time, that will spell trouble.
What did surprise me was that Dartmouth's results in its first week suffered in comparison to Harvard versus the same opponents, especially Quinnipiac. The Big Green have talent up front, and they looked dangerous when they could get into the offensive zone against the Bobcats, newcomer Laura Stacey in particular. But once the puck was in Dartmouth's end, it was an ordeal for the Big Green to get out. Any time a goalie allows eight tallies, I'm sure she'd like some of them back, but Katie Milligan wasn't getting much help. Kelly Babstock and Nicole Kosta were able to do whatever they wanted most of the night. Maybe we'll just give Dartmouth a free pass on that one and say it was opening weekend, but if I were Mark Hudak, I'd work on the breakout and D-zone coverage all week.
What stood out for you regarding the three teams we were seeing for the first time, Harvard, Dartmouth, and Brown?
Candace: First, Harvard thrashing Princeton on the road surprised me. I thought the Tigers would put up more resistance. Maybe the Crimson carried the memory of losing to Princeton last year 3-0 into that game. Dartmouth losing big to Quinnipiac was probably the biggest surprise on the weekend though. Losing a close one-goal decision is one thing, but getting crushed 8-3 is another. Kosta notched a hat trick and assist, and Seeley must be happy to see another offensive threat emerging besides Babstock. In his interview after the game, Seeley even acknowledged that, saying of Kosta, "She's been playing great and getting opportunities and we knew it was a matter of time before she started scoring goals. It was also great to get scoring from someone other than (Kelly) Babstock." The Big Green though, have to be concerned about giving up eight goals to anybody, especially an ECAC rival like Quinnipiac.
Regarding Brown, I say the jury is still out. Colgate is a team that Brown should beat. While the Bears also challenged Cornell, losing 2-0, the Big Red didn't exactly light the world on fire this weekend, looking flat in barely beating cellar-dwelling Yale, 3-2. Since opening with a strong win against Boston University, Cornell has looked very up and down. What's your take on the Big Red?
Arlan: At least they are winning, which seems to be a big struggle for most teams to accomplish on a consistent basis this season. Cornell has played six rookies and a couple more, including highly-regarded defenseman Cassandra Poudrier, have yet to debut. Teams with a lot of youth tend to be more up and down. The key for the Big Red will likely be holding down the goals allowed, and they've done well on that front outside of the loss to BU. Two goals on 10 shots to Yale is more than one would like to see Lauren Slebodnick allow, but given they were both on the power play, including a five-on-three, it's hard to judge her. Brianne Jenner and Jillian Saulnier are off to decent starts, averaging over a point a game, just not the explosion from the gate that they had while skating with Rebecca Johnston last year. The Big Red host Princeton and Quinnipiac, so even though the venue is different, it will be interesting to compare their results to Harvard's opponents of last weekend. At the end of November, Cornell travels to Dartmouth, Harvard, and Clarkson in succession, so we should learn a lot about whether we can expect the Big Red to make it four straight ECAC regular season titles.
The other contender for the ECAC crown that we've yet to discuss this week is Clarkson, the topic of this week's column. The junior class for the Golden Knights, including forwards Jamie Lee Rattray and Carly Mercer and goaltender Erica Howe, continues to improve. Rookie defenseman Erin Ambrose is starring as well, averaging nearly two points per game, and really ignites the Clarkson power play, the nation's best at 40 percent. Much of the team's attack when up a skater looks to run through Ambrose. Last week, we said that the top three in the ECAC were likely Cornell, Clarkson, and Dartmouth. Based on the latest results, that list should be revised to Clarkson, Cornell, and Harvard in no particular order. Would you agree that as of now, the race may be more open than we thought entering the season?
Candace: Is it really more wide-open if it's basically three teams competing for the crown, even if one is different than the squad we thought? I don't know. As interesting as Quinnipiac's thrashing of Dartmouth is, I'm not sure the Bobcats have what it takes to knock off Cornell or Clarkson, let alone Harvard, who was playing its first game yet beat the Bobcats. I guess we'll know after this weekend, as the Bobcats take on the Big Red Saturday. Dartmouth looks to be a little weaker than we thought, and St. Lawrence is a mess right now.
I have made a mental note to pay close attention to Cornell's games on Thanksgiving weekend and the following weekend, as they have the only squads we thought might give them a run all in order on the road, playing at Dartmouth, Harvard, Clarkson, and St. Lawrence. Clarkson does look good though.
Another surprising result, at least for me, occurred down in Erie, where Mercyhurst not only swept a Minnesota State team that had looked dangerous, they did so in convincing fashion, with 8-1 and 3-1 decisions. Christine Bestland is averaging 2.4 points a game, and Emily Janiga is right behind at 1.8 points a game. She might be the only threat to Minnesota's Hannah Brandt for rookie of the year honors. What's your take on the Lakers?
Arlan: I'd say it is more wide open if we have three teams rather than just Cornell, and the Big Red have seemed more vulnerable than I expected. And I don't know that I'd call St. Lawrence a mess. It is a lot to ask any team to open with five games against teams that are currently ranked among the top four, and if the Saints are back on their heels a bit at this point, I can understand why. Let's see what they can do in Durham this weekend, assuming New Hampshire can get home from Wisconsin to entertain SLU.
The names come and go, but Mercyhurst is always Mercyhurst. The Lakers prove to be a tough opponent year in and year out. My guess is that the 8-1 game is a bit of an outlier; the Mavericks seemed to have some defensive issues in that one. The Lakers added an empty-net goal in the second game, so the two teams may not have been as far apart as 11-2 might indicate, but Mercyhurst is definitely going to be in the playoff picture all season long. Only allowing two goals on the weekend suggests the Lakers may be farther along defensively that I expected at this point of the year. They definitely appear to be the class of the CHA. Robert Morris rebounded from a flat first weekend to fight back and tie Northeastern on the strength of a Kelsey Thomas hat trick. The Colonials didn't get blown away by BU the next day, but in losing 3-0, I don't know that they mounted much of a challenge either. RMU stays on the road for the next four weeks, but versus Vermont, Penn State, Rensselaer, and Syracuse, those would all appear to be very winnable series. If the grind of road life doesn't get to the Colonials, maybe they can gather some momentum heading into a December showdown at home with Mercyhurst. Syracuse followed up a promising split with Quinnipiac with a far more disappointing split at Connecticut, so I don't see the Orange interjecting themselves into any title talk. The season for Mercyhurst likely comes down to how they perform in January when Boston College comes to Erie for two games and the Lakers make a late-month excursion to Ithaca to play Cornell once. Those three games, plus the head-to-head meetings with RMU, probably will determine Mercyhurst's NCAA fate. It looks to be a solid tournament team now, but it cannot afford to slump.
Do you have anything to add regarding the CHA?
Candace: I can't say that I do actually. I would expect Robert Morris to win the rest of the upcoming games on the road, but whether they can challenge the Lakers is up in the air. As I said last week about Syracuse, every time I think they are ready to step up they fall flat, so splitting with Connecticut doesn't surprise me. RIT and Penn State are experiencing the roller coaster of a first season at D-I, so to me, the CHA is all on Mercyhurst's sticks. If they play at their best level, no one will stop them.
You mentioned Boston College. BC got another split, this time with Minnesota-Duluth. I watched some of both games on a live stream. The Eagles looked a little flustered, but they have a lot of speed. I'm wondering if they can break the Terriers' jinx tonight. I also watched some of Northeastern against Robert Morris, and thought the Huskies looked tight. What are your thoughts on Hockey East's creme de la creme?
Arlan: Right now I'd say that it begins and ends with BU. The Eagles will likely get better; they have a nice collection of talent, but I don't see a very good team at this point. The forwards created a lot of scoring chances against UMD, but outside of Alex Carpenter, they seemed to have trouble finishing them. The defensemen take too many silly penalties that are unnecessary, and the goaltending has yet to take a big step forward. To date, BC, UNH, UMD, and Wisconsin have had their own little round robin where each team has played four games against the other three, two each against two of that set. UMD went 3-1, UNH 1-3, and BC and UW had 2-2 records. BC had three home games, UNH only one, and the WCHA schools had two. So it's tough for me to conclude that BC is better than UMD and UW right now when the Eagles only other game was a home loss to BU. I think they are all swimming in the same big bowl of parity soup. The Eagles' results don't compare well with those of Ohio State, for instance, a team below BC in the poll. BC is young and I expect it will improve and make the NCAA tournament, but the Eagles aren't a tournament-caliber team at the moment.
Northeastern is right there, so close, but they can't just go as far as Kendall Coyne can carry them. If she doesn't get her two goals in any game, then the Huskies are vulnerable. Either a couple other people will need to pick up their offensive pace or they will need offensive contributions throughout the roster. Chloe Desjardins is doing all that can be expected in net as the successor to Florence Schelling, so the goaltending is still sound. The team defense needs work, as is expected early in the year. Against BU, there was one play where three Huskies went to cover Marie-Philip Poulin in the corner and left two Terriers alone to attack the goal.
If either of those teams face BU for all the HEA marbles, then one would have to favor the Terriers at this point. They have more bona fide weapons, while the other league contenders have a lot of threats. BU has a half a dozen forwards off to good starts, so it should be less slump prone.
Maine looked better this weekend, but didn't get anything to show for its effort, so the Black Bears sit at a disappointing 1-5. Providence has started stronger than I expected; Sarah Bryant has had most of the early minutes in net. Her numbers need to improve, but she's 3-1-1 and one can't expect much more from a rookie. Offensively, they've spread the production around, with only senior Nicole Anderson averaging more than a point a game. It figures to be a battle between the Friars, Maine, and UNH to finish in the top half of the league, and right now, the edge would have to go to Providence.
You've always liked BC; do you still see it as a top-10 team?
Candace: I'm going to say yes, but with reservations. Aside from the one loss to UNH, when they gave up lead halfway through the game, I can't say that BC's results to date surprise me. The Terriers have had BC's number for a while, and Minnesota-Duluth is a mercurial team that, though struggling, I think is capable of beating any squad in the country except Minnesota. Don't forget, BC started off slow last season as well, splitting with Minnesota-Duluth (including a 7-2 loss), tying New Hampshire, and losing to Maine, so I feel the Eagles have a lot of upside. They are going through a trial by fire, opening the season with three games against BU and two against Minnesota-Duluth, both teams that started in the top 10, and I think getting tested so hard early will have benefits for the Eagles the rest of the way.
You mentioned Ohio State and its impressive 7-3 record, but I don't know that the Buckeyes are any better than the Eagles. They did sweep Minnesota-Duluth, so I suppose that you could place them higher based on that, but they got crushed by Minnesota, and they've had five more games overall to date, with four being against what I would consider lower-tier competition in sweeping Lindenwood and Bemidji State. What's your take on Ohio State so far?
Arlan: I'm not saying that Ohio State is necessarily better than BC, although the computer rankings think so at this point. I just don't see the Buckeyes as definitely worse than the Eagles, and it looks like the voters in the poll do. I've seen the top WCHA teams, and I'd say that North Dakota might have a higher ceiling than OSU, but the Buckeyes are playing closer to their potential than UND. Ohio State seems to have a good idea of who they are and what they need to do to be successful. Any team that can execute a plan presents a challenge. Chelsea Knapp is giving her team solid goaltending, and that's always been a question mark in Columbus. Her numbers aren't spectacular, but if you throw out the Minnesota games, they look much better. If losing to the Gophers makes the Buckeyes a lesser team, so be it, but that was on the road, as was their sweep of UMD, whereas BC lost to BU at home and split with UMD at home. I'd say the OSU split with UND is at least as good as the BC split with UNH, so even if we throw away the Lindenwood and Bemidji State games, the Buckeyes have a credible resume.
Brian Idalski said over the weekend that he thinks it will be tough for the WCHA to get more than two teams into the national tournament, and I agree with that. Part of it is that the league has a lot of good teams, but outside of Minnesota, nobody has really emerged as yet as a championship contender. Regarding your comment that you don't think UMD has a chance against Minnesota, I don't share that opinion. Those are rivalry games, and one can toss away the records when the Bulldogs and Gophers meet. Even in years where one of the teams is down and the other is on its way to a championship, the underdog finds a way to take at least one game over the course of the season series. I expect UMD to beat Minnesota at some point, maybe this coming weekend. Eventually, at least one of North Dakota, Wisconsin, and UMD will improve and mount a challenge, and then we'll find out if the Buckeyes can hold them off. Based on results of the last weekend, St. Cloud State, Minnesota State, and Bemidji State don't look to be in the discussion. If I ranked the WCHA teams, I'd give Ohio State the edge over North Dakota at the moment, because the Buckeyes are better set in goal, but I think UND has a better shot at emerging as a tournament team once they get Michelle Karvinen back in the line up.
How do you see the WCHA after Minnesota now that everyone has played at least six conference games?
Candace: I don't know; alphabet soup perhaps? We both picked Wisconsin to sweep New Hampshire, but that could have been a pitfall series for the Badgers. That they did sweep shows to me they could be on the upswing. Minnesota-Duluth too has more upside potential than has been shown by its record right now. We've been making excuses for all of these squads since the season started, whether due to injuries (Wisconsin, North Dakota), or graduation and having young players (Minnesota-Duluth), so perhaps it's time for all of them to step up. I think Minnesota State losing to Mercyhurst will, in the long run, make it even harder for WCHA teams to make the playoffs due to the PairWise, as will St. Cloud's tie and loss in Providence. From that perspective, Wisconsin's sweep of New Hampshire was even more critical, as was Minnesota-Duluth's split with Boston College.
Let's end with talk about the top squad in the country right now. You traveled to Grand Forks and saw the Gophers handle North Dakota in both games pretty convincingly, even if the first game took until the third period before Minnesota stepped it up. North Dakota certainly has talented scorers in the Lamoureux sisters, but in two games against Minnesota, Jocelyne was held without a point and Monique had a singular assist. What's your take on Minnesota now that you've seen them up against one of their top rivals?
Arlan: At various points of the season, people will say that Noora Räty doesn't have to do much playing behind this year's Gophers, but the team doesn't come home from Grand Forks with a sweep without her. Playing the first game without Amanda Kessel, Minnesota got taken to the woodshed in the first period, but Räty allowed them to retreat to the locker room with the game still scoreless. She made one save laying on her back with her head to the shooter, windmilling her glove and pads, to which the color man on the North Dakota broadcast simply said, "Wow." After that period, Minnesota figured out its breakout and it was far more even until North Dakota made some defensive miscues down the stretch. On Sunday, Kessel was back and the Gophers looked much more like the team I'd seen in previous weeks. UND is still good enough to challenge them and beat them on any given day, and was able to expose some flaws that Minnesota will need to correct. Sunday was the first game I've seen this year where I thought it looked like a top-level WCHA battle. Prior to that, I'd seen games where either one team was overmatched or one or both were misfiring to the degree that the quality of play suffered.
The good news for the Gophers was that they faced adversity over the weekend and overcame it. They know they have to get better, and North Dakota has provided at least one opponent against whom they'll be able to measure their progress. Minnesota will have to figure out how they come out set to compete should they need to play without Kessel, Räty, Megan Bozek, or any of their other stars in the future. North Dakota got a good tune up in advance of a crucial out-of-conference series this weekend with Clarkson. I'd love to be back in Grand Forks for those games, but I still don't have one of those teleporters we talked about last season. I'll have to make do with a game in Duluth on Friday night.
What game will have your attention?
Candace: The Saturday game between BU and BC is high on my list. Obviously the Minnesota at Minnesota-Duluth series could be key. I'm also very curious to see how Minnesota State stacks up against Wisconsin, especially after the Mavericks made life miserable for the Badgers on opening weekend. I think that series will give us a good gauge of how Wisconsin has progressed.