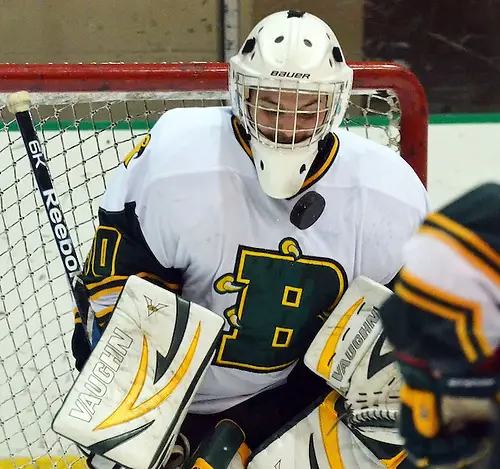 Anyone who wants to describe the term "textbook goaltender" is probably talking about some fantasy tale. There are as many ways to play the net as there are those willing to fill it, which is to say, "If it feels good, do it."
Or maybe, "Don't mess with success," which is the story being crafted by Brockport freshman netminder Jared Lockhurst.
Lockhurst took hold of a crease vacated by graduated goalie Oliver Wren and has already established himself as one of the SUNYAC's most prolific puck stoppers.
So far, he's stopped pucks by the bushelful, 204 of them (out of 219 shots leveled at him). That includes the 42 saves he pulled off in his college debut, a 4-2 win over Buffalo State.
"I've got a (few) games under my best," said Lockhurst, who hails from Caledon, Ont. "I'm starting to get a good feel for it."
Indeed he is.
"He's a quality goaltender," said Golden Eagles coach Brian Dickinson. "When we recruited him, we knew he would have a chance to compete for the job. The door got open for him, and he's kind of slammed it shut. He's been outstanding in every game he's played."
No more so, perhaps than Friday's nonconference clash with Hobart, when the No. 6 Statesmen fired 48 shots at him and had to settle for a 2-2 tie.
With nearly every shot, Lockhurst manages to keep his rear end aligned with the goals posts and rarely has to scramble to reach the rebound shot, if there is one.
"I'm just trying to stay square to the shots," said Lockhurst. "Now that I am at a higher level than Junior A, guys are better shooters. Sometimes less is more, so I'm trying to stay in position."
Lockhurst said he tries to take his cues from his idol, future Hall of Famer Martin Brodeur, who over time has frustrated countless enemy snipers by giving them nothing to shoot at.
By contrast, Wren, his predecessor, was more like another future HoF'er, the slinky-like Dominik Hasek, who was all arms, legs, and sleight of hand.
"(Wren) was acrobatic," said Dickinson. "He was all over the place. Jared is fundamentally sound. He's at the top of the crease and doesn't give the shooters much and controls rebounds. And when he gives up a goal, it's okay, skate around and forget it."
Lockhurst comes by his goaltending mindset naturally, or perhaps genetically. His father, Jim, is a former minor league goalie and St. Louis Blues draftee.
At first, the elder Lockhurst tried to discourage his son from following in his skate cuts, but relented soon enough.
"My dad didn't want me to play," said Jared. "He knew the pressure was too much. But he finally let me go in and it's worked out. He's definitely helped me out over the years with positioning. He was a bit of an old-time stand-up style, so he didn't teach me the butterfly. But he's helped me tremendously. I can't say enough about him."
Jim Lockhurst never got to play in the NHL, save for one exhibition game with the Blues, but Jared is hoping to get that much of a big league taste and then some.
"My goal is to beat him," he said. "You never know."
NOTES: With an offense that ranked just sixth last year in the nine-team SUNYAC, Potsdam bench boss Chris Bernard felt his Bears needed to be more aggressive in the offensive zone this time around. That offensive rethink has paid off, as Potsdam currently boasts the league's third most prolific attack, and is holding its own in the middle of a tough SUNYAC pack. It doesn't hurt that Bears linemates Mike Arnold (7-2-9) and Trevor Cope (1-7-8) sit 1-2 atop the league scoring list.
"Coming into the season, we stressed the need to manufacture offense," said Bernard. "We wanted them to shoot the puck and converge on the net to increase chances."
The Bears departed from that plan last Friday and paid for it with a 3-1 loss to Fredonia.
"We stayed composed and worked hard, but did not dictate our game plan," said Bernard. "Instead. we allowed them to play their system, which is style that can compound frustration as the game wears on. We never really created any energy or pace."
The newfound goal hunger returned the following night and fueled the Bears' 5-4 win over Buffalo St.
"As the game progressed, we demanded that our players get more shots and focus on getting pucks to the net." said Bernard. "They responded in the third period where we generated more chances."
__________________________________________________
Last weekend's most intriguing tilt pitted Cortland at Morrisville, Saturday. Both teams were winless, but had played far better than their records. The Red Dragons prevailed, 5-3.
"We felt that we weren't playing badly," said Cortland coach Joe Baldarotta. "We just weren't winning. We had a few bad breaks in our first two weekends. We were able to understand how those breaks affected us and we responded. I think that experiencing those negatives, and dealing with them, made us a little stronger and helped us survive the tough game in Morrisville."
It also helped the Red Dragons cause that senior captain Chris Kaleta had a career night, posting his first-ever hat trick.
"Kaleta is just a flat-out great captain," said Baldarotta. "He got a major and a game misconduct against Brockport (Nov. 3) and was really disappointed in himself. Chris really took it upon himself to make things right for this team. To get four points in a road win is special for anybody. But Kaleta proved what type of person he is with that kind of a performance. He wanted us to win and he made us win. The team needed it, so he was there for them."
__________________________________________________
On the national front, Oswego held firm as the nation's No. 1 ranked team for the second consecutive week. Plattsburgh remains No. 4. Both teams are 4-0-0 in SUNYAC play (Oswego is 5-0-0 overall), and will meet for the first time this year, Dec. 1 in Oswego.