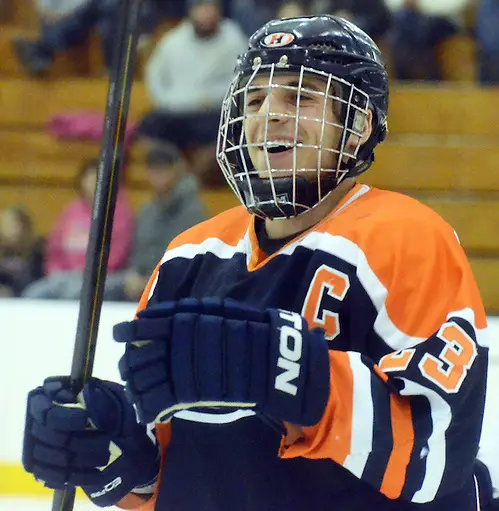 Frank Salituro is never satisfied with the past, which explains in large part why the shifty center is playing the best hockey of his four-year Hobart career.
With five goals and nine points in just six games in the books, Salituro is on pace to blow past last year's 11-15-26 totals, which marked his best campaign to date.
Talk about going out with a flourish.
"I always want to be improving," said Salituro, who gets the most out of his compact 5-foot-8-inch, 175-pound. frame. "I've progressed the three years I've been here, so I wanted to take that next step. Being a leader on the team, I think was a step in the right direction. I like to set an example for all the young guys, and at the same time, take my game to another level."
Not only did Hobart coach Mark Taylor think that Salituro was capable of amping up his influence on the Statesmen, he expected it from him, and anointed the Vaughan, Ont., native as his team captain.
"Frank gives you the same thing all the time," said Taylor. "He's got a great pulse and great hockey sense. He takes hits and keeps coming, and plays a clean, honest game. He leads by example, which is the best leadership you can have."
Of course in hockey, credibility in the room must be backed up by production on the ice. So on that score, Salituro has all the cachet he needs.
He currently is carrying a three-game goal scoring streak, including the game-tying tally in Friday's 2-2 tie at Brockport, and another the following night against Geneseo.
In all, Salituro has found the net in all but one of Hobart's tilts.
"A lot of the guys look to set me up, a lot," said Salituro. "(Finishing) is something that I really like to work on. I'm always looking for other guys as well."
It's that vision that keeps Salituro, a two-year ECAC West All-Academic honoree, moving forward — whether in trying to lead the Statesmen to a national title, or plotting out his life after Hobart.
Noting that more Division III players than ever are finding pro playing opportunities — in the minors and abroad — Salituro said he would love to explore those options when the time comes.
"I'm not going to shut any doors," said Salituro, whose game resembles that of Keith Aucoin, who is the de facto modern day patron saint of D-III pucksters . "We'll see what happens and take it from there. Guys are noticing the (opportunities) more. We've seen it that guys have gone to the next level and been successful. It kind of pushes them even more and gives them that hope to keep playing after school."
And should a playing gig not pan out for Salituro, he's prepared to put that Hobart economics degree he's currently working on to good use, perhaps as an agent or in team management.
The sky, after all, is the limit.
"I love hockey and I'd like to stay involved," Salituro said. "You never know. I'd love to do something where I'm using my major and what I've learned in school and still be involved in hockey. That would be the best of both worlds."
For Salituro, the best is surely yet to come.