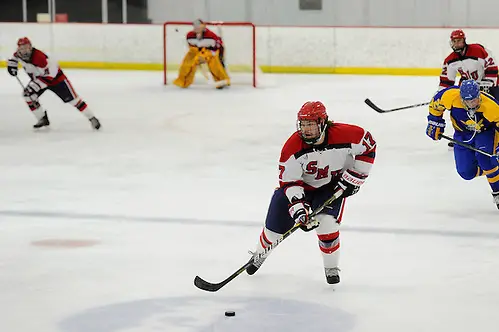 St. Mary's was down and out a year ago. The Cardinals won just five games, including only two in Minnesota Intercollegiate Athletic Conference play.
No wonder they were picked to finish last in the preseason conference poll.
The thing is, St. Mary's has looked nothing like a last-place team lately. It has won three consecutive games, and enters this week at 4-2 overall and 2-0 in the MIAC. The Cardinals are just one of three unbeaten teams in MIAC action.
"We are playing with a lot of confidence," St. Mary's coach Bill Moore said. "The players are working hard and we are playing well as a team."
One of the biggest keys to the turnaround has been the fact that the Cardinals have been much more productive offensively. They have scored 20 goals in their last three games, including 15 in a sweep of conference foe Hamline this past weekend. The Cardinals won, 9-2 and 6-2, to earn their first MIAC sweep since the 2010-11 campaign against Concordia.
In their four wins, they have scored 27 goals, including four short-handed goals. A year ago, St. Mary's struck for just one short-handed goal.
"The big difference is that we are getting scoring out of more than one line," Moore said. "We are getting scoring from our second and third lines, and that has made it more difficult on opponents."
Mike Hill had made a huge difference. The reigning MIAC Player of the Week has struck for five goals and has dished out six assists. Austin Balko has also come through with five goals and three assists.
Bobby Thompson has punched in four goals and has dished out five assists on a team in which 12 players have scored at least one goal. A total of 17 players have scored at least one point.
"Mike Hill has played very well, and as a team, guys are just more comfortable within the offense this year," Moore said. "We were a lot younger last year, too. Our players have another year of experience, and they put in a lot of work in the offseason to get better. It's paying off."
St. Mary's has been much more aggressive on offense after a season in which it lost 20 games by two goals or less, and it has resulted in an average of 31.5 shots per game. Opponents are managing just 23.5 shots per outing, and goalie Andy Scheib has allowed 13 goals while tallying 98 saves in five starts.
Christian Gaffy and Jason Horstman have also seen time in goal, combining for 24 saves. Gaffy made 15 saves in a 5-2 win over the College of St. Scholastica earlier this month, marking the first time a goalie has won his first collegiate start since Curtis Nosal did it in 2002.
"Last year, we played so much on the defensive end of the ice that it put a lot of stress on our players," Moore said. "They got tired, and teams eventually took advantage of that. We've done a much better job of playing more in the offensive zone, and that has allowed us to be more successful on defense."
Although St. Mary's is off to a strong start, Moore knows his team needs to get better if it wants to keep momentum on its side.
The Cardinals have some time off to improve, as they won't play again until facing No. 5 Adrian on Nov. 24 in a nonconference game in Michigan.
"We have to continue to get better at doing the little things right and continue to play hard," Moore said. "Our conference is very tough; any team can be beaten on any given night. If we can give our best effort in every game, we will give ourselves a chance to be in the mix for the title at the end of the year."
Sweet Sweep: Bethel completed a two-game sweep of Gustavus Adolphus over the weekend, winning 3-2 and 2-0 to start conference play with a 2-0 record.
The Royals outshot the Gusties, 24-20, in the finale of the series, and freshman Matt Rowe recorded his first career win in the net. It marks the first time since the 2005-06 campaign that Bethel has swept Gustavus. The teams had split their series the last six seasons. Bethel is 3-3 overall on the season.
Strong Start: St. Thomas completed a sweep of St. John's in a key early-season MIAC showdown, winning the finale, 3-0. The Tommies won the opener of the series by a 4-2 score, and are 2-0 in conference play.
Alex Niestrom scored twice in the win to pave the way for the victory.
The Tommies have won their last six games against the Johnnies. St. Thomas is 3-1-1 overall, and has won two of its games by shutout this year.
Senior Star: Brian Kang delivered a stellar performance on senior night for Concordia, scoring both goals in a 2-1 overtime win over St. Olaf on Friday night.
Kang scored his first goal in the third period, and came through with the game-winning goal on a tip-in in the first minute of OT. Kang has scored three goals this season, and has also tallied one assist.
Goalie Chris Neamonitis is only a junior, but he made sure the seniors nailed down the win by stopping 31 shots in 61 minutes of action. Concordia is 2-3-1 overall and 1-1 in the conference.