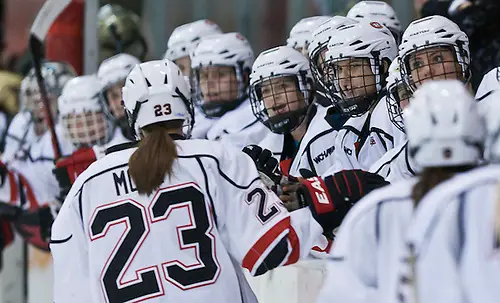 No win comes easily for building teams.
With a slowing of the action due to the Four Nations Cup, only four games were played in Minnesota last weekend. I was able to catch the front end of a series bringing Maine to Bemidji State, as well as game two of Lindenwood visiting St. Cloud State.
The four teams entered play with only five wins combined, so each was looking for something positive out of the weekend — improvement, a win or two, a jolt to turn a season around.
Maine isn't far removed from success. Last season, the Black Bears won 17 games, matching the program record for wins set in 2005-06, yet they brought a meager 1-7 mark into the series.
The weekend didn't start well for the visitors. While traveling from Orono, Maine to Bemidji, Minnesota is never trivial, the storms on the East Coast further complicated the trip. The Black Bears' original flight to Minnesota was canceled, and while they were on a bus for the airport in Portland to catch a plane as Plan B, they received word that flight had been axed as well.
Coach Maria Lewis made the decision to divert the bus to Boston, even though the traveling party of about 30 people had no reservation booked from that airport. A travel agent succeeded in finding room on a flight leaving within the hour and the team made it with no time to spare. The original plan called for the Black Bears to practice at the Sanford Center on Thursday evening. Roughly 18 hours of travel eliminated that option, and they had to be content to have Friday dawn with the team safely in Bemidji.
The start of Friday's game was just as rocky.
"As much as we can tell them to be tougher, and as much as we tell them that we're soft in our own end, they have to really realize it for themselves," Lewis said.
Bemidji State applied a very aggressive forecheck and built a 23 to eight advantage in shots and a 3-0 lead through 20 minutes.
"We felt like we could do that," Beavers coach Steve Sertich said. "We've got pretty good team speed. Offensively, we created a lot of turnovers and had a lot of good looks."
Although Lewis didn't feel that the three goals allowed were the fault of starting goaltender Megan Treacy, she opted to switch to senior Brittany Ott.
"We were just so soft in our own end, we were leaving her out to dry," Lewis said. "Kids were wide open. We put Ott in there to shake things up a bit."
Ott is still getting back into playing shape after a bout of mononucleosis, and Lewis was concerned that her goalie changes may not be done for the evening.
"I had [assistant coach] Tyler [Bilton] tell her she was going in, and he said she's got the fire in her eyes. We knew that she was going to be able to give us a chance. When she's on, she's very difficult to score against. She came in and did a great job keeping us in and fortunately it worked out."
Ott was able to hold the deficit at three goals through a second period where BSU enjoyed a lopsided 21-3 bulge in shots on goal.  That was due in part to Maine having to play short-handed for seven minutes of a stretch of 7:20 on the clock, including a major and a game misconduct to defenseman Brooklyn Langlois.
"She's a really good player for us," Lewis said. "She's on the power play and she kills penalties and I thought that our team did a good job stepping up and filling in that role. I think that huge kill, five minutes, gave us that confidence. We rallied behind that."
Once the Black Bears returned to full strength with nearly five minutes of the middle frame remaining, the game became much more even.
"The five-minute penalty kill that they killed off gave them a lot of momentum," BSU senior defenseman Erika Wheelhouse said. "That was the one thing we needed to do was score on that. We were unable to."
"Credit Maine for mucking up the middle of the ice there," Sertich said. "We needed to get a play, a backdoor play, and we just couldn't pull it off."
At the time, the Beavers' inability to capitalize didn't look to matter beyond the final margin.
"The third period, they came out with legs and kind of gave it to us there and we didn't pick up anybody out in front," Wheelhouse said.
Maine's Audra Richards converted a breakaway in the opening minute of the third period, teammate Abbey Cook added an unassisted tally a minute later, and a one-sided affair was suddenly a contest at 3-2. It took another 10 minutes, but Katy Massey got the equalizer. Tori Pasquariello converted a rebound chance at 14:18 and Maine led 4-3. Bemidji State pressured, but could not solve Ott before the buzzer sounded.
"I think we needed to prove to ourselves that we're able to come back like that," Lewis said. "We needed to prove to ourselves that we could score goals. We've been pretty much heavily outshot in almost every contest this year, and we haven't had that confidence that we're even able to score goals. We've had many breakaways; we've had two-on-one opportunities, and we're not putting it in. After a while, it really makes you doubt what your abilities are."
The Black Bears were heavily outshot in Friday's win as well, yielding 60 shots.
"We've got to tighten it up," Lewis said. "We're still not as good as we need to be in our own end, and it's something that we've been struggling with all year. We're getting better, and I think the more little victories we can have in our own end and we see some little successes, it builds confidence."
Overall, Maine can take confidence from a rare rally from a three-goal deficit. It did so last year on the road at Quinnipiac, when it swept the Bobcats despite trailing by three in each game.
"I think our kids will definitely use this as a turning point for our season," Lewis said. "It was something that we talked about going into the weekend, that now is the time to turn things around for us. I do believe that similar to last year's Q'pac games, hopefully this is the start of a new chapter for the season."
The Beavers are coming off a 17-win season of their own, also the most by the program, but have tasted victory only twice in this campaign, both on the road.
"I knew it was going to be up and down, but I didn't know it was going to be up and down in one game like it was tonight," Sertich said. "You got to give Maine credit for not quitting, and they came back. They made a goalie change and it lifted their team. Ott played really well for them."
Sertich knows all about a goalie playing well for her team, because until this season, he had Olympian Zuzana Tomcikova between the pipes. Now with less seasoned goaltenders such as Abby Ryplanski and Jessica Havel filling the position, defensive miscues are more likely to show up on the scoreboard.
"We have to score a few more goals than we did when [Tomcikova] was here, obviously, but I was disappointed in kind of the goals that we gave up," Sertich said. "They were rebound goals, and we didn't help Abby on some of those. There's six people out there, so we just have to take a better look at ourselves in our end, too."
Compounding the problem, the Beavers have not been scoring, averaging just 1.6 goals per game.
"I think we have pretty good depth up front," Sertich said. "I'm still not happy with the chemistry. We have to get a couple lines that can score on a regular basis; we haven't had that yet. We're getting some nice looks from different people at different times, but I'm still not happy with the combinations. We have to get [senior Emily] Erickson on the board. We have to get [sophomore Kristin] Huber on the board. We have to find some combinations that we can get some production out of those guys."
Just as a rally from three down can potentially produce a turnaround for Maine, the tough loss could be a crippling blow to the Beavers.
"Good teams bounce back," Sertich said. "We've had pretty good luck over the years with teams being resilient, and I'm hoping this group will be resilient, too."
BSU bounced back on Saturday. After Brittany Dougherty struck first for Maine, Mackenzie Thurston and Lauren Merkley answered to give the hosts a 2-1 edge. However, the Beavers surrendered a third-period lead for the second straight day, as Dougherty scored again. BSU prevented further damage, but had to settle for a 2-2 tie despite a 38-16 gap in shots on goal.
"It's been a roller coaster this season so far," Wheelhouse said. "We've had a lot of ups, a lot of downs. We need to put it together and come out and give 100 percent every period, because we can't afford not to."
In St. Cloud, SCSU completed a sweep of Lindenwood with a 7-2 win on the heels of Friday's 2-0 shutout, giving the Huskies four wins on the season, only one shy of last season's total.
"It got some people out of their shell," Huskies coach Jeff Giesen said. "Julia Gilbert had a great weekend. She didn't have a point coming in. She got three goals on the weekend; that's exciting to see. Our top line with Hayley Schmid, Alex Nelson, Molly Mott is really playing well right now as a group. Hayley chipped in a couple today, so they're playing with a little bit of confidence."
While the offense has been hit or miss, St. Cloud State has been steadier on the other end.
"Both our goalies have really played well all year, and [freshman Katie Fitzgerald] played great today," Giesen said. "She needed to make some great saves. They hit the post twice, so that means she's on her angles, that's what I always say."
Fitzgerald has split time with sophomore Julie Friend.
With Minnesota-Duluth coming to town for a key league series, SCSU's coach hopes to take advantage of the momentum gained playing the Lions.
"They're a scrappy team, they play with a lot of determination," Giesen said. "They play hard and they never quit. On paper, everybody says why are you playing them. It ended up being a pretty good nonconference series for us. We've been on that end without having a win yet."
That's where Lindenwood finds itself during its second season of varsity competition — still looking for the first victory of the year and the first ever versus a full-time Division-I opponent.
"We're trying to get the whole team to elevate that compete level for 60 minutes," Lindenwood coach Vince O'Mara said. "We'll do good for 20, take 20 off, and be okay. We've got to elevate that compete level for a full 60."
Even more than winning games at this stage, it is important for the Lions to get better, and O'Mara sees areas where that is true.
"A little bit more maturity, overall depth as far as having legitimate players at this level. Having more of them on the team. Having a smarter group of kids that are learning the systems and buying into the systems. With that added depth, we're able to make changes and adjustments in games and between games."
With the addition of freshman Nicole Hensley, goaltending is one position where Lindenwood is deeper.
"With the one-two punch with [sophomore Taylor] Fairchild and Hensley, it makes it easier if we're playing a powerhouse and we give up a 65-shot night, we don't have to go back with that same one," O'Mara said. "You like to ride your hot hand, but right now we're splitting the time up a little bit."
The Lions have also improved the players already on the roster.
"Last year, we got a very late start and we're playing catch up all year," O'Mara said. "This year, the girls had their own summer programs. They came in and we started strength and conditioning right from the very get go. I think it shows, even though we're still a very young team."
In addition to youth, the Lions are battling a plague of many teams: injuries.
"We've got a very banged-up group right now," O'Mara said. "I think as soon as we started seeing some improvement and seeing some lines clicking, we just fell to the injury bug, and we're really battling through that right now. We've got Alyssa West, who's arguably one of our top players, she's been out with a shoulder injury. I've got three girls right now skating with high ankle sprains that should be sitting out, but we really can't afford it right now. We've got the odds stacked against us to begin with, then when we lose some of our top players, it's kind of setting us back a little bit further from where we want to be."
A schedule that is tougher than it faced in its first year is also setting the team back, as Lindenwood has fallen twice to No. 4 Mercyhurst and lost all eight games versus WCHA opponents.
"We're purposely scheduling the teams that we're scheduling," O'Mara said. "Sometimes I question it, but I think at the end of the year, it's going to benefit us a lot to play these WCHA teams. You're seeing night after night what it takes to be a top team, so I think if we learn from all these games, we're doing the right thing. If we don't learn from them, it's just going to be a long, long season and a lot of losses. As we move into our conference play, if we can get a little more healthy, we're going to compete in the CHA. I think playing all of these WCHA teams prepared us for that."