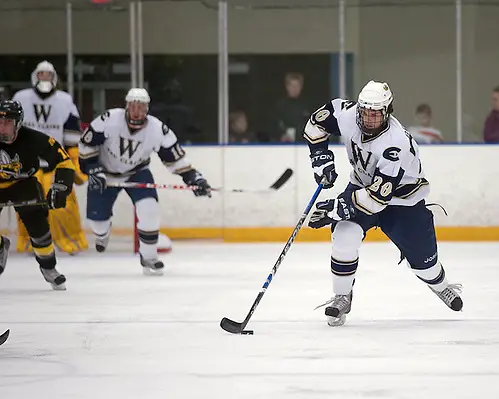 The Wisconsin-Eau Claire men's hockey team is off to its best start in four years, due in large part to the play of three Eau Claire natives.
Senior forward Isaiah Bennis, junior defenseman David Donnellan, and senior forward Andrew McCabe have all stepped up to lead the Blugolds to a 6-0 start. Wis.-Eau Claire is ranked eighth in the latest USCHO.com Division III Poll.
On Tuesday, Bennis was named the Northern Collegiate Hockey Association Player of the Week after a breakout performance against St. Scholastica. Bennis propelled the Blugolds to a two-game sweep with six points (four goals, two assists).
After scoring just five points last season, Wis.-Eau Claire coach Matt Loen is pleased to see Bennis break out of his scoring funk.
"As a freshman, Isaiah led our team in goals, he had 13, but as a sophomore he had four, and last year he had three, so we were a bit concerned that he was heading in the wrong direction," Loen said. "Unfortunately, this season he started out with an injury and, to be honest with you, we weren't really sure where he was going to end up. But he was our best player in practice last week."
Loen hopes Bennis' strong week will serve as a catalyst for the rest of the season. Overall, a major key to the Blugolds' rise to the top of the NCHA has been the solid play of Wis.-Eau Claire's experienced upperclassmen.
"I don't think it's just one person right now; it's the combination of our veteran leaders," Loen said. "Jordan Singer (senior forward) is off to a pretty good start, but he's been our leading scorer the past couple years so we're expecting that. He's getting help from his teammates."
Singer has seven points and McCabe has nine this season. Along the blue line, Donnellan, a transfer from Division I Western Michigan, is the second-leading scorer among defenseman in the NCHA with five points (two goals, three assists).
Normally, according to Loen, it takes almost a full season for a Division I transfer to adjust to the D-III level; however, Donnellan has already built a comfort level, and it's not even Thanksgiving.
In goal, the Blugolds have been paced by rock-solid senior netminder Brandon Stephenson. Through Saturday, Stephenson ranks second in the NCHA with a sterling .922 save percentage. He's allowed nine goals in four NCHA games, but has stopped 106 shots, the most among the conference's top four goalies.
This weekend, Wis.-Eau Claire will see the NCHA's best goalie, St. Norbert's David Jacobson. The sensational sophomore has allowed one goal in seven games.
The Blugolds travel to De Pere, Wis., for a two-game series against the Green Knights starting Friday. St. Norbert (6-1, 4-0 in the NCHA) has the top scoring offense and defense in the conference. Wis.-Eau Claire ranks second in both categories.
There's no doubt the Blugolds have a lot riding on this weekend's series, but Loen believes his players won't be rattled heading into the Cornerstone Community Center, a venue where the Green Knights almost never lose.
"They play hard and obviously they have some skills; notoriously, they've had some great goalies and they don't give up a lot of shots in tough areas," Loen said. "A lot of goalies would have a lot of success there for that reason. Our job is to score goals, not from getting breakaways, or two-on-ones, but from working hard in the (offensive) zone to try and create as much offense as possible."