Here's offering a hearty welcome to Maryland and Rutgers, the two newest participants in the exciting game of When Will You Add Hockey?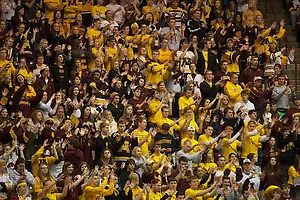 OK, exciting isn't the right word there. But with the schools set to join the Big Ten — Maryland's confirmation for the 2014-15 season came Monday and Rutgers' is expected to follow shortly — there were predictable questions about their hockey potential.
The short answer: It doesn't appear likely to happen soon.
Those in the know as it pertains to Big Ten hockey, which starts next season with a six-team league, say it's more likely that established league members will be the first ones to take a serious look at adding hockey to their stable of sports.
Maryland and Rutgers have club hockey — the former fielding teams in ACHA Division 2 and Division 3 and the latter in divisions 1 and 2 — but as anyone who worked for years to get Penn State's program elevated from club to varsity can tell you, it takes more than just a desire to make it happen.
It takes money. Big Ten schools spend anywhere from just under $2 million to just under $4 million per year on their men's hockey programs (more on that in a minute).
It takes availability. Good places to play don't just drop from the sky.
And it takes the right balance. Adding a men's sport usually means having to add a women's sport with a similar number of participants and being able to cover the cost.
But when the league starts next season, the non-hockey-playing schools in the Big Ten are going to get a better glimpse at the revenue potential that hockey has.
In a 2010 report, the five Big Ten hockey schools (Penn State was still at club status) totaled over $19 million in revenue according to figures compiled by the U.S. Department of Education.
Those figures, with total expenses and revenues (Note: This post previously included only operating, or game-day, expenses):
| School | Expenses | Revenue |
| --- | --- | --- |
| Michigan State | $3,077,132 | $1,776,187 |
| Ohio State | $2,761,793 | $1,186,956 |
| Michigan | $3,666,428 | $4,102,771 |
| Minnesota | $1,976,633 | $6,681,561 |
| Wisconsin | $3,975,306 | $5,297,711 |
Keep in mind that these are five established hockey programs, so the revenue for a school new to the party probably won't reach those totals for a good amount of time.
In a way, though, it's an investment. If Big Ten schools are willing to make the significant initial commitment, it seems there's the potential for department-sustaining revenue down the road.
If there aren't more Terry Pegulas out there willing to cover the startup costs (and then some), are there risk-takers among the group of Big Ten presidents and athletic directors?
It probably will take a while to find out, but the guess here is that some will come forward. And the guess is that money will drive the decision. There's no reason to think the ways of the big-time college sports world are going to change.
Which Big Ten school do you think will be the next to add men's hockey and when? Sound off in the comments below.