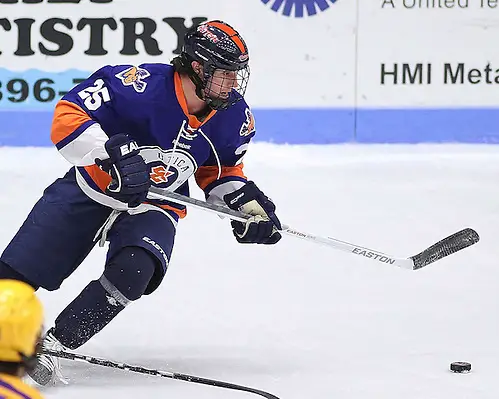 One of the best gifts that Utica College could have received in the offseason arrived in the form of sophomore forward Louis Educate.
"When he came to us, he (already) knew the college game," said Utica head Gary Heenan.
Educate (pronounced EH-joo-CAH-tay), who tore up the scoring scroll at Nichols College in Dudley, Mass. just a year ago, transferred to the ECAC West for this season and has picked up where he left off. He registered a team-high 16 points in Utica's first eight games this fall as the Pioneers raced out to a 6-2-0 record and a No. 10 national ranking in NCAA Division III.
"I wanted to go to a more proven team, and have a better opportunity to go to nationals," said Educate.
Like his new team, Educate got off to a fast start this fall, tallying eight points total in his first three appearances in a Utica uniform. He had a goal and two assists in the season opener against Morrisville on Oct. 19, a 6-1 win, and duplicated that feat the following night in a 9-0 whitewash of Fredonia.
He then scored a goal and set up another against Nazareth in a 7-2 triumph on Nov. 3 before being held scoreless in a split at Neumann on Nov. 9-10, including a 1-0 loss that was Utica's first setback of the season.
The Chicago native was just getting warmed up.
He exploded in the next game, notching four goals and two assists as the Pioneers routed Elmira, 11-2, on Nov. 16. He was limited to an assist the following evening in a 7-4 loss; but his seven-point weekend was enough to earn him ECAC West Player of the Week honors.
"Our team has made the transition easy, especially my linemates," said Educate. "I've played with them (juniors Ridge Garbutt and Jon Gaffney) the whole year, and it's been a lot easier than I thought it would be."
The trio stood atop the team scoring chart through eight games, along with senior forward Rob Morton, with Educate leading the way with a team-best eight goals and a team-high eight assists. He also led the league with five goals and four assists for nine points through five ECAC West conference games.
"The big thing is, he had a year behind him," explained Heenan. "Coach (Lou) Izzi did a great job with him last year at Nichols, and introduced him to the college game well and let him flourish offensively."
The Pioneers played just once this past weekend, against No. 8 Amherst on Saturday, with Educate scoring Utica's second goal in a 4-3 win before 3,816 fans at the Utica Memorial Auditorium.
"It's the most fun I've had playing at home in my career," he said of the venerable pro and college barn. "It's an atmosphere you don't usually see in Division III, and it's definitely a perk."
The 5-foot-9-inch, 171-pound Educate put up solid numbers in one season of Tier II Junior "A" play in the North American Hockey League before going to college. In a total of 57 outings with the Chicago Hitmen, Port Huron Fighting Falcons, and Aberdeen Wings in 2010-11, he registered 52 points to go with just 33 penalty minutes.
"For a littler guy, he has such a heavy shot," said Heenan. "He has a lot of power behind his snap shot, plus he's pretty accurate."
Educate first enrolled at Nichols, where he put up a team-best 42 points, including 27 goals, and 66 penalty minutes in 27 contests in 2011-12. He also collected seven power-play goals and five game-winners, and helped the Bison to a third-place finish in the ECAC Northeast, plus the league tournament semifinals.
"We had a good year, and did a lot better in the second half," said Educate. "It was a hard decision to leave, but I just thought Utica was a better fit."
Now he hopes to bring his new team all the way to the top.
"I'd like to win a national championship at Utica," said Educate, who is majoring in risk management. "That would be awesome, and after that, I'd like to try and play pro somewhere."
He's off to quite a start.
***
ECAC West Notes — Nov. 28, 2012
No. 6 Hobart (8-0-2 overall) remained undefeated with an 8-1 belting of visiting Hamilton on Nov. 20. Tommy Fiorentino registered a hat trick, with all three goals set up by Tommaso Traversa. At Potsdam on Sunday, the Statesmen's 3-1 triumph marked their fifth consecutive victory, with Bobby Hannah assisting on each Hobart goal.
No. 15 Manhattanville (5-2-1) won two of its three outings last week, and finished second at the Rutland (Vt.) Invitational. Brian Fleming was in net for all three games for the Valiants, stopping 67 of 71 shots. He made 24 stops in 3-2 win over Western New England on Nov. 20, and picked up his first career shutout with a 23-save effort in a 7-0 blanking of Tufts in the Rutland tournament opener on Nov. 24. He then had 20 stops in a 2-1 loss to host Castleton State in the title tilt.
Nazareth (3-7-1) snapped a six-game losing streak with a 3-3 tie against host Skidmore in the first round of the Skidmore Invitational on Nov. 24. Packy Jones had a goal and an assist for the Golden Flyers, who got 32 saves from Joe Gladnick. Jones and Ben Waldman then scored in the ensuing shootout to send Nazareth to the championship game the next day against Curry, a 4-2 victory that clinched the Golden Flyers' first-ever tournament title. Scott Sandler's first career collegiate goal late in the second stanza proved to be the game-winner.
Neumann (4-2-1) recorded a 5-3 win and a 3-3 tie against visiting Cortland on Nov. 23-24. Aaron Keaney scored the game-winning goal in the third period of the opener and then collected an insurance goal to ice it for the Knights, while D'Lane Sather tallied three assists in the first game and added another in the rematch.
Elmira (4-3-0) was off last weekend. The Soaring Eagles will next skate on Friday and Saturday when they host Manhattanville in conference action.