The Canisius Golden Griffins are doing what any coach wants at this point in the season: getting better game by game.
Dave Smith's squad had a better record at this point last season (4-1-2) than it currently does (2-2-2) but this year it looks like there's more upside to the Griffs' chances, especially if a struggling offense can produce to complement the Canisius defense, which is ranked eighth nationally.
"I've liked the way we've played," Smith said. "We've done a good job defensively. On offense there are a lot of things that we've been working on and are doing right but we haven't been rewarded."
An encouraging sign is the Canisius power play, which came to life last Sunday with two goals en route to a 4-1 win over American International.
The Golden Griffins had been clicking at under 9 percent dating to last season, and the multi-goal game for the power play was the team's first in almost a year. It was the first time this season that Canisius won the battle of special teams.
"We've been working on it," Smith said. "I like the personnel we have, and we've decided to stick with them when in the past we might have made changes. They're gaining confidence."
The power play and goaltender Tony Capobianco led the way to three points against AIC. Capobianco stopped 51 of 53 shots in a win and a tie.
When asked if his goaltender was the team's most valuable player to date, Smith instead named one of his forwards.
"[Junior] Pat Sullivan has been our best player so far," he said. "He's super fast, strong on the puck and has quietly done a great job for us."
Sullivan has four points so far, three of them (two goals and an assist) coming in a big win over Rochester Institute of Technology on Nov. 10, the first win for Canisius in Rochester in five seasons.
Smith also points to his senior captains as keys to the Griffs making a run in the second half of the season.
"Our strength as been our leadership," Smith said. "Torrey Lindsay and Preston Shupe have been terrific leaders. As good as they are on the ice, they are even better in the locker room."
Linsday and Shupe came to Canisius together four years ago from Weyburn of the Saskatchewan Junior Hockey League.
"They've been together for seven years," Smith said.
A sign that the offense is poised to pick up is Canisius' shots on goal totals. The Griffs are outshooting their opponents 32-27 on average so far, their best in six seasons.
Players of the week
From the home office in Haverhill, Mass.:
Atlantic Hockey player of the week:
Steve Weinstein, Bentley
Weinstein is the first defenseman this season to win the award. The sophomore had a goal and three assists to help the Falcons to a home split with Mercyhurst. Weinstein has 14 points so far, second on the team and first nationally among blueliners.
Atlantic Hockey goalie of the week:
Tony Capobianco, Canisius
The junior stopped 51 of 53 shots against AIC, helping the Golden Griffins to three points. On the season, Capobianco has a .931 save percentage and a 2.06 GAA.
Atlantic Hockey rookie of the week:
Andrew Gladiuk, Bentley
Gladiuk is the second straight Bentley player to win this award, and is a repeat winner (Oct. 29). This time out he had a pair of goals, both on the power play, in a 5-1 win over Mercyhurst on Saturday.
Self-assessment
Always-quotable Air Force coach Frank Serratore is at it again. After the Falcons were swept by Connecticut last weekend, he had this to say:
"The fact is that we are not a very good team right now and we are not very well coached.
"We gave up 39 shots tonight and three even-strength goals. That just can't happen. I told the team after the game that I let them down. I haven't prepared the team very well to play five-on-five. We have to get back to the fundamentals and start playing better in our own end."
Give UConn goaltender Garrett Bartus some of the credit. He stopped 57 of 60 shots to help the Huskies to the sweep, their first against Air Force.
Moving up
Holy Cross dropped a 3-2 decision to Brown last Sunday, but goaltender Matt Ginn did all he could, making a career-high 51 saves.
Ginn was in search of his 25th career win. The sophomore is already third on Holy Cross' all-time Division I career win list, behind Tony Quesada (2006, 61 wins) and Adam Roy (2011, 25 wins). He'll tie Roy with another victory.
Somebody stop that guy
Sacred Heart has yet to record a win this season but came close last Friday, losing a 3-1 lead and eventually the game, 4-3, to Princeton. Andrew Ammon scored all four Princeton goals. The junior forward had one goal coming into the game.
Tweet of the week
The face of elation: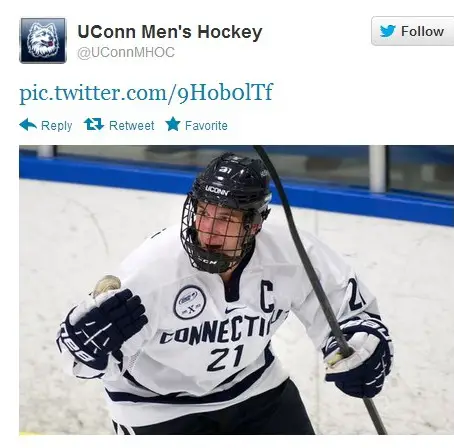 UConn senior captain Sean Ambrosie's reaction after scoring the overtime winner against Air Force last Saturday. The game was played at the XL Center in Hartford, where UConn is scheduled to play the balance of its home schedule once it moves to Hockey East in 2014.
Want to be eligible for TOTW? Follow me at @chrislerch.