Minnesota and Nebraska-Omaha bring more combined overall wins into their series this weekend than any other WCHA series, yet neither team has seen a test this tough to this point.
The Mavericks (8-3-1, 4-1-1 WCHA) have won six straight games with sweeps at Michigan Tech and at home against Minnesota-Duluth and Alabama-Huntsville.
The Gophers (9-2-2, 4-2-2) are the first team with a winning record UNO has played since they lost to Notre Dame in the Icebreaker championship Oct. 13.
"This weekend is huge for us, being our first weekend back in the WCHA," UNO forward Ryan Walters said in last Saturday's postgame news conference following an 8-0 win against Alabama-Huntsville.
"With a team like Minnesota, we have to be sharp and on our game. It'll be a good test for us to see where we're at."
On the other side, Minnesota State is the only team at the .500 level that the Gophers have seen this season.
The Mavericks (5-5-2, 3-5-2) split with the Gophers that weekend in the beginning of November.
"You look at some of [UNO's] stats, they are right at the top in scoring and goals against," Don Lucia told Minnesota Athletic Communications on Wednesday. "Omaha is probably the best team we have played this year."
This is the weekend we're going to find out a lot about the Gophers, picked by almost every coach and voting media member to win the WCHA, and the Mavericks, predicted by most to be a middle-of-the-pack team.
UNO goaltender John Faulkner is 7-0-1 with the 16th-best goals against average in the nation (2.03) but is 44th in save percentage (.913). That suggests he hasn't been tested much this season.
Minnesota has been criticized for its inability, until last weekend at Vermont, to put a full weekend together and get a sweep since two season-opening wins against Michigan State.
The Gophers need to be able to slow down UNO, which relies on a fast and physical style. Minnesota has deep lines and that depth has translated into just six third-period goals scored against.
Minnesota goaltender Adam Wilcox has been hot all year, stopping 93.1 percent of the shots he has faced with just one loss in 11 games but he has only seen one team in the top 20 for scoring offense (Michigan Tech, 16th, 3.10 goals per game).
CC confident it can improve defense, even against league's elite
The schedulers did not give Colorado College any favors with the likes of No. 7 North Dakota this weekend, No. 3 Minnesota the next and a road trip to No. 14 St. Cloud State before the holiday break.
Factor in No. 5 Denver two weeks ago, No. 2 New Hampshire and No. 15 Yale last weekend and the 18th-ranked Tigers are in the midst of a brutal stretch with little room for error.
Unfortunately for them, the defense has made plenty of mistakes of late. Such is life in the WCHA; your weaknesses will be exposed. The Tigers (7-6-1, 4-2 WCHA) were outscored 22-16 over the past four games (0-3-1) after entering this challenging stretch at 7-3, 4-0 and fresh off a league road sweep at Wisconsin.
Now it is a matter of fixing a number of little problems adding up to a big one.
Goalies Joe Howe and Josh Thorimbert have a combined save percentage of .887 while the penalty kill is 11th (66.7 percent) in league play. The forwards and defensemen have not been aggressive enough, allowing too much room for opponents to create Grade A scoring chances. Not blocking attempts allowed 97 shots on goal last weekend and 77 against Denver the previous series.
CC would not have a winning record if not for the top power play (36.8 percent) and second-best offense (4.00 goals per game) in league play.
"Every team would like the secondary and balanced scoring with our top guys getting on track," Tigers coach Scott Owens said. "The defensive side has not gone as well and it isn't one thing; it's a combination of goaltending, the penalty kill and shot blocking."
If the defense does not improve in a significant fashion, then this will prove to be a tough season for a team predicted to garner home playoff ice.
Tigers fans need not push the panic button just yet. It is a long season and the Tigers' back-checking two years ago at this point was poor. It was corrected. That team went on to win an NCAA tournament game that spring. It can be done again.
"We know we need to get things squared away," Owens said. "This gives the team an opportunity to show their mettle."
Unsung Hero: Tyler Currier, Alaska-Anchorage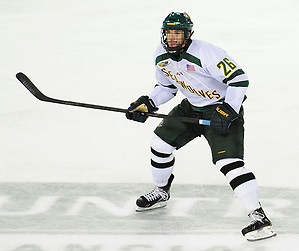 Tyler Currier wanted to be a Seawolves player from as early as he remembers being a hockey fan.
His hockey career hasn't trekked far from his hometown Anchorage, where he played high school hockey and made it to the junior level with the NAHL's Alaska Avalanche.
Now he's a senior leader for Alaska-Anchorage, staying close to home to play for the team he grew up watching.
"From the time I wanted to play hockey, I wanted to be a Seawolf," said Currier, a double major in business management and business marketing.
"My family had season tickets so it was always a dream of mine to play in front of my family on my home rink. It's cool to play in those big arenas in Minnesota, North Dakota and Wisconsin but the best is playing in front of my family."
Look for his name and you won't see "Currier" much in the score sheet. He's a grinder, a blue-collar, locker-room guy; the kind of player a coach loves to have.
"He's one of those guys who gives 100 percent every shift and provides great energy and great enthusiasm," UAA coach Dave Shyiak said. "He's always been a Seawolf, he grew up around it and he's proud."
Currier finished with two goals and four assists as a junior and has four goals and eight assists in his career.
"I would consider myself a high-energy player that tries to keep the team positive," Currier said. "I'm pretty vocal on the bench. I'm the guy who would do whatever it takes to get the job done."
He clawed his way into the box score once this season in a key spot in an Oct. 27 game at North Dakota. The Seawolves were killing the back end of a penalty down a goal early in the third period.
Currier tied the game at 2-2 with a short-handed goal and the game ended in a 3-3 draw.
He plans to pursue pro hockey after this season but after that, he's next in line to take over his dad's asphalt maintenance company.
"I want to experience pro hockey and see what it's like, but I have a good fall-back plan," Currier said.
Zengerle may return to action this weekend
Wisconsin junior forward Mark Zengerle continues to make progress after the stitches for his broken finger were removed. His first practice handling a stick on Tuesday went so well that coach Mike Eaves indicated the co-top returning scorer in Division I could return to action as early as Saturday at No. 5 Denver, according to the Wisconsin State Journal.
After receiving a doctor's report, Eaves said that Zengerle would be part of the 22-man travel party, although he wouldn't be in the lineup for the series opener Friday. Zengerle has indicated it's more likely he'll return for the Dec. 7-8 home series against Michigan Tech.
They will need him. Wisconsin's offensive woes (18 total goals) would be horrific if not for the emergence of sophomore Michael Mersch, who is tied with four others for the league goal-scoring lead with eight tallies.
Walsh settling in at Wisconsin
When Matt Walsh found out former Wisconsin assistant Bill Butters was stepping down, he — like many interested hockey people — contacted Eaves about the open spot.
The two met for a few hours two weeks ago and after a few phone conversations, Eaves brought Walsh aboard as an interim assistant a few days later. The university officially made the hire Friday and, so far, everything's going all right, according to Walsh.
"I'm kind of getting into the daily routine of what needs to be done and settling in with all the paperwork that needs to be accomplished," Walsh said. "I'm trying to get to know the kids and moving on from there."
Walsh will work mainly with the defense, as Butters did.
"My role is to teach and break down the game for [the defensemen] and help them help have successes," said Walsh, a Janesville, Wis. resident. "The more little successes we have, the further that's going to push the team along.
"I can bring a fresh face to this team. I'm a guy who hasn't been around so I can see things from a different angle."
Walsh, a Wisconsin player from 1982 to 1986, was a coach-in-chief for USA Hockey's Central Division before he accepted the interim assistant position.
Players of the week
Minnesota State sophomore Matt Leitner was named the WCHA offensive player of the week. The 5-foot-9, 170-pound center from Los Alamitos, Calif., struck for two goals and three assists as Minnesota State picked up its first-ever road sweep over Wisconsin with back-to-back 4-2 victories.
Mavs goalie Stephon Williams was named as league rookie of the week. The 6-2, 190-pound freshman from Fairbanks, Alaska, turned aside 65 of 69 shots for a .942 save percentage and a 2.00 goals against average.
St. Cloud State goalie Ryan Faragher, who led the visiting Huskies to a split of their two-game conference series at Minnesota-Duluth last weekend, is the league defensive player of the week. The 6-2, 205-pound sophomore from Fort Frances, Ontario, has allowed just seven goals in his last four outings and improved to a 6-5 record with a 2.14 goals against average and a .927 save percentage this season.
Quick hits
• Minnesota State's road sweep of Wisconsin garnered it some votes in the USCHO.com Division I Men's Poll this week. In all, seven of the WCHA's teams were ranked or received votes, led by No. 3 Minnesota, which the better-than-predicted purple Mavs defeated earlier this season.
• CC junior forward Archie Skalbeck has a seven-game point streak headed into the weekend. He is tied with three others for fourth on the Tigers with 12 points.
• This is the first of two consecutive weekends when all 12 teams will play league series. There are four such weekends during the 168-game 2012-13 conference season, with the others on Feb. 8-9 and March 8-10.
• The WCHA is a combined 26-19-4 against the other leagues, thanks to a combined 10-0-2 mark against Atlantic Hockey (5-0-1) and Division I independents Alabama-Huntsville and Penn State.
• Something has to give this weekend when the 10th-rated offense of Minnesota-Duluth (2.42 goals) takes on the WCHA's worst scoring defense (3.60) of Michigan Tech. Freshman Alex Petan leads the Huskies with 10 points (six assists) while sophomore Blake Pietila has nine, including a team-high seven goals. Don't forget: MTU travels to play Upper Peninsula rival Northern Michigan on Tuesday, Dec. 4.
• Minnesota-Duluth's Mike Seidel has a nation-best five power-play goals. The Bulldogs lead the nation in penalty minutes (18.7 per game).
• Mersch is third in the country in goals scored per game (0.80) with eight goals in 10 games for Wisconsin, which has scored the fewest goals in the WCHA (18).
• Minnesota State's Matt Leitner and Wisconsin's Derek Lee both are both averaging one goal per game, fourth-best in the nation.
•Nebraska-Omaha and Denver share the nation's fourth-largest scoring margin (1.67).
• Alaska-Anchorage has the country's worst penalty kill (72.5 percent) but has scored four short-handed goals, second-most in Division I.