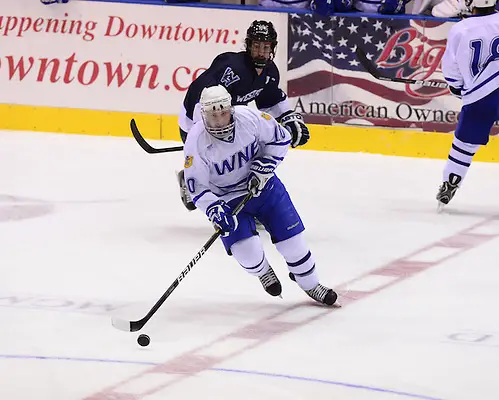 Any time a new coach takes over a program, make no mistake, there is a thought in the back of their minds that a breakthrough, breakout, debut season is in store.
And why not? You want coaches, like the players, to exude confidence and believe they will install the right culture that breeds instant success. That's why they are there.
Truth is, it rarely happens in college hockey, and the more attainable goal, the realistic standard to set for a program, is the old-fashioned "steady climb," an ascension in terms of your record and your accomplishments from one year to the next as the team continues to reshape its image and identity.
Under Greg Heffernan, Western New England is becoming a perfect example.
"It's exciting right now; most of my guys have been here at least a year, so it's a case of less teaching, more correcting," Heffernan said. "We know each other well. It's easy to communicate, and it's been a nice environment around here. We're an older team, and the players are using their experiences to win some games early on."
Plenty of them, in fact. The Golden Bears, headed into a road game at Becker on Wednesday, were 4-2 overall, 3-0 in the ECAC Northeast, and sitting in first place. Sophomore forward Brandon Stroud was tied for first place in conference scoring with seven points, and things were just fine for Heffernan and co. in Springfield, Mass.
"Everybody seems to be doing their job; the two games we lost so far were both to teams in the polls," he said. "So, we're proud of where we are, and with the contributions we've received from everyone. When things haven't gone our way, it's not been a case where we're playing bad hockey for any long stretch, we're just making mistakes here and there. And when we do that, that's easily correctable. It's much more difficult to correct bad hockey. All in all, they are doing what they need to do."
Which is just how Heffernan, now in his fourth season, drew it up. Transforming programs into consistent winners takes time, and his patience and perseverance is paying dividends. In his first season, the Golden Bears went 3-21-1, and slowly began to lay the foundation for the future. It was painful, but worthwhile. In year two, they went 8-17-1, another step up the ladder, and last season, they went 14-12-1 and made the ECAC Northeast tournament.
The steady climb.
"We've definitely had a very deliberate recruiting strategy since I've been here; it's working out for us right now," he said. "We kept a shorter roster this year — 23 players — and we only graduate out one player this season, so we're building up and we have room to keep doing so."
The shorter roster means many things to many people, but for Heffernan, it's an opportunity. It's a chance to further bond with his players in ways that other coaches with heftier rosters cannot. What often gets lost in college athletics overall — as programs of all skill, sizes, and competition strive for championships and accolades — is that personal relationship coaches have with players. The chance to mentor a young adult on his way into the real world. Someone who is no longer home, and someone who may need life, academic, social or athletic advice from time to time.
It's not an easy thing to do, and it's often forgotten by most.
Not Heffernan.
"I don't work for a living; I tell people all the time, the worst day of my job is better than the best days of some others," he said. "That's how I look at it. Getting together with 23 guys every day who are ready to work and ready to play is such a great thing for a coach. They know they will get the very best from me, and I expect that back from them. I try to be fair. Fair and equal are two different things. They will be treated like adults, and with that comes responsibility, as well as freedoms.
"In the end, there's a mutual respect that fosters leadership and an understanding of life that will help them when they're out of school."
In the interim, the Golden Bears understand the game and what's in front of them in this season of expectations. Picked to finish second in the conference's preseason poll behind Wentworth, Western New England, which received 50 points in the poll, is second in team defense so far (2.00 goals per game), first in penalty killing (88.9 percent), and second in power play (25.0 percent). The effort being put forth in practice is being played out in the games, and they are not buckling under the pressure of the added attention.
"We certainly aren't taking anything for granted," Heffernan said. "We're going to take things game by game. We have Johnson and Wales on Saturday.
"That's our focus."