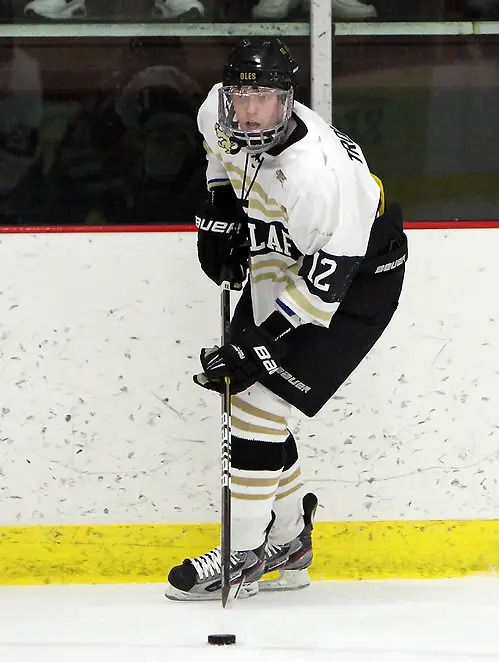 St. Olaf stepped out of conference play last week and lost both games on its trip to the East Coast.
The Oles were blanked in games against Williams (4-0) and Babson (3-0), but while defeat is never easy to digest, coach Sean Goldsworthy said his team will benefit from the experience in the long run.
"You want to make your nonconference schedule as difficult as possible, and we played two very good teams on that trip," Goldsworthy said. "We didn't play well, though, and we learned that you have to play well if you want a chance to be successful come the tournament."
The Oles, despite those two setbacks, are 4-5-1 overall and 3-1 in the Minnesota Intercollegiate Athletic Conference heading into the final week of November.
They had won three consecutive games before the nonconference road swing, and have adjusted to the loss of three all-conference players from a year ago, including Peter Rohn, who scored 11 goals and dished out 13 assists.
"We have played pretty good hockey," Goldsworthy said. "The younger players are up to speed, and we have had some of our returning players step up. We're headed in the right direction."
St. Olaf entered this season picked to finish third in the conference after making a run to the MIAC tournament championship game last year. The Oles lost, 4-2, to Gustavus in the final.
Goaltending has been an integral part of the early-season success for the Oles, who have leaned on the play of junior Henrick Wood and sophomore Steve Papciak.
Wood has given up nine goals and has racked up 130 saves. Papciak has allowed 12 goals and has come up with 147 saves.
"We knew goaltending was going to be one of our strengths, and both of those guys are capable of playing well on any given night," Goldsworthy said. "We are also pretty deep on the blue line. The players have really gotten up to speed quickly on defense, and that was what we were hoping for."
Offensively, several players have made an impact for a team that has struck for 19 goals while allowing 22. Seven of those goals have come off the power play.
It's no surprise that Ross Trousdale has led the way. The senior forward and two-time All-MIAC honorable mention selection has struck for three goals and three assists as he looks to build on what he accomplished last season, when he tallied 10 goals and 11 assists.
Junior forward Jeff Harris has also scored three times and has dished out two assists. Junior forward Dan Cecka has tallied three goals and two assists while junior Kevin Harris has come through with two goals and three assists. A year ago, he was tied for the team lead in goals scored with 11.
Freshman forward Mark Rath has made his presence felt early, as he has scored three goals and has dished out one assist.
"We have lacked a little bit on offense early. but we are working on being more productive," Goldsworthy said. "It all starts with being balanced and we are still working on combinations with our lines. We just have to continue to work hard and we will get better."
The Oles have every intention of contending for the conference title and would love to make another run in the conference tourney and perhaps even earn a trip to the NCAA tournament.
If the Oles are to put themselves in a position to accomplish those goals however, they need to be at their best defensively every single night.
"Offense will come and go, but if you want to be successful in college hockey, you have to play good defense," Goldsworthy said. "You can control how hard you play on defense, and we need to be consistent with our effort in every game."
Goldsworthy is confident it will all work out.
"We feel like if we keep playing hard and continue to improve each week, everything will fall into place," Goldsworthy said. "Our goal is to be in a good position at the end of the year."
*******************
Still Searching: Hamline is still looking for its first win of the season after a nonconference weekend series against Lake Forest. The Pipers lost the opener, 4-0, but managed to earn their second tie of the season in the finale on Saturday. The Pipers fell to 0-8-2 on the year and are 0-4 in the MIAC.
Sophomore defenseman Joe Rubbelke scored twice and dished out an assist in the 3-3 tie. Rubbelke is currently tied for league lead in points (11), as he has tallied five goals and six assists.
Good First Impression: Gustavus and Williams played for the first time ever on Saturday, and the Gusties came away with a 4-2 road victory and ended a five-game winless streak.
With the score tied at 2-2, Tyler Lapic struck for the game-winner in the third period. The Gusties finished off the scoring with an empty-net goal by Jack Walsh.
Ryan Johnson and Darren Lapic also scored goals in the win, while Patrick Sullivan nailed down his second win of the year by tallying 27 saves.
Johnson leads the team in goals scored this year with three. He has also tallied two assists.
Daunting Task: St. Mary's went on the road Saturday and played against No. 3 Adrian and challenged the Bulldogs most of the day before giving up three unanswered goals in the third period of a 7-3 loss.
Jason Horstman came through with 41 saves, including stopping the first 10 shots the Bulldogs took in the game.
Austin Balko, Bob Marx and Justin Videen all scored goals for the Cardinals, who fell to 4-3 overall. They are 2-0 in the MIAC.